American actor Chester Rushing is mainly known for his recurring role as 'Tommy H.' in the Netflix acclaimed series, Stranger Things. Besides the acting career, Chester is also a musician who has a band called Chester Rushing. He has released an album called Halfway Across the Stars where he performed seven singles in the alternative/indie style. His remixed single hit Paint the World was grossed #2 on Italian chart.
Chester's Career As Actor
Chester started his acting career in 2010 where he appeared in a short video of Bellatrix with the role of Mastema Concubine. Four years after the debut, Chester got a breakthrough with the 2014 movie Believe Me where he portrayed the character of Cameron. From 2015 to 2017, he appeared in various films including Don't Look in the Basement 2, Racing Legacy, My Father Die, Cold Moon, The Duel, Logan and Jeepers Creepers III.
The actor has also appeared in many television series. His notable TV show includes South of Hell, NCIS: New Orleans and Murder Made Me Famous. Chester who portrayed the character of Cody in the comedy series All Night has starred in seven episodes. He is recently in the post-production of Monster Party playing the role of Cameron. With the inclining acting career, Chester might be accumulating a whopping salary, which ultimately makes his net worth in millions.
Who Is Chester Dating?
Chester's on-screen character 'Tommy H.' in the American television series Stranger Things, is known for his dating Carol, which was portrayed by the American actress Chelsea Talmadge. On the first season of the Netflix series, both the couple are shown being superficial along with their timidness in character. He appeared in two episodes of the TV show with his on-screen girlfriend.
However, outside the view of the public, the actor is not mean-spirit like his role in the Netflix series. He is a hot topic on social media where he talks about his beloved ones. Chester is seen a lot talking about his girlfriend on Twitter. On one of the tweets shared on 21 October 2012, Chester said that his amazing girlfriend Bianca was resting for the vocals.
But the actor, who once stated Bianca as his girlfriend, was seen introducing Ava as his girlfriend on Twitter on 5th April 2015. He shared a Vine video where he was seen cosplaying as the fictional character Joker with Ava's chapstick. Chester has yet to share the details of his previously mentioned girlfriend, Bianca and the history of their relationship.
The All Night actor also went on a date-night with Ava at the Studio Ghibli Festival at the Chinese Movie Theatre, which Ava posted on 30 November 2017 on her Instagram.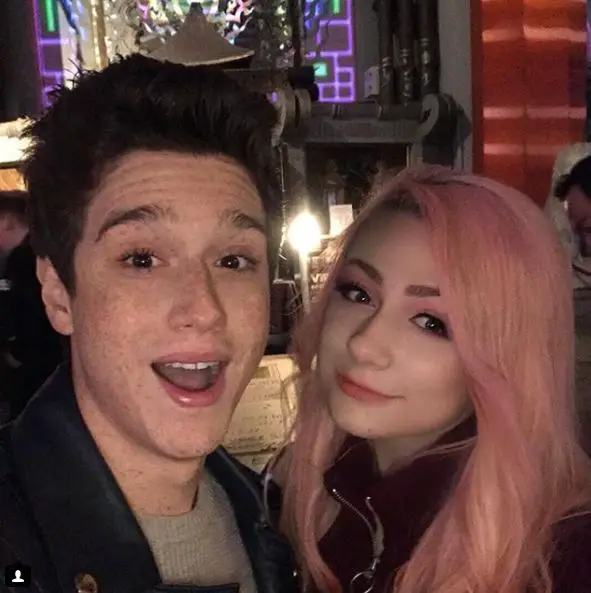 Chester Rushing and his girlfriend Ava in a picture shared by Ava on 30 November 2017 (Photo: Instagram)
Not many details of the pair have surfaced in the media as they have only shared pictures of them enjoying quality time. Chester has yet to comment regarding his relationship with Ava in his interviews. But the fact that he has shared Ava on his social media has made his secret affair to generate enthusiasm towards their fans.
Insight Of His Family Life
Chester also shares the pictures of his parents on Instagram. On 30 January 2013, he shared about his father's health condition on Instagram saying his dad was becoming healthy after a successful liver transplant. He also shared his mother Patrica's photo on Instagram on 5 April 2017 where he was seen walking Patrica on the way to his sister's wedding.
As a sibling, he has got a sister, Martha Corea who got married in 2016. Recently, on 17 January 2018, Chester's sister Martha and her husband welcomed their son named Milan Selim Yalçin.
Short Bio
Chester Rushing, whose hometown is Houston, Texas, was born on 17 November 1991. The movie actor is currently at the age of 26 and has the height of 1.73 m (5' 8"). In the year 2010, Chester joined Weatherford Acting Academy (WACT) where he received training in acting and drama in Weatherford, Texas.