American rapper Chief Keef became a household name when his song I Don't Like was remixed by Kanya West. He is best known for his album Finally Rich in 2012 which also featured his singles Love Sosa, and I Don't Like. During his house arrest, he posted several videos on his YouTube and increased his fan base.
How Much Is Chief Keef's Net Worth?
Chief Keef has accumulated a net worth of $1 million from his career as an American rapper. His debut 2012 studio album, Finally Rich sold 50,000 copies in its first week. He reportedly earned an average of $200,000 per year. He also owns various four-wheelers like BMW i8 and a pair of BMW M6s. His three luxurious sports cars are reported to be worth $500,000.
Chief also reportedly signed $6 million contracts with Interscope Records in June 2013. He received $740,000 from Interscope as advance and recording expenses for a commercial version of 'Finally Rich.' Chief also received $380,000 from the record label Glory Boyz Entertainment as advance and record label overhead expenses.
In June 2014, he was dismissed from the apartment after he failed to pay the rent of $11,000 over several months. His bench warrant was also issued by the judge in Cook County in July 2014 after he was unable to pay child support. Moreover, his deal with Interscope record ended in mid-October 2014.
Chief Keef started his rapping career after he was under the house arrest for possessing illegal weapons. Despite his house arrest, he posted several videos on his YouTube and gathered popularity.
Chief's Kids; Lawsuit And Controversies
Chief Keef is the father of his four kids from multiple women. Chris was just at his age 16 when he welcomed his first daughter Kayden Kash Cozart with his baby mama. The rapper was confirmed to have fathered 10-month-old daughter Kimora Sosha Cozart in November 2013 by the DNA documents. He was also ordered to pay for the child support. His sons Krüe Karter Cozart was born in September 2014 whereas Sno Cozart in 2015.
According to TMZ, one of the women filed the petition for child support in 2012 against the American rapper. The baby mama used to take classes at Chicago middle school and has sued Chief for child support, health insurance, and medical expenses.
After the incident with the mother of his child, Chief got angry in July 2014 when the hacker deleted his first daughter Kayden Kash Cozart's Instagram. The American rapper also shared the story on his Instagram where he said,
Somemf Hacked my Baby page at her lil 85k followers she had. Shouldn't never had that weak as* password! Ima get it back 4 my n*gga #KILLA.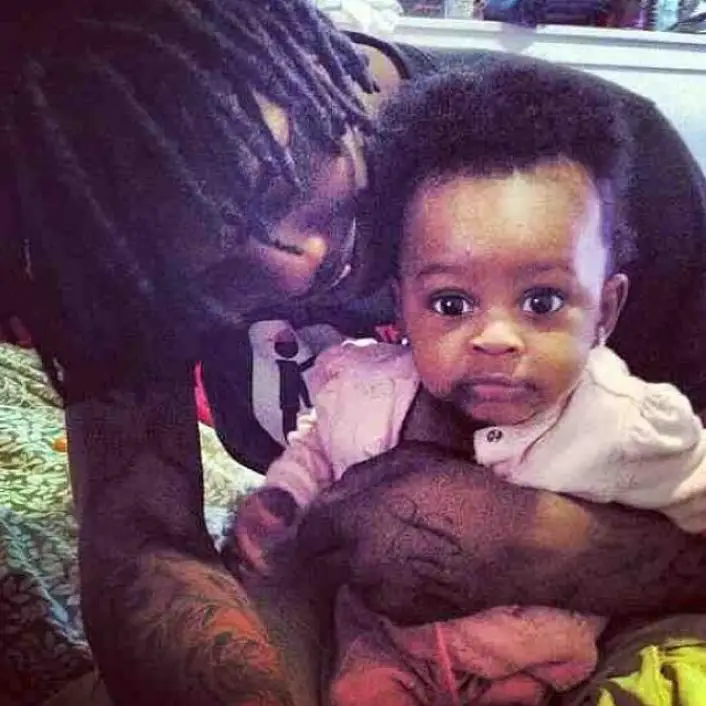 Chief Keef and his daughter, Kayden Kash Cozart (Photo: vladtv.com)
Chief also caused controversy in August 2015 when he named his newborn son Sno 'FilmOn Dot Com' to promote his album Bang 3. His record label FilmOnMusic removed name rights until the paternity dispute over the child was settled.
The American rapper allegedly became the father without taking a DNA test in 2017. According to the TMZ reports, he was a father to the baby boy Zinc Clark. Zinc was born in July 2016 with the former adult actress Slim Danger. The judge told Chief was the father since he never responded or objected to the case. Slim also said Keef never came to saw Zinc, so she filed him against the court.
Chief has yet to speak the words regarding his involvement with Slim Danger and her baby Zinc. Chief Keef is currently residing in Los Angeles where he is parenting his four kids.
Recent Feud With American Rapper 6ix9ine
Chief Keef and American rapper Daniel Hernandez a.k.a. 6ix9ine feud started in late-May 2018 when 6ix9ine dissed Chief and Lil Resse. He uploaded the video on his Instagram on 31 May 2018 and explained he is not afraid of Chief and Lil's crew. 6ix9ine said in his video,
What y'all gon' give me? 48 hours? 'Yo wait two months this sh*t gon' die.' Where? Where I'ma die? F**k Chief Keef. F**k Lil Reese. F**k all them ni*gas. F**k are y'all ni*gas talking about? F**k are all y'all ni*gas talking 'bout. I bet y'all ni*gas [won't] pull up to New Jersey now. Jersey ain't even my city but my brothers out here, you heard me.
After Daniel dissed the American rapper, Chief was shot outside of a W Hotel in Times Square, New York hotel on 2 June 2018. Daniel denied his role in shootings and said Chief was shot because he promotes violence and had lots of enemies in the streets. 
Police are investigating Daniel for his role in the attempted shooting of Chief Keef. New York Police Department said 6ix9ine was in Los Angeles when the two men shot Chief outside W Hotel. NYPD is investigating the connection of Daniel with those two shooters.
Short Bio
Chief Keef was born in Chicago, Illinois on 15 August 1995. His real name is Keith Farrelle Cozart. Chief stands at the height of 1.83 m (6') and possesses American nationality. He grew up in a financially unstable family and spend his childhood in a black neighborhood in Southside. As per wiki, he left Dyett High School and pursued his musical career. He belongs to Afro-American ethnicity.