English television presenter and freelance journalist Chloe Madeley is famous for appearing in Big Brother's Big Mouth. She also participated in the British TV reality skating show, Dancing on Ice and the British game show, Pointless Celebrities. The fitness personality, Chloe is also known for her fitness website FitnessFondue.com.
Chloe Madeley Engaged With Boyfriend Of Four Years; Plans Of Getting Married After 2020?
Chloe Madeley is engaged to English Rugby Union player James Haskell in April 2018. The couple, who is reportedly dating for four years, got engaged during a romantic trip to Paris.
The pair revealed their experience of engagement with Hello magazine. In an interview on 8 April 2018, the couple gushed about the moment of their engagement day. Chloe said she thought James was a bit romantic that day as he kissed her on the forehead and said that he loves her genuinely. But James then surprised her after he bent on his one knee and purposed the love of his life.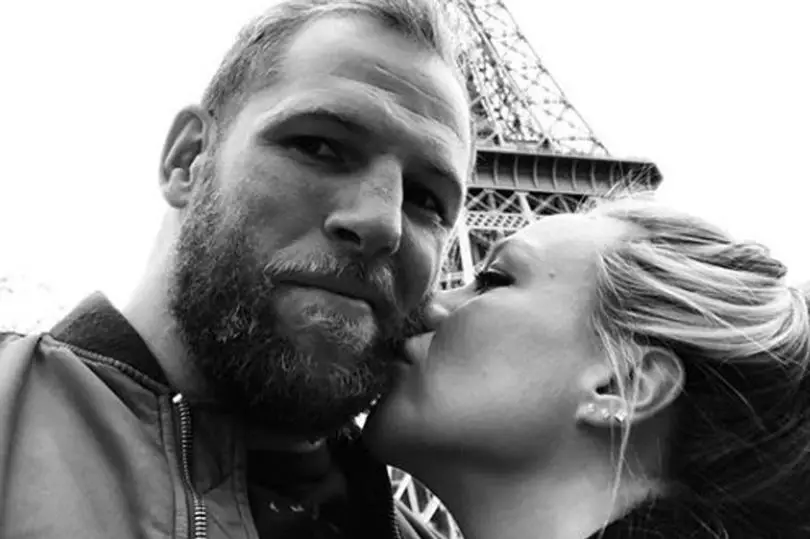 Chloe engages with James Haskell while on a trip to Paris. (Photo: mirror.co.uk)
Chloe and her then-boyfriend started dating each other in 2014. She previously was linked to David McNidder and Danny Young. She even hooked up with television personality Sam Attwater in April 2011, but after three months of a relationship, they decided to split.
In an interview with express.co.uk, she revealed that they wouldn't get married before 2020 after James takes part in the 2019 Rugby World Cup.
Chloe Madeley's Controversy On Royal Wedding 2018; Is She Against Wedding Dress Etiquette?
Chloe Madeley became headlines because of her controversial outfit at the Royal wedding in 2018 of Meghan Markle and Prince Harry.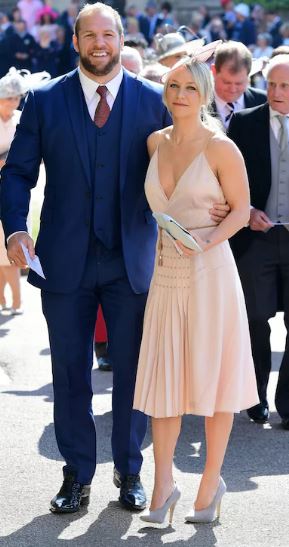 Chloe's low-cut outfit was slammed for being inappropriate in Royal wedding on 19 May 2018 (Photo: The Telegraph)
In the wedding ceremony, she wore a strappy, low-cut pink dress and she came to highlight after people started saying she went against wedding dress etiquette. Sarah Allard, an editor at Hitched.co.uk., said that she appeared in an outfit that is against the rule. She said;
"While royal wedding guest dressing has become more relaxed in recent years, there are still some strict rules around etiquette that guests are expected to adhere to," 
She then became the victim of lots of negative comment in the Twitter. One of the twitter user Jane Worsley tweeted a satire post and said Chloe is the only lady appeared in the carpel with entirely bare arms outfits.
In June 2018, she addressed the issue and said that her wedding outfit was a mistake. She also clarified that the invitations had only "day dress and hat" as dress code, and jokingly admitted that she apparently broke the protocol.
She also added that she never intended to leave her shoulders out had a jacket with her the whole time. She said,
"I had a jacket with me and it was so hot… and we were on the coach and James suggested I take the jacket off and put it back on in the church. As we were walking up I got to the church and asked James, 'where is my jacket?' and he didn't have it."
Chloe Madeley Launches Fitness Websites; Guides On Diet
Chloe Madeley is a fitness enthusiast and a personal trainer fitness instructor. She has been posting diet plan guides on her website, FitnessFondue.com, which launched in July 2013.
She also revealed that her proper diet plan to maintain a healthy life with Mail Online on 9 February 2016. Chloe mentioned that exercising became easy once it becomes a habit. She further added that it became difficult for people, who started a diet plan to attend weddings and parties with all the cakes and buffets.
Short Bio
Chloe Madeley was born as Chloe Susannah Madeley on 13 July 1987 in Manchester, England. Chloe, who stands at the height of 5' 6½" (1.69 meters), has body measurements of 33-24-33 inches and weighs around 59 kg (130 lbs).
She completed her schooling at King Alfred School.