Chris Fischer is one lucky guy who turned from a secret fiancé to husband when he married his actress girlfriend, Amy Schumer. Surprised? Yes, she is the same I Feel Pretty actress Amy, who just three months ago opened up about her relationship with her exceptionally talented chef boyfriend. They gave Amy's fans a big surprise this Valentine when they got hitched on 13 February 2018. 
Chris Fischer, Secret Fiancé Turns Husband!
I Feel Pretty actress, Amy Schumer gave the audience and her fans a true valentine surprise when she revealed about her wedding with her boyfriend and secret fiancé, Chris Fischer on 13 February 2018, Tuesday.
Don't Forget: Dermott Brereton Married, Wife, Children, Net Worth
Well, it was just back in November that Chris and Amy went on the public about their relationship. And now they're married! Well, that's impressive of Chris to steal her heart in less than three months. News has it that, the wedding was set as the ocean side ceremony in Malibu, California.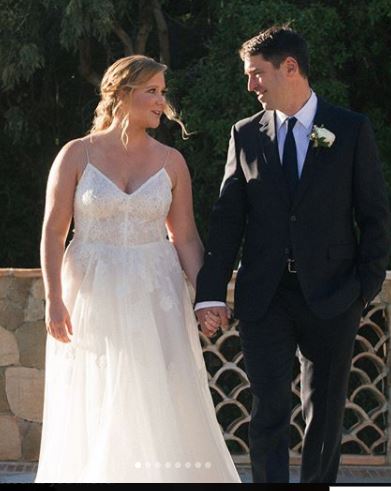 Chris with her newlywed wife, Amy posted on 15th February 2018 (Photo Credit: Amy's Instagram)
As per People Style, Amy's stylist Evans spilled that the wedding was the utter spur of the moment as it was planned just in four days. She further adds that the marriage was an amazing and effortless experience for all and that was what the married couple wanted. Everything from the setting to the dress to the accessories, all were simple yet elegant.
The newlywed couple was as well invited to Ellen's 60th birthday party and later shared a kiss on the photo booth.
Before Chris, Amy had an estranged relationship with Chicago based furniture designer, Ben Hanisch.
Also See This: Rupert Evans Married, Gay, Girlfriend, Dating
Pregnancy Alert! Expecting First Child
Chris Fischer and Amy, who were married in February this year, has announced that they are looking forward to welcoming their first baby soon. Amy took Instagram to state that she wants to share the big news with her fans and followers.
She posted the long list of her recommendations for the political candidates to vote for the November and at last, she confirmed the news of having a baby by writing 'I'm pregnant,' on her friend Jessica Yelling's Instagram story. Jessica, who stated that the story is noisy but is a happy noise, also congratulated the expecting parents.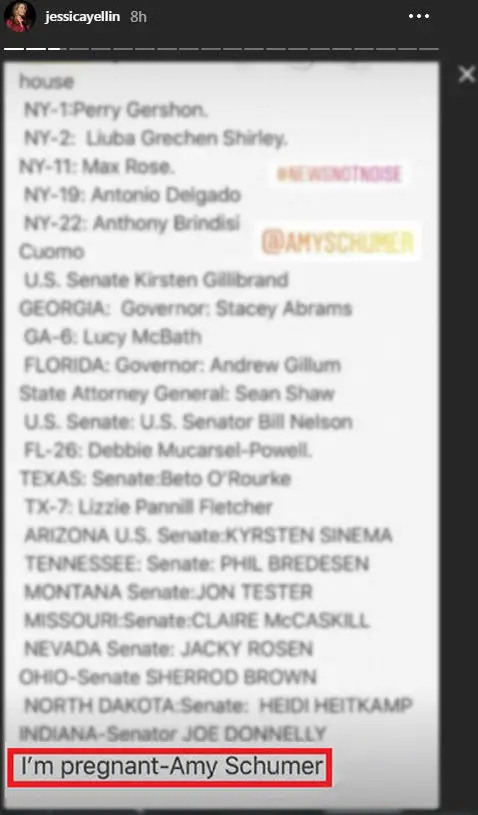 Amy's confirms her pregnancy on Jessica Yelling's Instagram story on 23 October 2018 (Photo: Jessica's Instagram) 
Amy, whose news of the pregnancy was flashed in Jessica's Instagram, previously gushed about her announcing some exciting news through Jessica's Instagram with an image of her and Fischer's faces pasted onto the bodies of Prince Harry and Duchess of Sussex, Meghan Markle. The Royal couple was also expecting a baby in the spring last week.
The duo is pleased from the news of the pregnancy and is looking forward to their first child. 
Revealed The Baby's Gender 
Back in February 2019, Amy Schumer asserted that she was excited to announce the baby's gender. Following the statement, the stand-up comedian on 6 May 2019 disclosed the gender of her baby. Amy, who revealed her pregnancy in October 2018, shared the picture of her and Chris waiting at pediatrician's office and stated that they are expecting to welcome their son.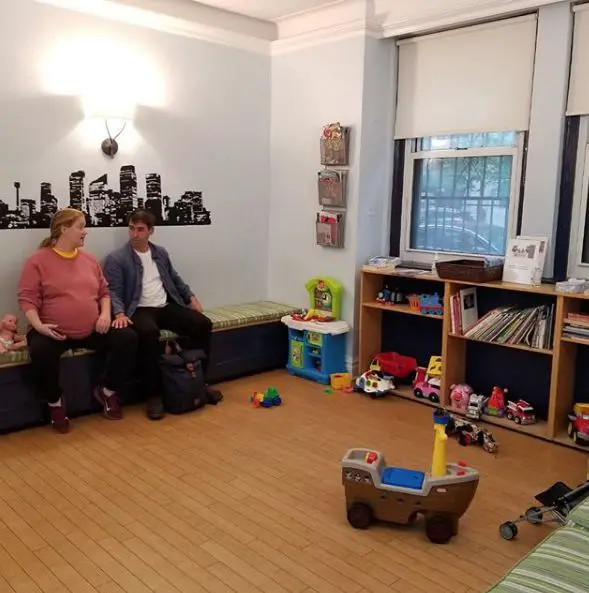 Chris Fisher with his wife, Amy Schumer at pediatrician's office on 6 May 2019 (Photo: Instagram) 
Amy further wrote that she loves Chance The Rapper (who is married to Kirsten Corley) and hate to be ones to tell him that Wendys is the only fast food chain refusing to protect farmworker women from sexual assault and rape in the fields.
In early May 2019, Amy shared a picture of her with a large baby bump in the doctor's office on her Instagram, where she updated her pregnancy status.
Amy Gives Birth To A Boy!
Amy blessed with a bundle of joy!
On the 5th of May 2019, Amy Schumer announced that she gave birth to a healthy baby boy. Amy took to her Instagram to share the news of her son's arrival. She posted a photo of herself holding her baby with her husband Chris by their side along with a caption that read "10:55 pm last night. Our Royal Baby was born."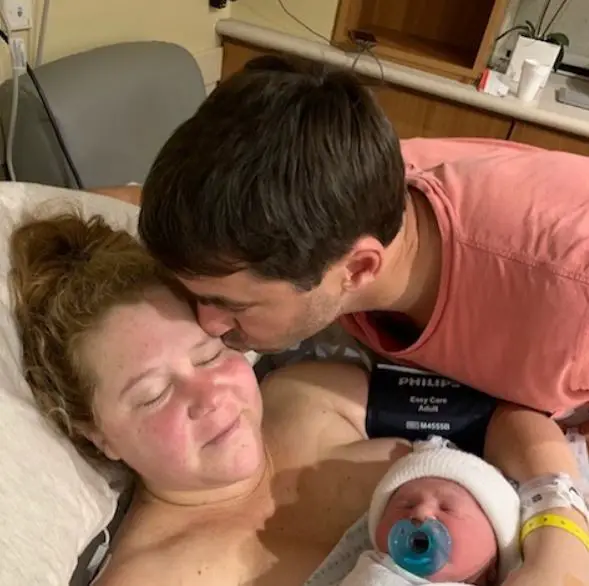 Amy Schumer along with her newborn son and husband Chris. (Photo: Amy's Instagram | 5th May 2019)
The birth of Amy's son comes just hours before the birth of Meghan Markle and Prince Harry first son. Amy had always joked about their close due dates. And as of now, from what it seems the pair are enjoying their new step in life as one small happy family.
Get To Know More About Chris Fischer!
You all are now aware of the big day of the actress wife and the chef husband, and pretty much the whole bunch has already congratulated the newlyweds, but most of you are still confused as well as curious to know about Chris. So, if you are one of them, you're here to stay!
Well, it turns out Chris Fischer is a professional chef and runs a Beetlebung Farm initially purchased by his grandmother. Apart from an excellent cook, he is a fantastic writer who is credited as a food columnist for the Gazette in August 2017. Before turning as a modern chef, he was a farmer.
According to the wiki source, Chris credits her sister who turned out to be Amy's assistant for their relationship as she was the one who introduced the duo. In his many interviews and articles, Fischer mentioned that he is quite a family guy and has a heartfelt sentiment attached to his family and their farm.
What Is Chris Fisher's Net Worth?
Chris Fisher is doing a pretty good job in his cooking career and has impressed everyone with these delicious delicacies. As per indeed.com, the median salary of the chef is $15.84 per hour. Given Chris's professional stint, he might have accumulated the colossal net worth and fortunes through his cooking career. 
He though rose to fame because of Amy, Fisher has marked great success in his field and is probably has a net worth in millions. Though his salary and value is not exactly mentioned in figures, his wife, Amy has a net value of $16 million.
Discover More: Hannah Zeile Wiki: Age, Height, Weight, Parents
Short Bio
Professional Chef, Chris Fischer currently aged around 39 was born in 1980 in Chilmark, Massachusetts. He, apart from satisfying people with his signature recipes, he loves to write and go fishing. Fischer has as well won James Beard Award for American Cooking. The exceptionally talented chef is quite handsome looking, has the well-maintained physique and belongs to the white ethnicity. Nothing much is known about his family, but it is a known fact that he has a sister who is assistant to Amy.