Christie Brimerry is one of the reality stars who rose to prominence as the representative of the owner of Gas Monkey Garage, Richard Rawlings. She is also the star of the series Fast N' Loud on Discovery Channel. Many people are familiar with her golden hair with a pixie cut, but few may know about her personal life as she is considerably private regarding it. Don't worry as today we will cover her relationship and her battle with cancer.
Personal Life & Relationship
Christie is blissfully married to Darren Brimerry and is a mother of six children. With her husband Darren, she shares four children. The other two kids, a son, and a daughter are from her previous relationship. However, she has not opened her former association, so it is pretty much unknown who was she in love with before Darren. 
Darren is a hair stylist and co-owns a craft and company salon in Texas called Muse The Salon and Craft & Co. The duo has yet to share the information about how they met and how their love affair blossomed. Also, they are miles away when it comes to revealing about their wedding day and how they convert their love relationship to married life.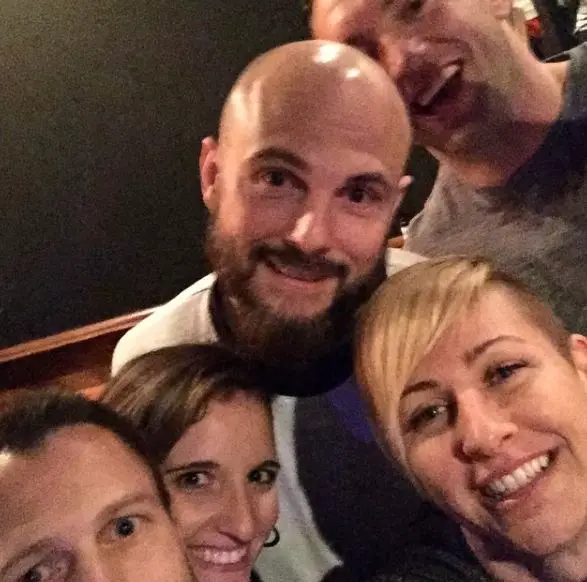 Christie Brimerry and Darren Brimerry with thier dear ones on 16 November 2014 (Photo: Instagram)
Her eldest son, Malik Grinage was born on 4 July 1997. Two years later, on 5 July 1999, she was blessed with her eldest daughter, Jordan Grinage. Both of her children completed their education at Birdville High School in Texas. They are further pursuing their education. Her daughter, Jordan is currently attending Texas Wesleyan University while her son, Malik is attending Blade Craft Barber Academy.
When it comes to her family members, she has not given much public exposure. The other members of her family that she has mentioned include Abigale Grinage and Billie Modon. But it is quite uncertain to gather further information about them.
Cancer Battle Of Christie Brimerry
Christie shocked her fans in October 2016 when she said that she underwent surgery to remove cancer from her thyroid, lymph nodes, and trachea. In late August, she discovered that a small knot developed in her throat. While she went to doctor for her treatment in September, she was diagnosed with thyroid cancer.
Cancer spread to her trachea, and she had to undergo surgery to remove her thyroid, lymph node, and trachea. Her vocal chord was cut leaving her voiceless for several months. Her final stage treatment was the hardest part of the surgery as she had to undergo various radioactive surgery and was isolated from her family.
Finally, in December 2017, Christie declared that she was cancer free after she underwent different surgical procedures.
Professional Career And Net Worth
Christie is an office manager for Gas Monkey Garage in Dallas, Texas. She is also assistant of Richard Rawlings who is an owner of the garage. While in the garage, she is working on tracking down titles for the cars in the shop. 
Talking about Richard, he is the client of her husband, Darren's hair salon. In 2012, he asked her mate to invite Christie to work for him. He needed someone to manage accounting and scheduling, and she ended in working with Gas Monkey Garage.
While working with Richard on Gas Monkey Garage, she might have earned some profitable salary as she has managed to accumulate a net worth of approximately $1 million.
Her Short Bio
Christie, who currently ages 46, celebrates her birthday every year on 25 of March. She was born in the United States of America. As per wiki, she has American nationality and belongs to white ethnicity. Her parents work in Country Meat Market, a butcher shop in Fort Worth, Texas.