Clare Buckfield is an English actress famously renowned as Jenny Porter from the television series, 2point4 Children. She is also a former girlfriend of the infamous television presenter, Declan Donnelly, with whom she shared 10 years of her life.
Lap Dancer Testimony Ends Dreams of Marriage & Children, Back To Dating Game
After spending a decade together since 1993, Clare Buckfield and Declan Donnelly broke up in 2003. They have had numerous separations before the official break-up. They had met when they were both teenage actors. Then, he was starring in the show Byker Grove.
Their relationship ended after lap dancer Tina Benson claimed that Dec had spent 5 hours and more than $800 for personal lap dances before he finally took her home. But Declan asserted that infidelity wasn't the reason for their split.
More than three years after their break-up in 2007, Clare finally opened up to a friend about how she was left devastated by her former partner's betrayal.
As quoted by Mirror, she expressed that she couldn't bring herself to watch her ex-boyfriend on television after the separation- she would recall all the past memories, which only added to her pain. She also asserted that she couldn't wipe away 10 years of relationship and simply move on. She revealed to the friend that her dreams of getting married to him, having children, and starting a family together were torn apart because of his infidelity.
She also said that she had moved on from her relationship with Declan, talking to Mirror in February 2007.
Dates Dan Rawlings After Her Breakup Only To Remember Her Ex-Beau, Now
After she parted ways with Dec, Buckfield later dated many people, including non-celebrities, but none of the relationships worked out.
Clare was heartbroken after her split with Declan, but she later found solace after dating a man whom she met at  London Night Club Trap.
Her new beau,  heating engineer Dan Rawlings supported her as she reeled from the heartbreak. The pair became intimate and their relationship got a little serious. But her obsession with her ex-boyfriend, Dec kept continuing. The lingering sadness from her past relationship ultimately destroyed her relationship with Dan, who had even forgiven her for secretly meeting Declan in a hotel room in Leicester.
Dan revealed in a January 2007 interview with Mirror that Clare was too scared to be in a serious relationship after being so badly hurt and betrayed by Dec.
As of 2018, Clare is reportedly single. Her Wikipedia page suggests that she has a son born in 2013, but the information hasn't been verified.
Lisa Armstrong & Ant McPartlin Divorce Saga: Clare Supports Former
Clare stood rock strong in support of  Lisa Armstrong amid her separation with estranged husband Ant McPartlin, who is a best friend of Declan Donnelly. The pair parted their ways due to irreconcilable differences.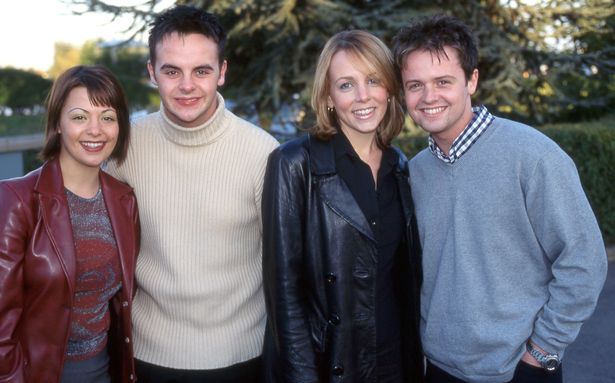 (From Right To Left ) Lisa Armstrong, Ant Mcpartlin, Clare Buckfield and Declan Mcdonelly in 1998 (Photo: Alpha Press)
For Lisa, there was no better friend to have by her side than Clare, who understood the pain of moving on from a long-term relationship.
Lisa and Ant divorce saga is ongoing as of 2018. Lisa is expected to receive $30 million from Ant in divorce settlements.  
Short Bio
Clare Buckfield was born on 10th April 1976. She has a twin sister named Julie Buckfield, who's also an actress. She graduated from Sylvia Young Theatre School.