CloeCouture is one of the YouTube beauty gurus who has gathered more than 4.1 million subscribers on her channel. She has discussed her life, trends, and provides pieces of advice to the people who are at their teenage. Inspired by various YouTube vloggers, Cloe initially recorded the videos with her webcam. She shifted towards high-end cameras later and started her work professionally.
Cloe's Dating Rumor With American Internet Personality
CloeCouture has collaborated with the American internet personality, Cameron Dallas on their YouTube videos. The duo mostly talks about dating and relationships on their collab videos. With their closeness, the rumors of Cameron being Cloe's boyfriend has expanded.
Cloe has however defended the speculations on her channel and revealed that they are just acquaintances. On her YouTube video posted on 18 May 2017, she said their network is seeking people to collab with, and they were on the same YouTube network. She further stated that she doesn't prefer to do collabs and never talked about anything besides the stuff to manage the video with Cameron. 
Cameron has also talked about their YouTube collaborations on his Instagram. The 'Expelled' actor uploaded their photo on 3 February 2017 and labeled Cloe as 'Cutie.' He said they were going to start new YouTube videos on their both channels.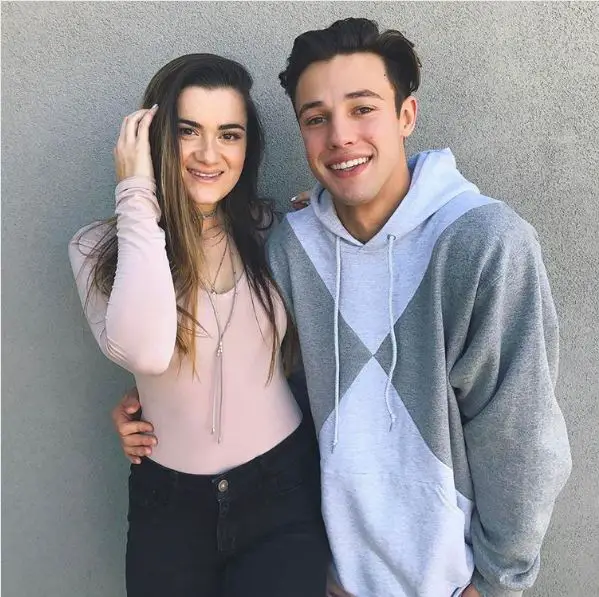 CloeCouture with the American internet personality, Cameron Dallas in a picture posted on 3 February 2017 (Photo: Instagram)
Meanwhile, Cloe was also a victim of the fangirls of Cameron. Making the fans clear about the relationship that Cloe shared with Cameron, Cloe stated that there is nothing between them. She even asked Cameron's fans to stop posting angry pictures of her. The YouTube star defines Cameron as a chill guy, and it was worth business to do collab videos with him.
Mother's Sad Demise; Has Two Siblings
Cloe's mother battled cancer for 17 years until she had a sad demise in February 2016. Cloe also dedicated her YouTube video titled 'Goodbye Mom' to her mother on 17 February 2016. During Cloe's recording sessions, she borrowed high-end cameras from her mother and elder sister. Her parents had three children together. She has two siblings named Mia and Saige in her family. Mia is two years older than Cloe.
How Does CloeCouture Gather Net Worth?
CloeCouture has gathered her net worth from her career as the YouTube star since 2011. According to Socialblade, her YouTube channel, CloeCouture accumulates the estimated monthly earnings between $8K - $128.7K. Also, her estimated yearly earnings ranges between $96.6K - $1.5M. 
CloeCouture joined YouTube on 24 January 2011 and posted videos about makeup and fashion. Her first video titled '4th of July Outfit Ideas!' uploaded on 9 July 2013 has gathered more than 271K views.
Her several videos on YouTube have also earned over 5 million views. Her video titled 'If I Lived in a Store,' which was posted on 7 September 2016 garnered more than 13 million views. She also shared the 2018 'Yanny vs. Laurel,' an auditory illusion clip and asked her Twitter followers what they heard.
Short Bio
CloeCouture, whose real name is Cloe Breena, was born in 1997. The Florida native YouTube star has her birthday on 23 June. Chloe has the height of 1.7 m (5' 7") and belongs to American nationality. As per wiki, her success from the young age has inspired many people from all over the world.