Everybody would remember that overhead kick of Wayne against Manchester City, but this time his deadly blow, which is not related to Football, not only shocked the world but also created ripples in his personal life. Coleen Rooney, who has been with Wayne since they were 16, stood by his side in spite of allegations. Although, it seems that even the calm-minded Coleen has had enough of infidelity of Wayne and decided to split with her husband after the drink-driving incident.
The END or Reconciliation Waits!
 It's not the first time that former Manchester United and England star is in the news. The recently retired England international star, Wayne Rooney, 31 was arrested near his home for drunk-driving on 1st September 2017. Cheshire Police then released him on bail and set to appear in front of the court on 18th September to prove his innocence.
Though he was released on bail, he is now in hot water. As his wife, flew from Spain to confront his wayward husband. As per Dailymail, the couple is now heading for divorce, as the police caught the star driving his female companion Laura Simpson, 29in her Volkswagen Bettle.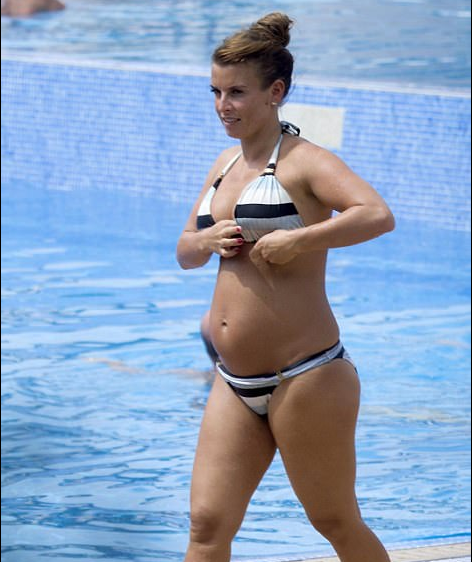 Caption: Coleen showing baby bump Mallorca, Spain
Source: Dailymail
As per reports, Coleen is agonizingly furious over the claims that he kissed and cuddled with Laura on the night out with colleagues and former teammates.
Coleen and Wayne have been sweethearts since; they were 16. The couple, who married in a lavish wedding costing more than £2.5 million n 12th June 2008, is on rocky phase.
No Way Out For Wayne Rooney!
The things seemed to be heading the right way when the star returned to his boyhood club Everton, but after the recent turn of events, Wayne is certain that his nine-year relationship is on the verge of end.
Coleen indeed has every right to go nuts as the couple is all set to welcome their fourth baby, which they announced on 18th August 2017.
Coleen is in total despair that his husband did this to her when she is pregnant with fourth Rooney Jr. Mrs. Rooney even called Laura to know the exact detail of the incident.
To which Laura said that Wayne and Laura took a cab to pick up Laura's car. As Laura was more intoxicated than Rooney, he took the driving seat though Cheshire Police found that he was three times the drink-drive limit.
Coleen, who stormed out of their £6 million Cheshire home with three children, Kai, Klay, and Kit to live in her parents, accused Wayne that he is the reason behind world laughing at them.
If the Roneey couple decides to part their ways in divorce, it's certain to evoke a lengthy and tense divorce battle, and Wayne would lose most of the fortunes.
Final Nail in The Coffin!
As mentioned earlier, Wayne and controversy is not a new combo, but Coleen stood firmly by her husband's side when he was caught with prostitutes.
But this time, when she is pregnant with their fourth child, Coleen had enough of his infidelity.
The English Product endorser, who wrote her own column "Closer," added more fuel to the rumor of split, when she decided to appear for their son's Klay first day at school without wearing engagement and wedding rings.
Hoping for Miracle and Turn Around to Avoid Divorce!
The fitness enthusiast, who released a Coleen McLoughlin's Brand New Body Workout, is tired of salvaging the relationship on her own. She now waits for the final words from the Everton Ace whether there are more girls in his life.
Coleen is absolutely livid with the fact that their kids now have to suffer the consequences of Wayne's habit. Though she returned to their Cheshire home; it is believed that she is just there to accompany her children to school and relationship is over.
While, Laura publicly requested to Coleen to forgive Wayne, whether she decides to stop the events once and for all or gives one more chance to fading star.
Coleen's Short Bio and Family:
The Liverpool-native, Coleen was born as Coleen Mary McLoughlin on 3rd April 1986 in Liverpool, Merseyside which makes her age 31. She was born to Tony and Colette McLoughlin. She was born to a big family of four siblings with her being the eldest. Among her siblings, Joe, Anthony, and Rossie, Rossie, her adopted sister, died on 5th January 2013. The attendee of St. John Bosco Arts College was a keen performer as she has excellent grades for Performing Arts. Coleen who is set to welcome her fourth baby maintains healthy body shape. She belongs to white ethnicity and holds British nationality.