How often have heard co-stars denying rumors of dating by saying they are just "friends?" Well, the latest entry to this list is Corey Fogelmanis, who claims he and Sabrina are best friends. 
American actor Corey is most profoundly known for his character portrayal of Farkle Minkus in the 2014 American TV series, Girl Meets World along with actor, August Maturo. The actor started performing his stage shows at the age of six had also donned the role of an evil sibling in short film The Maiden and the Princess in 2011.
Is Corey Dating Girl Meets World Co-star?
Corey Fogelmanis is one of the most good-looking lads across the TV screen and has always made people anxious about his dating life.
The TV actor shares a great bond with his Girl Meets World co-star, Sabrina Carpenter. Ever since Corey and Sabrina are paired onscreen rumors of their off-screen romance have surfaced in the media.
Read About: Is Bob Morley Gay? His Girlfriend, Dating, Relationship, Family, And More
On 13 December 2015, Corey confessed his feeling for Sabrina in a video shared by Sabrina in Instagram. In the video, Corey revealed that he realized he loves Sabrina that morning. Sabrina then took it in a songful manner and joked that it has only taken him three years. Corey then added that "Yeah but, we've finally got that place where I could open up to you."
The video created a ripple as Corey put forward his feeling in his typical shy style. The actor, who gave a rare sight of his shirtless physique in Hazel Hayes' 2017 Directorial TV series Prank Me, managed to bring "Awww" reaction from Sabrina.
The alleged pair then ignited their dating rumors when Corey was seen holding Sabrina's hand in the social media post on 8 September 2017. However, in October 2017, he gave an interview with Raw Magazine and revealed that he is single. He also mentioned that he is in a relationship with his career. 
But they didn't stop post pictures together. Corey along with Sabrina addressed their fans to see the 2016 vine titled Country boy; I love you on his Instagram on 2 January 2018. Moreover, Corey also shared a birthday greeting for his co-star on his social media post on 12 May 2018.
More On: Candice Pool Wiki, Age, Net Worth, Parents, Jewelry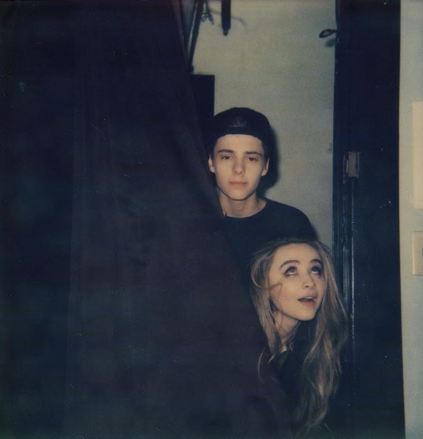 Corey Fogelmanis birthday wish for his co-star, Sabrina Carpenter on 12 May 2018 (Photo: Instagram)
In the picture, Corey wrote Happy Birthday Baby, and also said that nine is a big year, but he is stuck at eight. At the end of the birthday message, Corey told Sabrina to complete the remaining hours of shoot and return home. To which Sabrina replied, crying, I love you so much, child. Isn't that cute?
Rumored Girlfriend Clears Rumors!
Hold yourself, folks. Although Corey shares a great bond, they are just friends Sabrina denied all the dating rumors with Corey on her interview for the Seventeen Magazine in July 2018. The actress is the cover girl of the teen magazine in August/ September issue told that Corey is the most significant support of her life and also revealed that he is funny, smart and a great friend. 
The actress further added that she is comfortable with her friendship with Corey. She also expressed that when a person has a best friend than they are comfortable in hugging and jumping over their back. After months of speculation, Sabrina finally revealed that they are not dating but are just friends.
Do Not Miss: Olivia Stuck Wiki: Age, Boyfriend, Dating, Parents, Height, Net Worth
Not just Sabrina, Corey also shares a great friendship with his other co-actor, Ceci Balagot. Corey was seen in an Insta picture shared by Ceci back in May 2017 where she captioned Corey as her fake boyfriend.
Although he is not dating, his all-time celeb crush is actress Cloris Leachman.
Short Bio
The American TV actor celebrates his birthday on 13 August. He is 18 years of age, born in the year 1999 in Thousands Oaks, California as per wiki.
His parents Dain and Shannon Fogelmanis raised him along with his younger sister Bailey.