Corey Scherer, who is famous for his nickname Sonic, is an American dancer and a co-founder of dancing group Super Sega Brothers. He is also the social media star who has gathered an impressive number of fans on his social media accounts. On his self-titled YouTube channel, Corey hosts short time videos with his dance choreography and prank challenges.
How Does Corey Scherer Gather Net Worth?
Corey Scherer has accumulated the prominent part of his net worth from his career as a vlogger on YouTube since 2014. As per Socialblade, his YouTube channel, Cory Scherer receives the estimated monthly earnings between $628 - $10K and has the estimated yearly earnings range between $7.5K - $120.6K. Cory has received some fortunes from his social media accounts through which his net worth has increased.
Corey was passionate about dancing from his young age and practiced hip-hop. He took dance classes and gathered skills in many dance forms. He trained in Break Dancing, Ballet, and other styles of dance in his home dance studio, Fierce Dance Studio. He then ventured on social media and joined Vine through which he gathered more than 2.2 million followers. 
After becoming a Vine phenomenon, Corey made his self-titled YouTube channel on 8 June 2014. His first YouTube video 'Awkward Pick Up Lines Prank | Corey Scherer' published on 21 April 2014 has gathered 88K views. He also formed a partnership with Viral Nation. After co-founding the dancing group the Super Sega Brothers, he made a breakthrough in his dancing career. Now, Corey has become a dancing sensation with over 784 thousands of subscribers and more than 64 million video views on his YouTube channel.
Corey's Relationship With Make-Up Artist Girlfriend
Corey is dating the makeup artist and social media star Devyn Lundy. After they commenced their relationship in September 2015, Devyn started to appear in his YouTube videos. Corey and his girlfriend Devyn also has a YouTube channel called Corey and Devyn which they joined on 19 August 2017. 
The dancing phenomenon Corey also surprised his girlfriend Devyn during their second year anniversary. He uploaded a YouTube video on 22 September 2017 where he said he would give her present after they took a stroll towards the beach. However, he played a prank with Corey and pushed his girlfriend towards the shore. The duo laughed and enjoyed their second year of togetherness.
Corey also shared their picture on his Instagram on 23 September 2017 where he rejoiced his two years anniversary with Devyn. He stated that she is his best friend and love of his life. The dancer also labeled his girlfriend as the 'amazing girl.'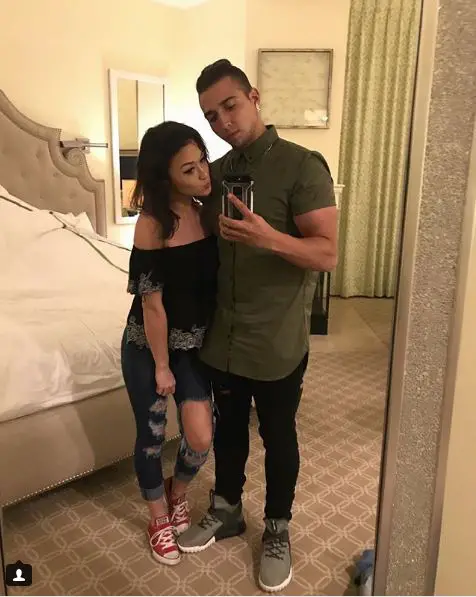 Corey Scherer and his girlfriend, Devyn Lundy in a picture posted on 23 September 2017 (Photo: Instagram)
He also shared their photo on Instagram on 15 February 2018 and wished his lady-love 'Happy Valentine's Day.' In the picture that Corey shared, he was seen kissing Devyn.
Corey lives in North Hollywood, California and is currently focusing on his relationship with Devyn as well as his career.
Parents Owner Of Fierce Dance Studio; Has Three Siblings
Corey was born to his parents Allan Scherer and Christy Scherer. His father Allan and mother Christy are also the owner and directors of Fierce Dance Studio. Corey has three siblings as a family member, Courtney Scherer, Cenzey Scherer, and Cambrey Scherer. The dancing star has also uploaded his siblings' video on his YouTube channel on 25 February 2015 where he introduced Courtney, Cenzey, and Cambrey.
Short Bio
Corey Scherer was born on 13 September 1995 in Nashville, Tennessee. He has the height of 1.73m (5' 8'') and posses American nationality. As per wiki, he won various national competitions as a dancer.