Every person wants to experience a fairytale affair, but very few get this privilege. And one among them is the CNBC reporter, Courtney Reagan who received a marriage proposal from her boyfriend during an on-air show. She least expected the gesture from him, but that sweet moment has made the couple inseparable now. The couple is married for two years and is going stronger than ever.
Her Longest Association with CNBC:
Reagan has been associated with the CNBC News Broadcasting channel for over a decade. She currently serves as the retail reporter and has worked on the channel for the past seven years. Her work and passion for the job can be seen on the television where she thoroughly enjoys every part of news reporting.
Before taking the position of a retail reporter, Reagan previously worked as the Business Headline Anchor and even the Segment and Newsdesk Producer for the following circuit. It was back in the year 2006 where she had joined CNBC.
How Much is Reagan's Salary and Net Worth?
Reagan hasn't disclosed any details on her earnings. However, her long association with the channel proves that her salary must be high and the contracts also must be lucrative. Although she hasn't revealed her net worth in precise figures, it must be around hundreds of thousand dollars.
The On-Air Proposal!
While doing an on-air segment of 'Night Business Report' about engagement rings, with her co-host Tyler Mathisen, she experienced an unforgettable moment for her life.
 It came as a surprise when her longtime boyfriend, Jared Baker entered the set for the proposal with a ring for his lady love. He uttered some beautiful words and approached her in the most beautiful manner. He said,
"It's been a long time. Seven years... I love you so much. I have since the day I met you. I've always known you were the one. I love your smile. I love your laugh. I even love the way you dance. Will you marry me?"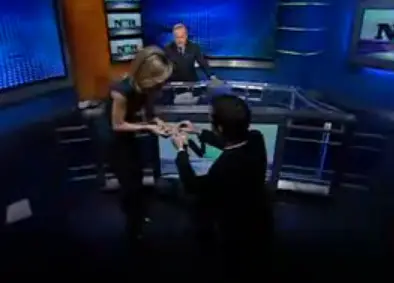 Caption: Jared Baker proposing Courtney Reagan live on her show in November 2013.
Source: YouTube
Reagan, who couldn't believe her eyes, was full of tears to see his gesture. She then responded 'Yes' to the proposal of her partner whom she had been dating for seven years.
Shortly after getting engaged, Reagan and her husband officially exchanged the wedding vows on August 31, 2014, in New York. And since then, there has been no looking back into the relationship of this married couple.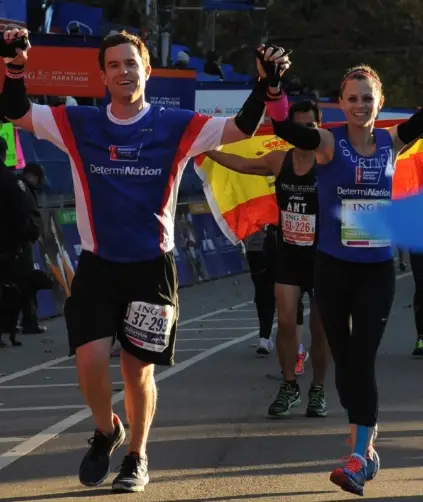 Caption: Courtney Reagan with her husband, Jared Baker in one of the marathon event in 2013.
Source: drivenforwomen.com
Her Short Bio:
Courtney Reagan celebrates her birthday on 8th of November as per her wiki. Her real age is still unknown as her proper birth year isn't revealed anywhere. Her parents, John and Brenda Reagan raised her in the city of the United States. Reagan has earned a degree in Bachelor of Science while attending Miami University. She has even attended NYU Stern School of Business to complete her education in Entertainment, media, and Technology. Reagan stands a decent height and belongs to white ethnicity.