Is it too soon to expect great things from a man who is just 15 years old and has only one TV show to his credit? Well, it might be for anyone except Daan Creyghton who is the star of "Hunter Street." The aspiring actor, with his innocent looks but deadly acting skills combine to a lethal combo, is meant for higher heights. In the show, he along with four other casts is on a quest to their missing foster parents in Amsterdam.
Daan's Entry as Sal Hunter:
The new boy in town is already creating a buzz in the business and sure has a long way to go. Daan debuted in the TV Shows through Nickelodeon's "Hunter Street."
"Hunter Street" is comedy-adventure TV series which revolves around five foster children from Amsterdam who are on a quest to find their foster parents. The roles of five Amsterdam children are portrayed by Stony Blyden, Maemae Renfrow, Thomas Jansen, and Daan Creygton.
The man of the moment, Daan Creyghton starred show premiered on 11th March 2017 managing to receive a massive response. Due to rising fame, the show was renewed on 25th April 2017 for the second season.
His 'Hunter Street' Family:
The casts of "Hunter Street" have a strong bond and are more than just colleagues, they are now a family.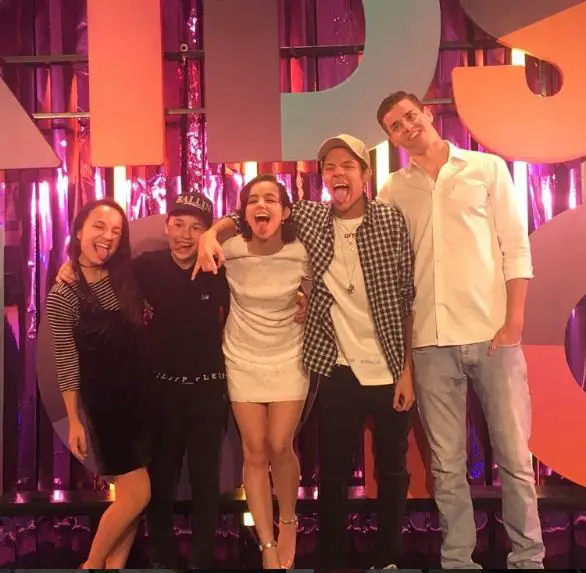 Caption: The Cast of Hunter Street on 30th April 2017
Source: Instagram
After their show was renewed for the second season, Daan posted an Instagram post. In the post, he shared his delight and said that he couldn't wait to get reunited with other Hunters.
What Does Future Hold for Daan?
The young actor has already shown his potential through "Hunter Street." After the series comes to an end, he has a bright career in front of him. As of now, he hasn't signed any other TV shows, and he is gearing himself for the second season of "Hunter Street."
Like another cast in the series, he has caught many eyeballs of the producer and writer, and it won't come as a surprise if he signs a new show. Either way, he has that potential and age to horn his already incredible skills and all audience can do is brace themselves as he is bound to deliver big hits in days to come.
Daan's Short Bio and Family:
As per wiki sources, the Dutchman was born in 2002 and celebrates his birthday on 21st September every year which makes his age 15. He was born to parents Allrad and Iris Creyghton in Netherlands. He was born too big family with four siblings, three sisters, Lara, Floor, and Roos and a brother, Tom.
The family shares a delightful bond with each other and Daan and his mother, Iris post many family pictures on their respective Instagram account to give a lovely family goal. He possesses an average height of 5 feet and five inches now but will surely grow into a tall man when he ages older. For now, he owns a lean body shape. He currently resides in the United States and belongs to white ethnicity.