Though sexuality is still limited as a taboo, many celebrities don't hesitate to talk about their sexual preference. An American actor, Dan Amboyer can be a perfect exemplar for this context as he has opened about his sexual orientation that he had been hiding for over the years. Dan was very skeptical in revealing his real sexual desire to the public at first glance. So what was the real reason that compelled him to admit? Let's have a glance at his professional life and find out the ultimate revelation made by the actor.
Career And Net Worth
While studying acting courses in Carnegie Mellon School of Drama, after the completion of his junior high school year, Dan was offered early admittance. After his graduation, he relocated to New York and followed his passion for theatre and television.
Dan has made many guest appearances in the hit television series like, 'Younger,' 'Law and Order,' 'Body of Proof,' 'Inside Amy Schumer,' and 'Person of Interest.' Not only that, he had the fortune of working with John Cusack on his CBS drama, 'Pilot.'
There is very less information that can particularly help us in knowing the exact figures of Dan's net worth. He must be earning a decent and satisfactory amount from his acting bits which might be somewhere around a million dollar mark.
Is Dan Gay?
Dan was strongly advised to keep his sexuality and sexual preference a secret because of his inclining career. But the decision of revealing his real identity was mainly from his genuine friends. Dan credits some of his co-actors and also Nico Tortorella for motivating him to come out as gay. Well, Dan decided to come out when he got engaged to longtime boyfriend Eric P. Berger (age 37). In other words, we can say that his love for his partner helped him to speak the unfolded truth that he had been hiding for all these years.
Dan, A Married Man
Dan is currently married to his long-time boyfriend-turned fiance Eric P. Berger, who is a financial planner by profession. The couple met each other in 2008 through an online dating website, Match.com. Later, they started meeting each other frequently and gradually built up interest for each other.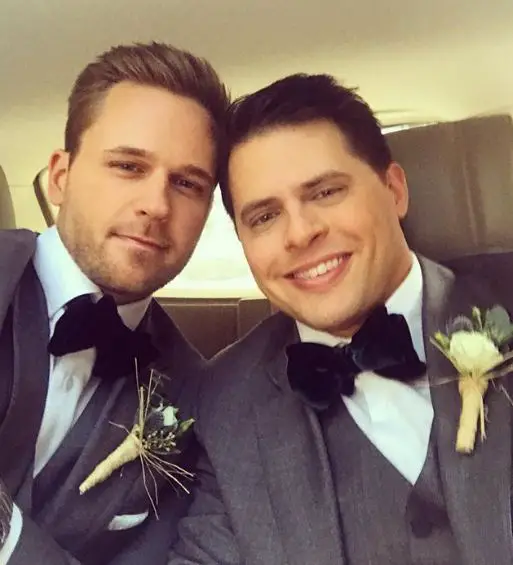 Dan Amboyer with his partner Eric Berger in the picture uploaded on November 5, 2017 (Photo: Instagram)
In an interview with The New York Times in October 2017, Dan explained about his brief meeting with his partner. He gushed,
I faked some excuse to get out of the meeting, and he said he was already at this coffee shop waiting for me," Mr. Amboyer said. "And in fact, he was not." Mr. Berger took a taxi across town after convincing Mr. Amboyer to keep the date, arriving just moments before Mr. Amboyer, who had come by bus, walked in. The coffee date turned into a dinner date and then drinks, too. "We really hit it off immediately,"
After spending almost ten long years with each other, without getting much attention from the shutterbugs, the couple got married on October 8, 2017. 
Short Bio
Dan was born on December 28, 1985, in Detroit, United States. As per wiki, he is the son of Dr. Donald Amboyer and Claudia Amboyer. Dan attended The Roeper School and Arts High School Interlochen Arts Academy to follow his career on acting. He is 6ft 2" in height and belongs to Caucasian ethnicity.