Being a parent is not about what you gave up to have children but what you have gained from having them. Darlene Mowry, the mother of the well-known actresses, Tia and Tamera Mowry, may not have made the successful career in her life but have earned the immense admiration for her lifetime devotion in making her children's career. However, Darlene, one of the most influential mother, had to face many struggles and hardships in her life to help her kids live the dream of their lives.
Darlene's Picture-Perfect Family
Darlene married her high school sweetheart, Timothy John Mowry. Her husband is the ex-military Army of U.S. who later became a custody officer with City of Glendale Police Department. They together have four children out of which two are twin sisters, Tia and Tamera Mowry.
The couple welcomed twins, Tia and Tamera Mowry, in the family on 6 July 1978, in Gelhausen, Germany. They also have two sons named Tahj and Tavior Mowry born in 1986 and 1993 subsequently.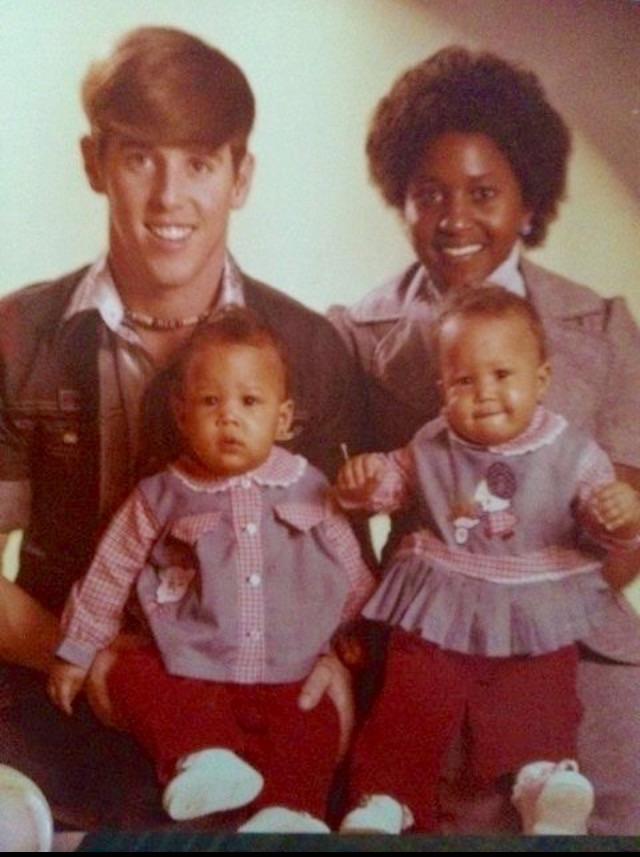 Darlene Mowry, her husband, Timothy, and twin daughters, Tia and Tamera ( Photo: reddit.com)
The branches in Darlene's family tree increased when her daughter Tia got married to the actor Cory Hardrict in 2008 and gave birth to a son named Cree on 28 June 2011. Tia is expecting another child as she posted a photo of her son and husband kissing her baby bump on her Instagram in November 2017.
As for Tamera, she married the news anchor, Adam Housley on 15 May 2011 in Napa Valley, California. The pair welcomed their first son, Aden John Tanner on 12 November 2012 and welcomed their second child, Ariah Talea Housley in July 2015.
Darlene is now blessed with three beautiful grandchildren, and one more is on the way. Her children keep posting beautiful photos of the family on their social media accounts. Darlene's sons are still not married, and when they will, Darlene is going to have a huge family.
More About Darlene And Children's Career
Darlene Mowry is popularly known as the mother of identical twins, Tia and Tamera who rose to fame with the popular ABC series 'Sister, Sister.' Darlene served as the U.S Military Army along with her husband until she finally quit the job for her daughters so that they could move to Los Angeles to pursue a career in acting.
As teenagers, the twin sisters landed the starring roles on the popular ABC series 'Sister, Sister' after they were spotted watching their brother on the set of 'Full House.' The series was the huge success running from 1994 to 1999. They continued their acting careers, with appearances in 'The Hot Chick,' 'Twitches,' 'Twitches Too,' 'Seventeen Again, 'Strong Medicine' and their reality show, 'Tia & Tamera' on the Style Network. In 2014, Tamera became co'host on the Fox talk show called 'The Real.'
Their younger brother Tahj has also been involved in acting from the young age. He starred in the series called 'Smart Guy.'
How Much Is Darlene's Net Worth?
Having devoted her whole life to her children's success, Darlene shares the fame and prosperity that her children have earned in their career. The ex-military mother may not have her own net worth, but she shares the popularity along with her daughters' net worth of $8 million and son's net worth of $1.5 million which is quite enough to live a healthy lifestyle for Darlene. 
Death Rumors
Like many celebrities, Darlene has also faced death rumors as she is not much presented in public media. However, the stories evidenced to be wrong when her son, Tahj, posted a picture of his mom wishing her happy birthday on his Instagram back in 2017. 
Short Bio
Darlene was born on 25 October 1956 in the United States. As per wiki, she belongs to Afro-Bahamian ethnicity, and she went to high school in Miami, Florida. Darlene, who is currently at the age of 61, served in the U.S. Army and later became her children's manager. She also worked as a security guard.