Life is filled with uncertainties. A minute before you were a reality star and set to star in MTV's show 'Teen Mom 2' and the next you know is a person who is battling hatred tweets and got fired. But the infamous star David Eason has himself to blame for.
Known as the husband of Jenelle Evans became the online culprit when he tweeted a homophobic tweet on 19th February 2018 and enraged thousands of people of LGBTQ community in the process. 
Lost The Custody Of Son 
The MTV star, David Eason reportedly lost the custody of his son, Kaden, with his ex-partner before he publicly expressed his concern's for his safety. As per the sources, David's ex, Olivia Leedham recieved the sole legal and physical custody of their child granted by the judge in North Carolina on 29 June 2019. 
Since July 2018, Kaden started showing the unnatural behaviors to David's visit. Later, in November 2018, his visitations were suspended. 
Concerning the custody battle, David Eason slammed the incident through a Facebook post. He mentioned that Kaden's mom was in drugs for a long time and kept him from David for a long time trying to hide her bad habits. Further, he added that Olivia asked him to sign the papers saying that he did not have to be a dad despite his love and care. Eason had asserted that she was abusive towards him and even kept Kaden's life in danger while she was pregnant.
In the midst of the drama, David's relationship with his current wife, Jenelle has become even more strong. About the custody case, she stated that only because Olivia has primary custody does not mean that David is not his father. He still has all his rights as a father. 
Homophobic Tweets Causes Public Rage!
In the world of social media, things can fall out quickly, and David Eason is the new star to feel the rage of the Twitter user. It all started when MTV star responded to a Twitter user by an alleged homophobic tweet on 19th February 2018.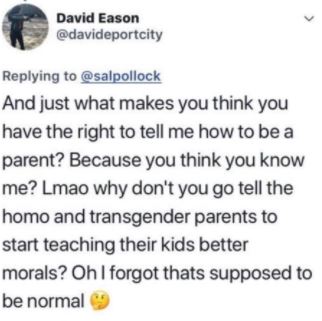 Screenshot of the deleted homophobic tweet by David on 19th February 2018 (Photo: Twitter)
Several Twitter user then backfired at David for his insensitive thoughts. Also, he retweeted to a Twitter user who asked him if he would teach his children to hate gay and transgender people.
"No, I'm going to teach them not to associate with them or be that way, If you lay down with dogs you get up with fleas."
Now his tweets have been taken down, and he has deactivated his Twitter account, but that didn't prevent him from the eventual calamity.
Don't Forget: Rick Dickert Wiki, Age, Wife, Salary
MTV Fires David After A Quick Response
After his recent social media activity, a petition was created which demanded the firing of David and his wife Jenelle Evans from the 'Teen Mom 2' and had more than 8000 signatures. MTV was quick to respond and fired David on 20th February 2018.
MTV then released a statement to People on 20th February 2018 which states:
"David Eason's personal comments do not reflect the views of MTV, With six weeks left of production on Teen Mom 2, effective immediately, we are ending our relationship with him."
Jenelle Defends!
Ever since the hectic Twitter battle, every eye was on the David wife's Jenelle and how would she take this matters. As it turns out Jenelle, who married David in September 2017, stands beside her partner and said that they don't hate people of LGBTQ community.
While talking to TMZ, she said that David doesn't hate the LGBT community as his old manager was gay and used to be close friends. However, she capped her conversation by apologizing for the comments made her husband.
David had a previous relationship before marriage with Jenelle and had two kids, a son named Kaden David and a daughter named Maryssa Rose. Before he took wedding vows with Jenelle, he welcomed a daughter, Ensley Jolie in January 2017. 
Accusation Of Domestic Violence
After David got fired from the MTV"s Teen Mom 2, an allegation of physically abusing his wife flaunted over the media. Jenelle reportedly accused David of domestic violence and claimed that David physically abused her which was more than a drunken misunderstanding.
Likewise, Jenelle's mother, Barbara, mentioned that her daughter was more stressed as she assaulted David for domestic violence which got followed with the piles of speculations. Later, when Jenelle joined her mother to film the show at Jace's soccer game, David too attended the site due to which producers denied shooting anything. Defending her husband, Jenelle also denied to film the episode of Teen Mom 2 on 11 February and did not appear on the show.
There is a controversy regarding Jenelle refusing to shoot in the show. Barbara stated that the accusation over David was true and whenever Jenelle makes any commitment with the show, she falls upon the trouble with David. Furthermore, Barbara alleged that David kept her as a prisoner due to which she was unable to perform her career works properly. 
Besides that, David also got accused of threatening to shoot a woman named Sandra Britt in front of his North Carolina home. Santa, who was looking for the rental property, stood up before his house. In the meantime, David came up with a gun and threatened her to shoot. She added that he took a picture of her license plate number before leaving.
Concerning the incident, Santa filed a report on the police department, but David came up with a video on Instagram and denied the accusation stating;
 "Not only did I not have my gun on me but I was in no way trying to defend my life. I was literally asking you if you needed help."
David Battled Cancer
In December 2017, Jenelle shocked the fans when she revealed that her husband had cancer. The reality star who kept the news secret for so long said that she wanted to protect the privacy of her husband.
She also mentioned that David had gone through thyroidectomy and radiation therapy.
Discover More: Mercedes Colwin Wiki, Age, Husband, Net Worth
David's Job Before Fame
David was a lesser-known man before his relationship with reality star Jenelle; he had a job as a pipe welder. Some reports claim that he had a criminal history and g sentenced to probation after being offended for 'Possession of drug paraphernalia.'
He met Jenelle on Tinder, and the rest is history. After his relationship surfaced in the media, he quickly became a star overnight and even acted as a manager of Jenelle.
Short Bio And Family
As per wiki sources, he was born as American on 23 June 1989 which adds up his age to 30. The reality star, who stands at a tall height of around 6 feet, maintains ribbed physique. He belongs to white ethnicity.
Nothing much is known about his family, but he has a sister Jessica Eason Miller. In December 2017 her conversation was leaked online where she mentioned Jenelle Evans of being a **** and alleged that she took 'Uncle David' away from her family.