He was having a peaceful and off the hook lifestyle, but the one event happened that made him a villain overnight. David Mueller was quietly doing his business for 20 years as a Radio DJ only to be involved much-hyped Taylor Swift, 27 Groping Lawsuit where he became the culprit. Ever since the incident, he is consistently denying any allegations and is even ready for Polygraph Test.
Taylor Swift Groping Lawsuit Ended in Symbolic $1!!!
The shocking incident involved probably one of the most iconic pop stars of the generation, Taylor Swift on 2nd June 2013. During the meet-and-greet program, DJ David Mueller allegedly grabbed the bum of the pop sensation, when Taylor Swift posed for a picture alongside DJ's then girlfriend, Shannon Melcher.
Swift who was seen in black-dress said that Mueller grabbed her from the backside and had to "lurched away" from him. Taylor's bodyguard revealed that David's hand went under her skirt and Taylor jumped. She then moved her skirt down and moved closer to a girl to pose for the picture. Bodyguard even said that he has no doubt that he saw Mueller placing his hand under the skirt but he can't tell the period his hand was up there.
Two-Days after the incident, David was fired from the KYGO radio where he worked as 20-year veteran radio DJ. He had a contract worth $150,000-a-year and two-year later; he sued the star claiming a compensation of $2 million as he was wrongly suspended from his job.
He said that he asked for something in writing stating it was misunderstanding and he could get his job back. But the Judge William J. Martinez ruled out the case against David in the base of lack of witness and evidence.
"You Belong with Me" singer then countered the lawsuit with Sexual Assault against David. On 14th August, Jury ended the six-day Court trial with four hours of deliberation giving the verdict in favor of the singer claiming David did assault the pop star in 2013.
Taylor was then awarded Symbolic $1 in damages and released a statement thanking supporters and judges for standing beside her.
"I want to thank Judge William J. Martinez and the jury for their careful consideration, my attorneys Doug Baldridge, Danielle Foley, Jay Schaudies and Katie Wright for fighting for me and anyone who feels silenced by a sexual assault, and especially anyone who offered their support throughout this four-year ordeal and two-year long trial process.
I acknowledge the privilege that I benefit from in life, in society and in my ability to shoulder the enormous cost of defending myself in a trial like this. My hope is to help those whose voices should also be heard. Therefore, I will be making donations in the near future to multiple organizations that help sexual assault victims defend themselves."
David's Side of Story: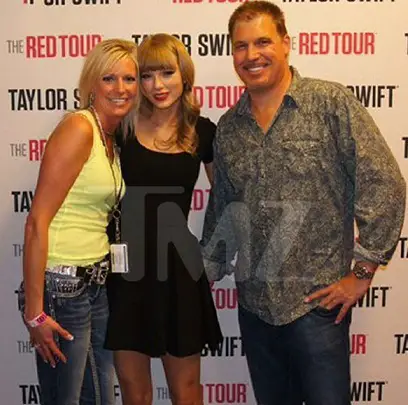 Caption: David(right) and Taylor(center) in the meet-and-greet at Taylor's Red Tour on 2nd June 2013
Source: TMZ
After the verdict, David denied of any wrong doing and said that he could take the polygraph test to prove his innocence. He also stated that he didn't lift the skirt and pointed that her skirt wasn't disturbed in the picture. He also revealed that he might have unknowingly held his hand in her ribs but not her bum.
His Short Bio:
David Mueller is veteran Radio DJ who is known as Jackson in KYGO's Ryno and Jackson show. He currently ages around 55 and was 51 when the shocking incident took place. The Radio DJ, who possesses large body shape and height, worked for 20 years in the industry. David whose wiki remains silent on his family life was in a relationship with Shannon Melcher in 2013 but soon parted their ways. His wiki remains silent on his family life. He holds American Nationality.