The most prominent pain in the world is to see your beloved ones depart into another world and there is no second thought to that. But a pain that occurs in a mother when she loses her son is beyond any explanation. The Radio show host, Delilah has been through that phase for the second time, as she recently witnessed the passing of her son Zachariah on 3rd October when he decided to bring a full stop to his life after a long battle with depression.
Son Dies After Long Battle Against Depression; Attempts Suicide!
"Queen of Sappy Love Songs," Delilah who has fielded countless requests and dedication through her long career in radio, is in desperate need of support and care from her millions of fans in this time of despair.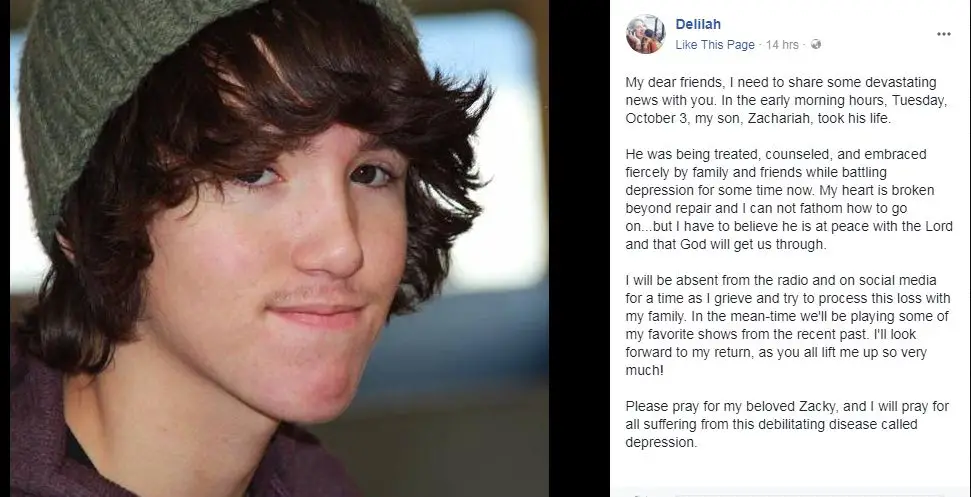 Delilah's son dies of suicide (Photo: Facebook)
On 8th October 207, she announced through her Facebook account that she lost her son, Zachariah on 3rd October who took his own life.
She said:
"My dear friends, I need to share some devastating news with you. In the early morning hours, Tuesday, October 3, my son, Zachariah, took his life." 
Her son died after fighting the long battle against depression. In the post, she also mentioned that her son was being treated and embraced by family and friends but couldn't stop the ultimate doom.
Read More About Radio Host: Traci Steele Wiki: Age, Boyfriend, Net Worth
Together With Fourth Husband For 12 Years!
American radio personality, Delilah has been married four times in a row and is the mother of 13 children. She, however, found love in the fourth husband after continuous divorce with three ex-spouse.
Delilah is currently in a relationship with her longtime lover, Paul Warner, with whom she got married on 27 October 2012. The couple has been together for over 12 years since they met.
Also Explore: Chris Carlin Wiki, Bio, Married, Wife, Salary, Net Worth, Radio
Delilah and her husband, Paul are proud parents of thirteen children among which 10 of them are adopted. Among the children, two of them have died that included Sammy Young Dzolali Rene, who died of complications of sickle-cell anemia on 12 March 2012, and a biological son Zachariah, who died by committing suicide.
Isaiah is her oldest son, who recently celebrated his birthday on 16 September 2018. On occasion of his birthday, Delilah wished him sharing the old childhood photo of him.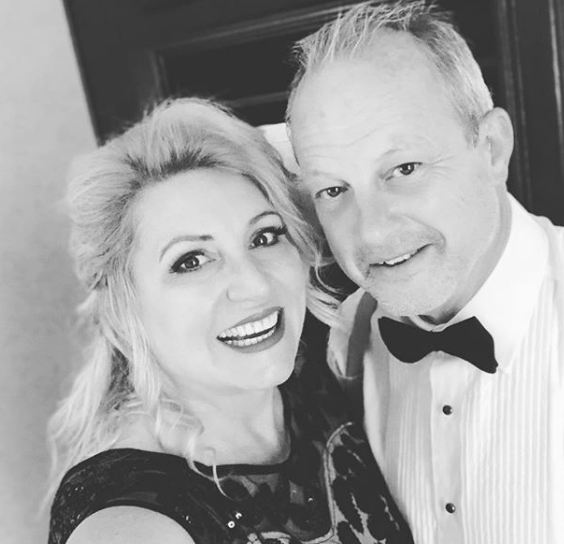 Delilah and her spouse Paul went on Don and Darlene's wedding. (Photo: Instagram)
Recently on 25 September 2018, Delilah and her spouse Paul attended their friend Don and Darlene's wedding. She shared their picture on her Instagram and wrote that it was their second time in 12 years of togetherness where they went somewhere without their kids.
Time-off From The Radio
The author, songwriter, and radio personality is known as the host of nationally syndicated US radio song request and dedication show. The meteoric rise in Radio industry saw her earn an eye-watering salary from the producer which boasts her net worth in millions.
Don't Miss: Jacob Pechenik Wiki: Net Worth, Wedding, Zooey Deschanel, Height
The loss of Delilah's son has left her heartbroken and claims that the damage is beyond any repair. In the heartfelt Facebook post, she announced that she is taking some time off from the radio and social media to process and cope-up with this loss.
She is a real fighter and came out strong as ever in 2012 also when she lost her son named Samuel a.k.a. Sammy due to sickle cell anemia. Delilah will indeed make a come-back with rejuvenation and new goals.
Short Bio
Delilah Rene stepped in the world on the 15th day of February in 1960 in North Bend. At the age of nine, Delilah moved along with her family to Reedsport, Oregon. She completed her high schooling in 1978.