Dodie Clark is widely known for her apocalypse name "Doddleoddle" that she has given to her YouTube channel. Yes, Dodie is a Youtube personality, a singer, songwriter, and also an author hailing from the country of talent, UK. 
Dodie is prominent for her Youtube career, where she uploads the videos of her original and cover songs and also for the video of herself playing the ukulele. She has released her original songs like Party Tattoos (2017) and Sick of Losing Soulmates (2016). Additionally, she has also published her books EP You (2017), Secrets for the Mad: Obsessions, Confessions, and Life Lessons (2017), which further helped her garner considerable attention of audiences.
Dodie Clark Bio & Age
Dodie Clark was born in Essex, England, on 11 April 1995. Her birth name is Dorothy Miranda Clark, and her parents are Ralph Clark, an IT consultant, and Astrid Clark. Also, she has siblings- younger sister Hedy Clark who is also a youtube star and brother, Iain Clark. 
Growing up, she attended The Leventhorpe School in Sawbridgeworth, Hertfordshire, and began her career in August 2007 as a YouTuber alongside her friend Alice Webb. She later created a solo channel called "Doddleoddle" on 7 February 2011 and upload her debut original song Rain on 14 April 2011. 
Also, Know About Another Youtube Star: KevJumba Age, Dating Status, Parents, Siblings & Accident Details
Standing tall at the height of 1.71 m (5 ft 7 inches), now Dodie is best known for her massive 1.8 million followers and her collaboration with celebrated YouTube personalities like Jon Cozart and Tessa Violet. 
Details on Dodie Clark's Boyfriend
Dodie was rumored to be dating Evan Edinger, a YouTube star in June 2017, based on their growing bond. But, despite the rumors, she and Evan remained friends but never vocalized about the speculations.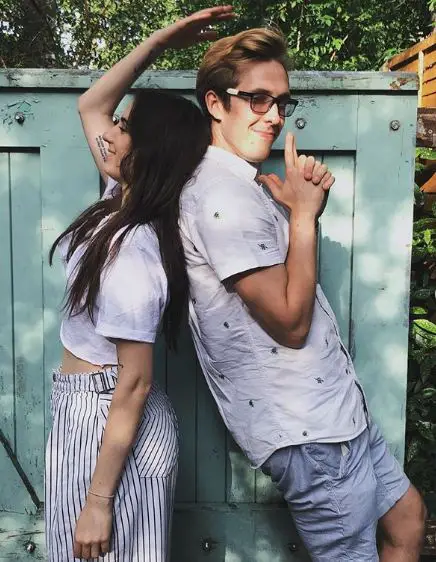 Dodie Clark with her rumored boyfriend, Evan Edinger. (Photo: Dodie Clark's Instagram)
Similarly, before Evan, she was also linked with Nathan Zed, the same year. Nathan shared a picture of them cuddling, and the audience took no time to judge them. However, both of them denied the allegations. 
Although her relationship with Evan and Nathan didn't come to a conclusion, she confirmed her involvement in the past with fellow YouTube star and filmmaker, Sammy Pail in March 2017. They dated in the year 2015 and split the same year. Dodie also revealed that when she was seventeen, she dated a twenty-two years old abusive boyfriend, 
Songs & Sexuality Talks
Dodie came out bisexual publicly via her YouTube video that she uploaded on 23 May 2016. Before this, she also made a video relating to her sexuality on 14 August 2014. She hadn't labeled herself as a bisexual then, however, she did say she had been attracted to girls and had kissed girls. 
Bisexual Star: Elle Mills Wiki: Age, Dad, Mom, Net Worth, Bisexual
Also, in support of revealing her sexuality, she made a touching song with sincere words. She posted the original song called I'm bisexual - a coming out song on YouTube on 30 June 2017.