American artist Doja Cat is a rapper, singer, producer, and songwriter. She is famous for her hypnotically wry voice along with hip-hop and electric R&B hits. 
Doja stole the limelight when she first debuted her EP, Purrr!, in 2014. Her single Mooo! also gained huge acclamations in 2019.  
Doja Cat Wiki And Ethnicity
Doja Cat (real name: Amalaratna Zandile Dlamini) was born on 21 October 1995 in Los Angeles, California, to mixed heritage parents. 
Her father, Dumisani Dlamini, hails from South Africa and is a notable South African actor, film producer, and composer. On the other side, her mother, Deborah Sawyer, is an American painter- who possesses Jewish roots. 
Also A Singer: Chloe Bailey Bio: Parents, Dating, Halle Bailey & Lesser Known Facts
Growing up, Doja learned piano, tap, ballet, and jazz dance lessons in New York City. Later, at the age of eleven, she moved to Oak Park, California, with her family. There, she learned surfing and breakdancing.  
Relationship Status
Doja revealed on 18 February 2020 that she broke up with her indie musician boyfriend, Johnny Utah.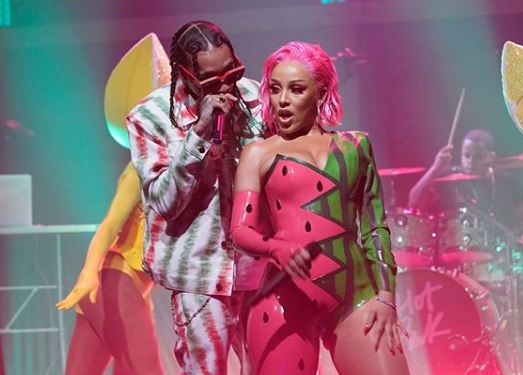 Doja Cat shares the stage with rapper Tyga in November 2019 (Photo: Doja Cat's Instagram)
She said everything is cool between them despite the split as both share the same chill nature. 
How Did They First Met? 
Bossip stated that Doja first encountered Johnny when she checked out Johnny's YouTube page. Though his music repulsed Doja, she liked his pants and eventually approached Johnny. 
In return, Johnny also became interested in Doja, and the rest is history. 
Who Is Johnny Utah?
Hailing from Philadelphia, Pennsylvania, Johnny Utah is known for his experimental genre-bending indie-pop music. He is famous for his mixes from different genres, such as funk, indie pop, loft, and bedroom pop.   
Read This: Chloe Bailey Bio: Parents, Dating, Halle Bailey & Lesser Known Facts
His most successful songs are Really Meant (2018), Honeypie (2019), and Crazy For Love (2020). 
Facts About Doja Cat
Doja's favorite music influencers are Rihanna, D'Angelo, Drake, Pharell, Nicki Minaj, and Erykah Badu. 

Her first ever single is So High- which was released in 2013. 

On 13 July 2017, Doja got featured on L8LOOMER's track 'Right Side. 

Doja Cat is her stage name. The name was influenced by her love for cats and weed. Doja means weed. 

Her debut EP titled Purrr! was launched when she was only eighteen. 

Her father wasn't involved in her upbringing; however, he frequently comments on her official Instagram page.