Dominic Edward Cooper is an English actor renowned for his role as Sky in the movie Mamma Mia!. He is famous as the young Howard Stark in the Marvel Cinematic Universe, including Captain America: The First Avenger; and Agent Carter. He is also a former boyfriend of Ethiopian-Irish actress. 
What is Dominic Edward Cooper's Net Worth?
The English actor rejoices with the net worth of $5 Million. He generated his revenue from his career as an actor. 
Dominic earned a considerable amount of money from his appearances on Mama Mia! (2008). He also mustered income from his movies The History Boys(2006); Captain America: The First Avenger(2011); and Abrahan Lincoln: Vampire Hunter (2012).
He has been performing in the entertainment industry since 1995. He made his theatre debut in Mother Clap's Molly House in 2001.  He was nominated for the Drama Desk Award (2006) for his portrayal in Alan Bennett's play History Boys. He also won a nomination for British Independent Film Most Promising Newcomer for the film adaptation of the play.
Failed Serious Relationships With Actress Girlfriends Spark Gay Rumors
Dominic Cooper has rarely found himself single for more than two decades. He has officially dated three famous stars during this period, but he hasn't had someone in his home who he can call his wife. 
Despite being in serious relationships in his dating life, his unbelievable breakups have created speculations amidst his fan base that perhaps he hasn't settled down with women because 'he's secretly gay.' But just because the 40-year-old hasn't settled down with any of his past girlfriends doesn't mean that he is gay.
Although he hasn't made any statements, his dating pattern suggests, he doesn't seem to want to get married.
Also, Explore: Brad Leland Net Worth
Moving out of his gay rumors, his 2018 break up was shocking for his fans. Many people who traveled along the journey of Dominic's dating life were left wondering after the news of his break-up with Preacher's co-star Ruth Negga broke out on Tabloids.
His relationship with Preacher's co-star Ruth Negga ended after eight years of dating (2009-2018). Their break-up has been harder for Ruth, who had expressed her desire for marriage, kids, and starting a family together with Dominic as his wife in a 2017 interview with DailyMail.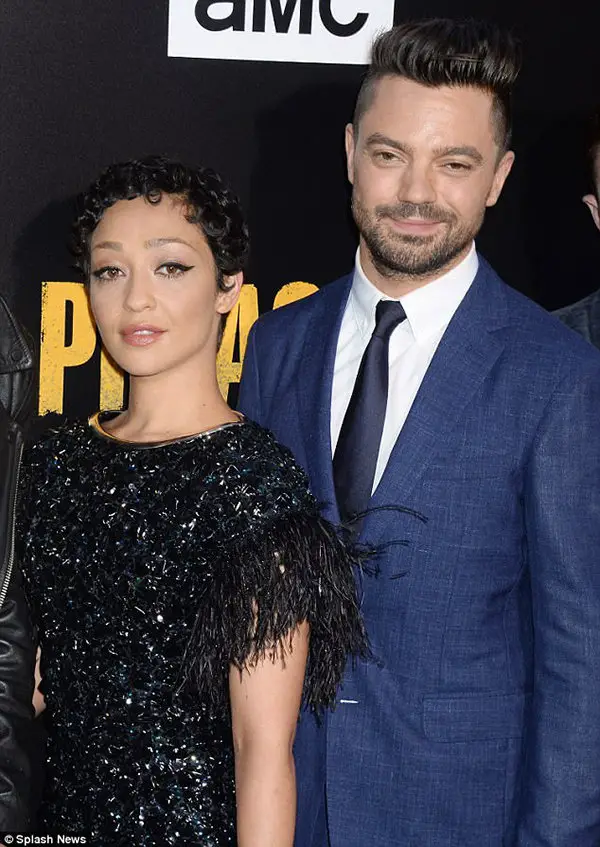 Dominic and then-girlfriend Ruth poses during the premiere of Preacher in 2016 (Photo: Dailymail.co.uk)
The former couple had met on the stage production of the famous tragedy play Phèdre in mid-2009. Since then, the duo had worked together in several movies like Warcraft; and Breakfast on Pluto.
Never Miss: Peter Gallagher Net Worth
But Ruth wasn't the only woman who wanted to live the rest of the life with him.
Before dating Negga, Cooper was in an on-off relationship with American actress Amanda Seyfried for more than one year. The duo met on the sets of Mamma Mia!  in 2008 and fell in love with each other while shooting in Greece. The pair played lovers Sky and Sophie in the blockbuster Abba movie.
Amanda revealed in an interview with Zimbo in October 2009 that she thought he would swing the other way when they first met, as she found him and his dressing personality to be gay.
"It so wasn't instant love. I thought he was gay. I didn't know many Englishmen and it was just the way he dressed -- he is quite fashionable. Dominic and I split off towards the end of filming a little bit, but it was never anything that was real. It takes time. Life is complicated."
She also expressed her desire to marry and start a family with Dominic during her interview with Instyle magazine in the same year. She said,
"I want kids. You don't necessarily need to be married for that. I would love for my parents to have grandchildren and to have a good father for my kids. I want to be with the father of my children."
Unfortunately, things didn't quite work out for the pair, which was surprising for the fans given he had only publicly dated Amanda after his past failed relationship. Going way back before Amanda, Cooper dedicated 12 years of his life being in a relationship with actress Joanna Carolan.
Dominic and Joanna's relationship ended after headlines were made when it was revealed that Amanda and Dominic had seen each other behind her back.
Start Of A New Relationship?
Dominic has yet again found his love, this time with Gemma Chan. The two made a public appearance as a couple in December of 2018. They were spotted leaving the London event's afterparty.
The duo confirmed that their relationship started in August of 2018. This was just four months after Dominic parted ways with his eight years relationship with Ruth Negga.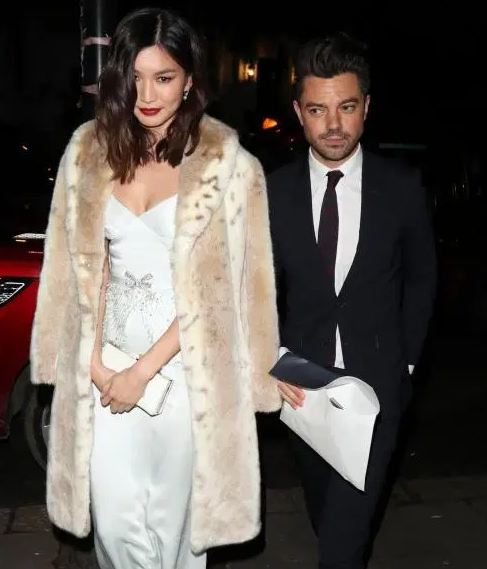 Dominic Cooper with his new girlfriend Gemma Chan at London fashion awards (Photo: thesun.co.uk)
Dominic and his lady love Gemma are still together to this day. Most recently, they were spotted in October of 2019, strolling around the streets of Primrose Hill, north London. Gemma had her hands wrapped around her partner's hand. The two seemed to have gone shopping, as suggested by a bag in Dominic's hand.
Gemma is a British film and theatre actress and also actively worked as a model. Now, she lives with her boyfriend, Dominic, in his London home. 
Short Bio:
Dominic Edward Cooper was born on 2nd June 1978. The famous actor was born and raised in Greenwich, London, England. His mother, Julie (Heron), is a nursery school teacher and a keen theater-goer. His father, Brian Cooper, is an auctioneer.
Discover More: Michael Lembeck Net Worth 
Edward has two older brothers, Nathan and Simon. He had a sister who died (before Dominic was born) in a car accident when she was at the age of five. He also has a half-sister from an extramarital affair by his father and a half-brother from his father's second marriage.
Cooper went to Thomas Tallis School in Kidbrooke. He graduated in 2000 before starting a few minor roles in television and theater.