Well, talk about being a sport, Doris Burke handled flirtatious rapper Drake in the most adorable way possible. The divorcee, Doris came into limelight when she took a calm approach to Drake's proposal.
Doris Burke is famous for working as an NBA Analyst in ESPN and ABC. She is the first woman to become a commentator for a New York Knicks game on both radio and television.
Doris Burke Relationship With Husband
Doris Burke was married to Gregg Burke in 1989. Doris and her husband were blessed with two children, a son named Matthew and a daughter named Sarah.
After four years of their marriage in 1993, the couple welcomed their first children, a baby daughter named Sarah. Later in 1995, she and her husband, Gregg became parents of a second child.
However, the duo ended their relationship in divorce. The former couple never opened about the reason behind their separation.
Doris is close to her two children. She often shares pictures of her children on her Instagram and also mentions them as his favorite people. She reportedly wants to retire at the age of 60 and wants to spend time with her grandchildren.
Don't Miss: Buddy Stephens Wiki: Age, Bio, Family, Salary, Net Worth, Last Chance U
Doris Burke Kisses In My Feelings' Rapper; Is Rapper Her Boyfriend?
ESPN reporter, Doris Burke always has been an admirer of thousands of fans. However, she came in an awkward turn of event when In My Feelings' singer and rapper, Drake Graham publicly flaunted his feelings for Doris and revealed that he has a huge crush on her. All sorts of drama began when the rapper expressed his feeling back in 2016.
In Toronto Raptors game in November 2016, Drake pointed at Doris and made a heart sign at her. Further, he made his appearance in the Eastern Conference Finals at Toronto, where he allured the attendees, as he was seen wearing the "Women Crush Everyday" shirt featuring Doris's face.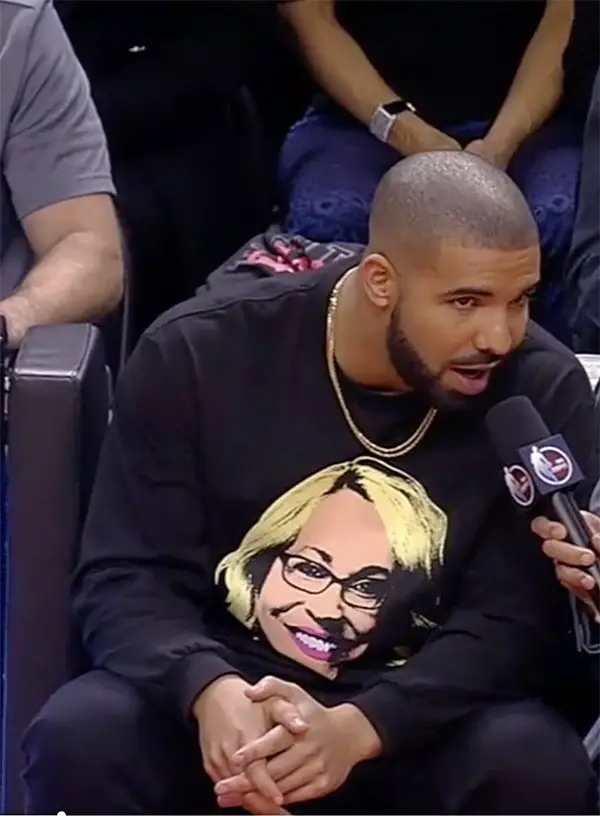 Drake wears the "Women Crush Everyday" shirt featuring Doris Burke's face (Photo: hollywoodlife.com)
Drake revealed that reason for wearing the T-shirt and said that Doris is his inspiration. He mentioned;
"My inspiration is Doris. I think she is a stunning woman, incredible at what she does. I wish she was here tonight, just sending my love to her. I love Doris with all my heart, so hopefully she knows she's woman crush every day."
Drake's unusual appearance even surprised Doris's son and asked her what was going on between him and mother for which she replied saying she had no idea of it.
Furthermore, Drake invited her for dinner on a live TV.  Later, on 16 November 2016, Doris gave a reply to Drake's dinner date proposal saying "dinner is on" with a heart emoji. However, the details of the dinner date are yet to come light
The sportscaster and Drake eventually met each other at Raptors game in April 2018. After thier meeting, Drake and Doris hugged and bonded like a friend. 
Although Doris was such a sport with Drake, the rapper is not her boyfriend, and they are not dating. As of now, Doris is yet to reveal the details of her personal life.
Also Read: Mercedes Stephenson Wiki, Bio, Age, Married, Husband, Salary
How Much Is Doris Burke's Net Worth?
Doris Burke reportedly has the net worth of $6 million, which she summoned from her career as a sportscaster. As per the finapp.co.in, she is entitled to an annual salary of $520,000. Doris has been earning the revenue from her job as a TV analyst for NBA on ESPN. As per the careertrend.com, the analyst of NBA make the salary of $79,050 yearly.
Doris started her career in broadcasting as an analyst for women's games in 1990, where she worked for the college on the radio. Later, she received the job in the ESPN in 1991 and started working as a part of ESPN's coverage of the WNBA.
Later, in 2000, the West Islip-born broadcaster signed an official contract with ESPN. Further in 2013, her deal with ESPN was extended ensuring she would be a commentator until 2018's session. Meanwhile, in an interview with Sports Illustrated in 2017, she expressed her concern about continuing her job as the sportscaster as she grew olds but revealed that she wants to continue until she turns 60.
More related To ESPN Journalist: Randy Scott ESPN, Wiki, Age, Height, Married, Wife, Girlfriend, Dating
Short Bio
Doris Burke was born as Doris Sable on 24 November 1965 in  West Islip, New York, USA along with her seven siblings. Doris, age 52, is the youngest sister among her siblings. Doris stands at the height of  5' 8" (1.73 meters).
Doris attended the Manasquan High School, where she at first entered varsity team as a freshman and eventually she grabbed the leading position after she proved herself as a leading scorer in the school's history. Later, she completed her graduation from Providence College with a bachelor's degree in health service administration. Also, she received the master's degree in Education.