There are many ways to achieve fame in this Internet-driven world; all you need to do is find the correct medium that perfectly compliments your passion. DrLupo has done something similar like that and Internet's development has come as a blessing in his life; he has been making living out of it.
DrLupo is famous as the gamer and for streaming videos on YouTube and Twitch. And the full support from his wife has helped him to be more than who he was in the past.
The Supportive MrsDrLupo!
The gamer found the lady who helps him with what he does. He is married to MrsDrLupo, who has around 48000 followers on Twitter. She is the one who managed his professional gaming career. She has not just adopted his real name but also adopted to his gaming identity.
But a follower of DrLupo has a problem with wives going after the names of their husband; they asked MrsDrLupo to get her own identity. Replying to this, she said she has her own identity, but she did it because she was proud of her husband for being the great person he is, supporting the family, and influencing people through his works.
Its been eight years since they shared their "I Dos." The couple has welcomed a baby boy named Charlie in the family who is now three years of age. Both of them are happy to raise this baby and can't wait to see him as a great person in the future.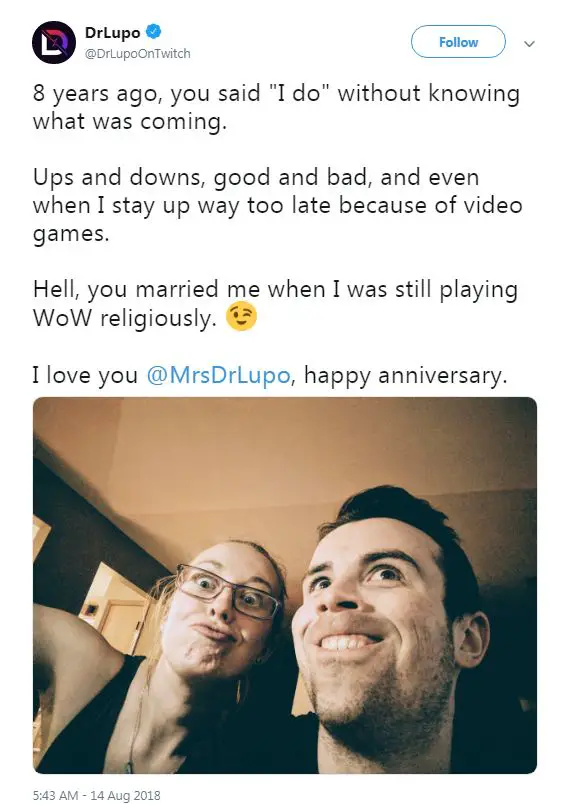 (Photo: Twitter)
On the occasion of Mr. and Mrs. DrLupo's 8th wedding anniversary, they both wished each other on Twitter. DrLupo thanked her for accepting him even after knowing what was coming. She is there for him through his ups and downs, even when he stayed up too late for his video games.
How Much Is DrLupo's Net Worth?
DrLupo summons his net worth as a gamer who streams gaming videos on YouTube and Twitcher. In his channel, he shares videos of games like Destiny, Fortnite, PUBG; his Fortnite videos are some of his most watched contents which have taken the height of his success to another level. He has been successful in getting the love of 2.5 million followers on Twitcher and more than a million subscriber on YouTube. Each of these followers adds some amount to his net worth.
Before being a full-time gaming content creator, he worked as a system engineer in a local insurance company. His love for gaming helped him come to the streaming business. He said,
"In order to match my income over the course of a whole year at my old job, I would have had to have about 3,000 (Twitch) subscribers."
Now, he has ten times more subscribers, giving him ten times more than the six digit salary he used to earn as an engineer in a year.
DrLupo's Real Name and Bio
DrLupo is the name he adopted for his YouTube channel. He was born with the name Benjamin Lupo but got famous as DrLupo. He was born in 1987 and marks his birthday on March 20, as per wiki.
He is very close to his parents, especially his father who passed in March this year. He notified the demise of his father through a tweet on 27th March stating that his father passed away due to a heart attack. He also said that his father was proud of his accomplishment, motivation, and positivity in him. After the post, a lot of his followers consoled and supported him.
His family always supported him no matter what decision he made in life. He also tweeted a gratitude post for his parents on 3 April 2018 saying, when told his parents about switching the job from engineer to a full-time content creator, they were concerned but confident on what he was doing.