Celebrity status is not easy to achieve and it is not easy when your name gets overshadowed by your own father. Such is the case of Duane Chapman II, who once shined as a robust bounty hunter and a reality TV star. His father is none other than America's favorite bounty hunter Duane Dog Chapman.  
 Alongside father Duane Sr, he starred in 8 seasons of the reality TV show, Dog the Bounty Hunter (2004 - 2012). He had joined the TV show in its second season and remained as one of the main characters until the show ended in 2012.
Similar topic : Ilfenesh Hadera Wiki, Bio, Age, Height, Boyfriend, Ethnicity
 Duane Chapman II later changed his name to Duane Lee to avoid confusion between him and his father.
Duane Lee Chapman II BIO
 The first son of Duane Dog Chapman, Duane Lee, was born on 21 January 1973 in Pampa, Texas. He has a younger brother named Leland Chapman and several other step-siblings. 
 In 1976, when Duane was three years old, his father was convicted of first-degree murder and was sentenced to Texas prison for five years for the death of Jerry Oliver (an alleged drug dealer). It was during this period that his mother La Fonda Sue Honeycutt decided to divorce his father. His father and mother finally split ways on 27 October 1977. 
Upon reaching adulthood,  Duane and Leland started following in their father's footsteps and became bounty hunters. They also joined their fathers' reality TV show Dog the Bounty Hunter.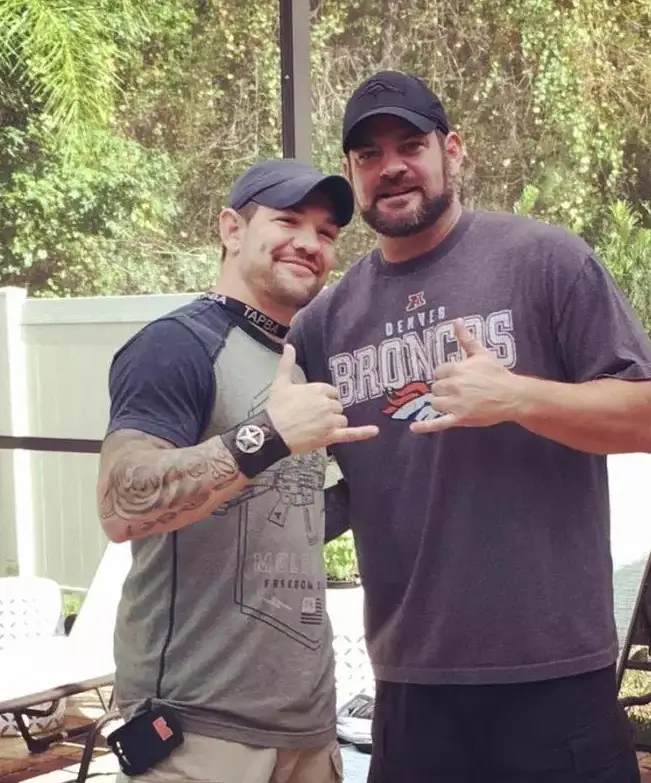 Brothers Reunite: Duane Lee(Duane Chapman II) with younger brother Leland Chapman (Photo:dailymail.com) 
 Unfortunately, in 2012, Duane Lee quit working on the show during its final season, claiming that his father Dog overworked him and stepmom Beth underpaid him. After a fallout with his parents, he left the show and moved to Florida ending his career as both a Bounty Hunter and a TV star.
Duane Lee Chapman II Net worth
 Although Duane Chapman II received fame through his father's stage, he has not been sighted ever since he quit Dog The Bounty Hunter. Among his famous siblings, he has been the only one to successfully hide from the limelight. 
  Also read : Beth Smith Wiki: Age, Weight Loss, New Look, Cancer, Net Worth, Now
Duane Lee's accurate net worth at present remains undisclosed, whereas his father Duane Lee Sr. made $6 million throughout his career as an actor and producer, 
Duane Lee Chapman II Married / Girlfriend
Duane Lee got married to wife Teresa R Roybal on 1 December 1999, They remain married for almost a decade but got divorced in 2008. Together they have a son named, Dylan Chapman.
We don't know if he dated anyone or had a new girlfriend after the divorce. During his marriage, Duane was stepfather to three other children; Jodi, Jasmine, and Jennifer from Teresa's previous marriage.