International Man Of Style Dwight Eubank is a reality star, a hair stylist and an entrepreneur, who has appeared on some hit reality shows and movies.
The Real Housewives of Atlanta star and Phaedra Parks's unofficial party planner has also come to spotlight for many other reasons. He even organized a funeral for his old nose after getting a nose job.
How Much Is Hair Stylist-Turned-Reality-Star's Net Worth?
Dwight Eubanks has summoned the net worth of $5.5 million. He was a former star of Bravo's Real Housewives of Atlanta and associates with the Atlanta salon. He is also involved in organizing events even though not so often and appeared and worked in movies. He also takes part in a fashion show and had hosted Bronner Brother Hair Show.
Read About Real Housewives: Kathryn Edwards Wiki, Age, Married, Husband, Real Housewives, Net Worth
Dwight is more of an entrepreneur than a reality star. He was involved in the makeup and hair on film and TV sets in Atlanta for long before stepping in front of the camera. He entered the reality show Bravo's RHoA after appearing on an episode of the show, where he styled the first season star Carla Mouse.
He is also an owner of a popular chain of Purple Door Salon in the Atlanta area. After the show, The Real Housewives of Atlanta, he continued working in his salon and has accumulated decent fortunes.
Openly Gay Dwight Was Engaged To Women!
Well, Dwight Eubanks has been open about his sexuality and often attends gay events. On 24 August 2017, he urged his followers through a tweet to attend the Pride Spirits Fest on 1 September 2017.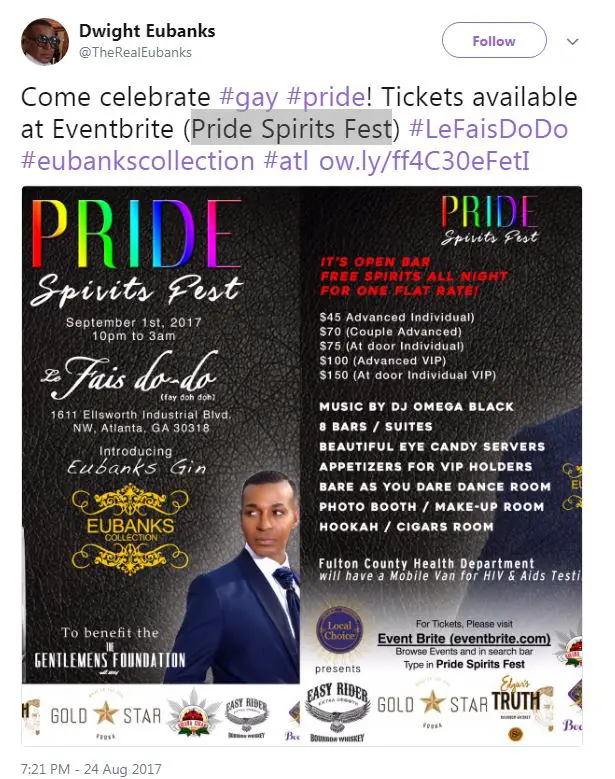 (Photo: Dwight's Twitter)
Then on 28 October 2017, he shared a picture to his Twitter followers attending the world premiere of  Gay Like Me. 
More On Reality Stars: D'Andra Simmons Wiki, Age, Wedding, Husband, Divorce, Net Worth
However, back in 2009, he shocked the entertainment fraternity when he revealed that he is engaged to a woman. In an interview with ESSENCE on 16 December 2009, he revealed that he has an appreciation for both sexes. 
He said that he was engaged to get married to a prominent lawyer in around 2007. The stylist then added that he gets to play more with women than men. He then mentioned,
"I can't get a date with a man, but the women are knocking my doors down. They just love you when you can be real about who you are."
His fiancée reportedly had no problems with Dwight sexual orientation and his closeness to both genders. However, after his big announcement, he is yet to update about his engagement. Did he transform his fiancée to wife? For now, it remains a mystery. 
After his engagement story, he probably identifies himself as a bisexual rather than a gay. Nevertheless, he is vocal about his support for the LGBT community and often speaks his heart out.
In an interview with Patch Poster in December 2011, he said that it's harder for people of the black community to come out as gay or lesbian. He then mentioned that people are finding hard to come out as they are not comfortable with sexuality. The reality also revealed that bullying to gay people happens in community, school and at home. He also shed some lights about his hope and said that he is positive to see some changes to address the bullying.
Short Bio
As per the wiki, Dwight Eubanks currently aged 59 was born on 17 March 1959, in Atlanta, Georgia, United States.
Read Also: Sarah Bolger Boyfriend, Dating, Parents, Ethnicity, Net Worth
He is a son of Queen Eubanks, an African American mother, which makes his ethnicity Afro-American. Even at this age, the hairstylist and salon owner has maintained his body. He has a perfect measurement and stands at the height of 1.75 m (5 feet and 9 inches).
To enhance his personality, he underwent rhinoplasty, which is commonly called rhinoplasty. He appeared in TV series Botched with doctor Nassif and Dubrow to go through plastic surgery. He said that he was pleased to get the nose fixed and even held a funeral for his nose. He said.
I can feel a difference, and that one difference was not physical appearance, but the ability to breath.