Eden Grinshpan is a chef and TV personality who hosted Cooking Channel's TV show Eden Eats. She is best known as the host of Top Chef Canada and the judge of Sugar Showdown. The beautiful TV personality, now a mother of one child, has shared packing tips along with her philosophy of cooking styles.
How Does Eden Grinshpan Gather Net Worth?
Eden Grinshpan summons prominent part of her net worth from her career as the TV show host since 2011. Her stint on reality TV shows like Eden Eats from 2011 to 2012, Donut Showdown from 2014 to 2015, and Live! with Kelly from 2016 to 2017 has served well to increase her wealth. She has also received payments from Food Network on 2017 as she appeared as the host on Canadian television series, Top Chef Canada.
Before serving as a food show host, Eden enrolled into The Institute of Culinary Education in New York. She then worked at the bakery and owned a production company EthNicitY Productions. At her age 25, Eden appeared as the host in the TV series Eden Eats. 
After her debut as a TV show host, she appeared on various shows as judge and host from 2012 to 2016 including Log on & Eat with Eden Grinshpan; Donut Showdown; Food's Greatest Hits; and Haylie's America. In 2017, Eden hosted the show Top Chef Canada and appeared on ten episodes. She also appeared as the guest in TV show Live! With Kelly in 2017.
Shares One Child With Her Israeli Huband; Cherishing Blissful Married Life
Eden Grishpan is married to Tel-Aviv native, Ido Niv-Ron since 2013. Her husband is an Israeli entrepreneur and is the vice-president of sales for Israeli hi-tech company Wibbitz. The duo met in the year 2011 when Eden went to a bar in Tel Aviv. The local people at the bar introduced her to Ido's Facebook when she told them she was from New York.
Ido added her as a friend on Facebook, and they started chatting and started hanging out. When Ido first met Eden, he was surprised by her beauty as the Israeli entrepreneur had only seen her profile photo with her face covered in mud. After the romantic encounter, they eventually began to flourish in their relationship. Ido decided to move forward and proposed his lady love which she accepted. They tied the knot on 2013 at Brooklyn, New York.
After four years of their espoused life, they welcomed their daughter Ayv in 2017. After their daughter was born, Eden began to read parenting books and embraced her role to nourish her child. Eden and her husband Ido are on their parenting journey and are also prospering their romantic relationship.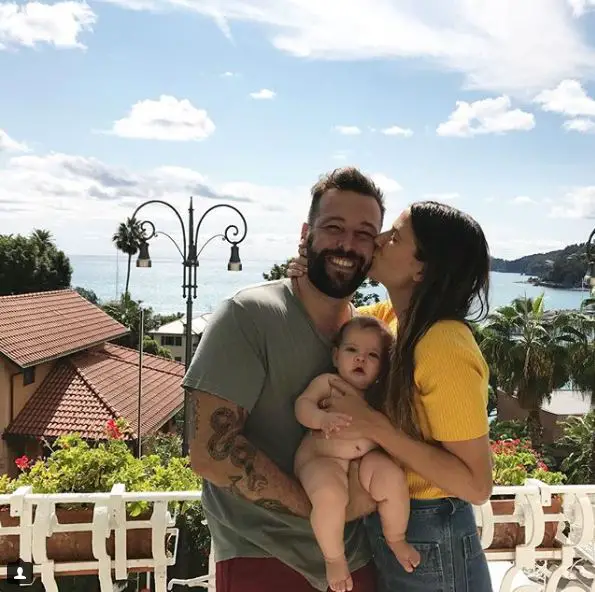 Eden and her husband, Ido Niv-Ron with their daughter Avy on 20 September 2017 (Photo: Instagram)
Eden and Ido are cherishing their five-years of happily married life where Ido is savoring the fantastic recipes of his wife. Eden also defines her husband as her 'trusted taste tester.' The family of three resides in the hips of Williamsburg, Brooklyn. 
Eden's Supportive Family; Father Food Fanatic
She was born to her parents Riva Grinshpan and Menashe Grinshpan. Her father Menashe grew up in Israel and was a food fanatic. With the support from her father and mother Riva, she was able to achieve her dream and develop her interest towards food. She also has two sisters as her family member, Arielle Grinshpan, and Renny Grinshpan.
Short Bio
Eden Grinshpan was born on 18 August 1986 in the United States as Eden Zvia Grinshpan. She also went to India and volunteered with various organizations including the orphanage of Ramana's Garden in Laxman Jhula, Uttarakhand, India. As per wiki, she studied diploma in pastry as well as cuisine and graduated from Le Cordon Bleu in London.