Venezuelan actor and ex-journalist, Édgar Ramírez is famous for his portrayal in the movie Carlos as Carlos the Jackal. He even won César Award for the movie Carlos. Édgar who stepped into an acting career with his role in a short film now has gathered recognition from audiences. Alongside acting, he supports the campaign "No Dispares" with Amnesty International.
How Much Is Édgar's Net Worth?
Édgar Ramírez accumulated the prominent parts of net worth from his acting stints. Among his movie debut, he has performed well on a movie The Girl on the Train. He bagged lavish earnings from the movie as the film collected $173.2 million out of a budget of $50 million.
The Venezuelan actor started his career in acting since 2003 and performed on more than 30 movies which helped him amass mouth watering wealth. He has played in the film Carlos portraying the character of Carlos the Jackal, which allows the actor to earn colossal fame and income. He also has movie credits on The Bourne Ultimatum, Zero Dark Thirty, Bright, and few more.
Édgar also gathered fortunes from his TV series and Music video Cosita Rica, Ser Bonita no basta, Desencuentro and Mis Ilusiones. On 2018, his portrayal on TV series The Assassination of Gianni Versace was applauded by critics and fans.
As of now, Édgar is working on his post-production movie La Quietud and will appear on movie Jungle Cruise releasing in 2019.
Édgar Has Multiple Girlfriend; Married?
Carlos actor Édgar Ramírez has been linked to multiple ladies. Édgar and Ana de Armas were reportedly dating on the set of Hands of Stone. Édgar even kissed the actress on the red carpet at the Cannes Film Festival 2016 giving tabloids enough to spread the rumors.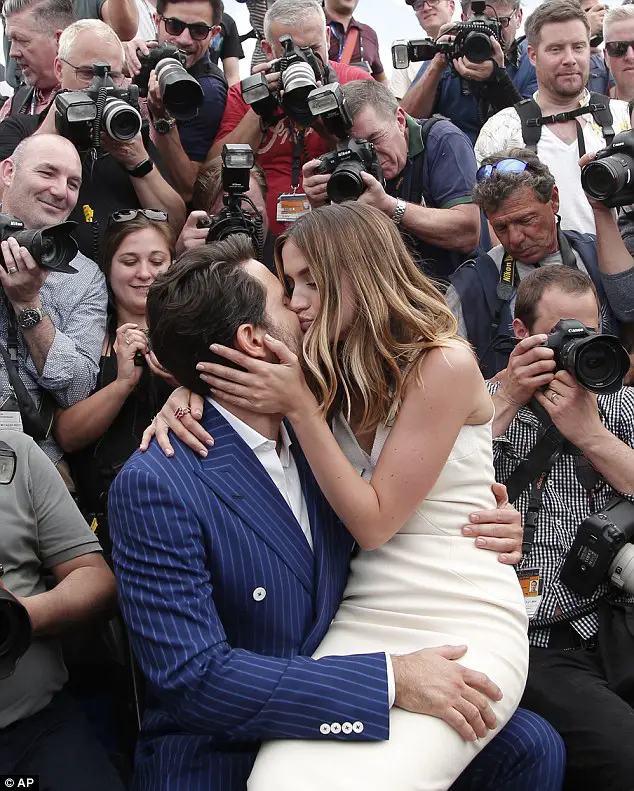 Édgar Ramírez shares a tender kiss with co-star Ana de Armas. (Photo: dailymail.co.uk)
However, Ana de Armas denied a romantic affair with Édgar. The actress insisted that they are just a good friend and the fact that he is Venezuelan and she is Cuban, they have common links. She also stressed that they have been friends and had a beautiful trajectory which led to the development in Cannes Film Festival.
Recently on, 22 May 2018, Édgar shared the photo of him with Ana saying: 'Life's beautiful with you.' The picture reflects that they are still good friends and share a beautiful friendship.
On 26 November 2017, Venezuelan actress Marisa Roman shared a photo of her kissing Édgar. In the caption, she mentioned him as a love. The alleged couple is yet to confirm their dating life.
Back in 2012, Édgar was rumored to be dating an actress Jessica Chastain. As per the source, the two fell in love on the set Zero Dark Thirty. But, the rumor saw its dead end when Jessica got married her Italian boyfriend in 2017. He also reportedly dated Nereida Solis.
Although he had girlfriends in the past, he is yet to get married. Édgar hasn't shed any light on what he is looking for in his future wife.
Édgar Ramírez with his cast member Ricky Martin portrayed a gay role in the TV series The Assassination of Gianni Versace. The two also revealed that they felt challenging to play a role in the series.
Short Bio
Édgar Ramírez was born as Édgar Ramírez Arellano on 25 March 1977 in Caracas, Venezuela. He is also known by his nickname Catire. He was raised by his parents, Soday Arellano, an attorney, and Filiberto Ramírez, a military officer. He has a sister named Nataly Arellano. Édgar sands at the height of 1.7 meters (5' 10").
He is fluent in speaking English, German, Italian, French and Spanish. He completed his graduation in Journalism at Andres Bello Catholic University, in Caracas. He belongs to Venezuelan ethnicity.