The issues regarding the sexuality of the renown names always create a great buzz among the public. Somehow their personal life is always a great matter of interest to most of the people out there. Similarly, the fitness trainer Emily Schromm is also in the limelight due to her sexuality which was revealed in the MTV's show, 'The Real World: Washington, D.C.'
Emily's Dating Life
Emily, who is a bisexual, had kept relationships with both males and females. The reality of her sexual orientation was revealed out from 'The Real World.' Well, she also took Twitter to talk about her sexuality back in February 2010.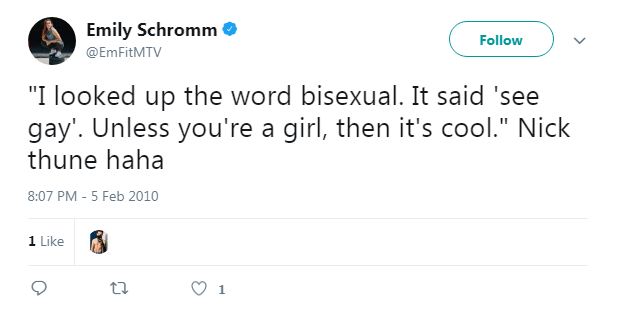 Likewise, in an interview with afterallen back in March of 2010, Emily shared the reactions of her family member when she discussed her bisexuality. She gushed, 
"I hit the point where I knew liking girls and kissing girls wasn't just a fling, and I sat them down one by one and was very open. I was SHOCKED at their reactions. I had a lot of "that makes so much sense" and "ahhhh, I get it now" and "Duh, Emily, I am not stupid."
 
She continued,
"My family and friends are all very supportive, and they want more than anything for me to be happy. I am very accepted by all parts of my support system, and that is the most liberating, amazing feeling one can ask for."
Her interview also proved that her friends and family support her in the matter of her sexuality and relationship.
Previously, Emily was found to be sharing a love bond with her girlfriend, Michelle Kinney, who is also four-time CrossFit Games competitor and 12th Fittest Woman in the world (2014). Emily has also tweeted a post addressing her Girlfriend.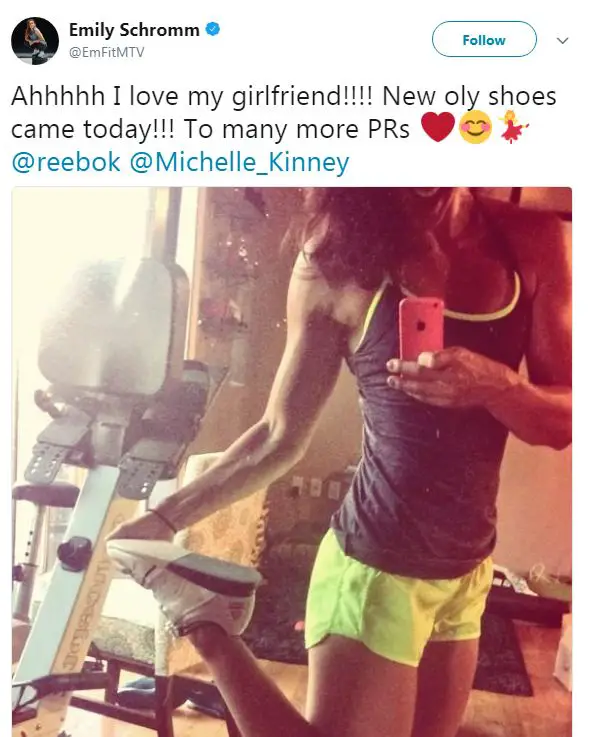 As of now, Emily is dating a guy. She is sharing the joy of romance with Bradford Reynolds. Here is a picture posted on Instagram by Brad with Emily on 14 February 2018.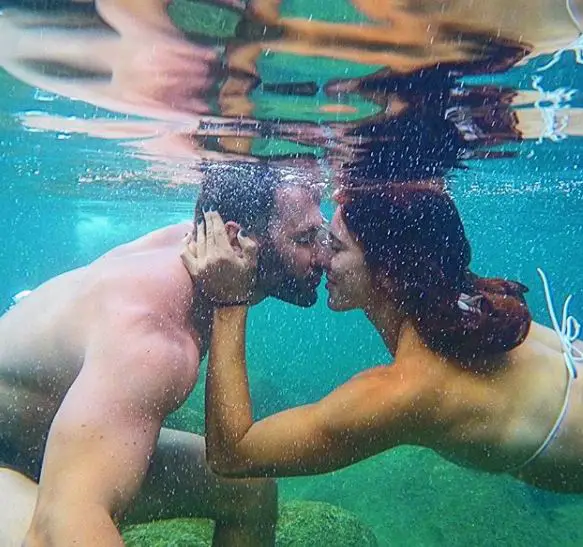 Emily and Brad having fun underwater (Photo: Instagram)
The fans and followers can see the glimpses of their love life through the Instagram account of Brad. Undoubtedly, Emily is cherishing her love life with Brad.
Professional Life And Net Worth
Emily's interests in fitness world immersed as she started doing yoga, rock climbing and playing football. Emily is well known as a personal trainer, Nutritional Therapy Practitioner, and CrossFit coach. Not only she became the MTV's Challenge winner but was also voted Women's Health magazine's Next Fitness Star (2014).
Her name came to fame as she appeared on MTV's 'The Real World: Washington, D.C.' There she worked as a Crossfit and fitness trainer and also competed in fitness competitions. Till now, the exact detail of her total income is not disclosed. From the popularity gained by her, it can be said that Emily is enjoying a well-settled life.
Her Short Wiki
Emily was born on December 23, 1988, in Columbia, MO. Her current age is 29 years. Talking about her height, she is around 5 feet 8 inches tall. She has two sisters Michelle and Amy and a cat named Griffindor in her Family. Emily was raised in cult having a great belief in Religion and left the cult as she turned 13.