Emma Chamberlain is a YouTube star who has a self-titled channel where she shares vlogs, lookbooks, along with lifestyles related videos. Her travel-related videos and fashion, as well as beauty tips, has gathered the YouTube star 1.7 million subscribers. Emma, who began vlogging during her sophomore, has also garnered more than 1.2 million followers on her Instagram.
How Did Emma Chamberlain Accumulate Her Net Worth?
Emma Chamberlain has gathered a prominent part of her net worth as the YouTube star since 2016. According to Socialblade, her self-titled YouTube channel gains estimated monthly earnings between $8.3K to $132.2K and her estimated yearly earnings ranges between $99.2K to $1.6M. Emma has gathered her net worth in more than millions of dollars from her entertainment videos on YouTube.
The YouTuber signed a contract with the top talent agency UTA in July 2018. As a creator of sponsored content, she is gathering payrolls from Audible and skincare brand, Curology. Emma is also set to earn big bucks from her clothing line Low Key By Emma C where she has partnered alongside mobile retailer Dote. She is set to open her clothing line in late 2018.
While she is teasing her future clothing line High Key by Emma Chamberlain on social media, her merchandise went on pre-sale during early August 2018. Her wares such as velvety hair bands and her new scrunchies are set to blow off the digital shelves soon.
Read Also: TheOdd1sOut Wiki, Face, Girlfriend, Dating, Parents, Siblings, Real Name
She created her self-titled YouTube channel on 13 June 2016. Emma was at her age 15 when she uploaded her first video titled 'City Inspired Summer Lookbook 2017' in June 2017. She then posted lifestyle vlogs, lookbooks along with her talks on videos. Her videos have hauled more than 1.7 million subscribers along with the total of more than 125 million video views.
The YouTube star's video titled 'We all owe the dollar store an apology' has gathered 1.9 million views which she posted on 27 June 2017. Her entertainment channel has become famous and has drawn more than 15,000 subscribers a day. 
Emma's Parents; Follows Vegan Diet
Emma Chamberlain was born to her parents who reside in San Carlos, California. Her father Michael Chamberlain is an oil paint artist who grabs the canvas and follows his slow-drying paint with the drying oils. She has also uploaded the videos with her father and shared her mother's picture on her social media.
Before joining YouTube, Emma was active on Twitter. She posted her 13-years-old photo along with her mother on 11 May 2014 where she wished on Mother's Day.
In one of the YouTube videos posted by 'Leif. Let' on 7 February 2018, her father Michael is seen playing with the fidget spinner. In the video titled 'Emma chamberlain's dad being a queen for 2 minutes straight,' Emma drives her four-wheelers and her father discusses the young generations using their phones for map directions. Micheal is also a vegan like his daughter Emma. Emma says that she is proud of her father.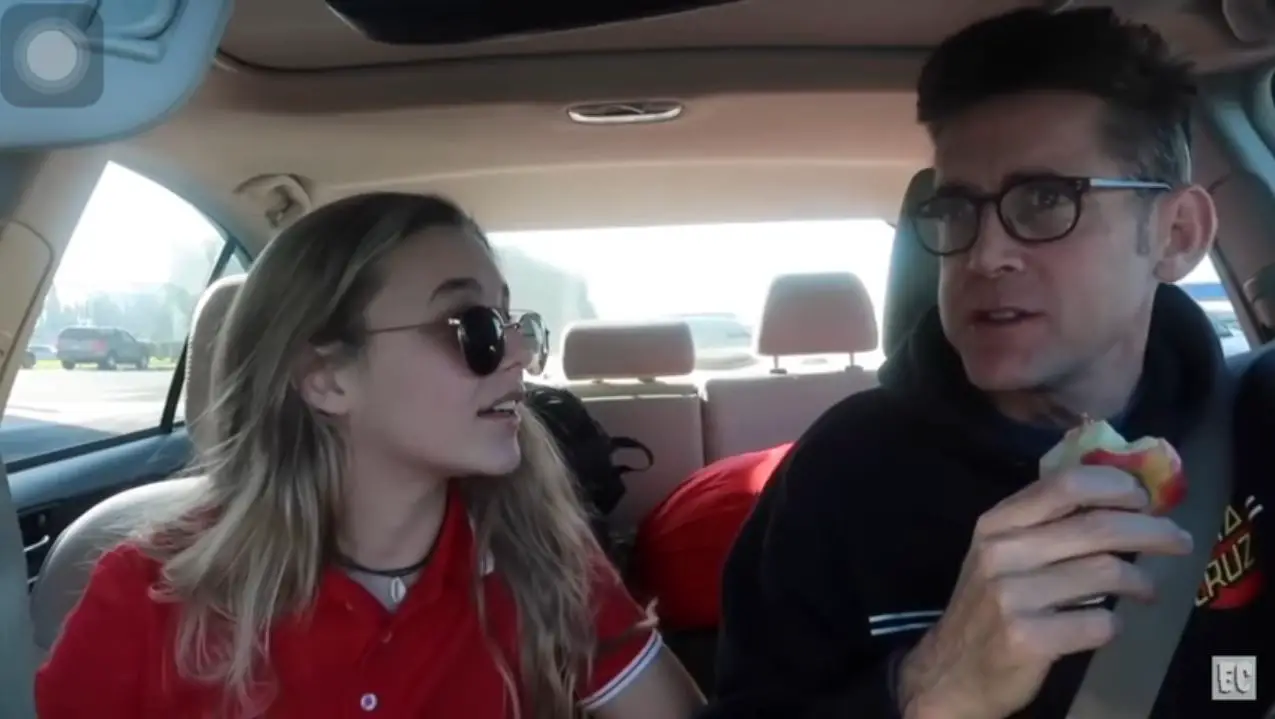 Emma Chamberlain and her father, Michael Chamberlain, posted on 7 February 2018 (Photo: youtube.com)
Emma has also promoted the vegan diet and vegetarians food along with healthy recipes on her YouTube. She believes that the vegan diet keeps not only her physical health in a good state but also her mental health. As a hardcore vegan, the YouTube star likes to eat tofu, salads, and vegetarian sushi. She also owns a pet named Sammy; a 'Yorkshire Terrier' breed small dog.
You Don't Want To Miss: Melia McEnery Wiki, Bio, Age, Parents
The YouTube star surprised her father Michael on 7 July 2018 during his birthday. Her father was supposed to visit her in Los Angeles from San Francisco. But Emma flew to San Francisco from her Los Angeles home and surprised Michael. She first met her grandmother outside her father's house and went towards her father's room. Later in the car, she double dosed the surprise and gave a Mac Book Pro as the birthday gift to her father.
Started YouTube And Left School
Emma was a junior in high school but left her education at Notre Dame High School in Los Angeles, California in late May 2018 because she didn't like the environment. In a video entitled Why I Left School, she opened about the reason why she left school and started YouTube.
She said that she was in severe depression. During the second semester of sophomore year, she hardly made three days to the school and cut off every connection with friends. But the immediate reason happens to be her failure to get driver's license.
As Emma describes driver's license as a way to get out and have her day on her own. She was devasted when she failed her test. After a two and a half hrs of conversation with her dad, she started her YouTube channel and got out of her depression.
See Also: Chance Sutton Bio, Age, Height, Girlfriend, Dating, Parents, YouTube
Short Bio
Emma Chamberlain who was born in 2001 as Emma Francis Chamberlain celebrates her birthday on 22 May. The California native YouTube star stands at the height of 1.625 m (5' 4"). As per wiki, she has the intense passion for clothing and fashion and always search for new trends.