Erica Garner, the oldest daughter of Eric Garner, devoted her life advocating for the equals rights and opportunities to the black community. But sadly, the outspoken critic of police brutality following her father's death on State Island in 2014 has died suffering a massive heart attack at the age of twenty-seven.
Died Following a Heart Attack!
Erica Garner, the Black Lives Matter activist, died following a heart attack on December 30. She was hospitalized for a week in Brooklyn after suffering an apparent heart attack on Christmas Eve.
Sources have reported that Erica, who was twenty- seven years in age, went into a coma after facing a cardiac arrest which was triggered by an asthma attack. Ever since her death her friends and followers have been flooding their grief in the social media.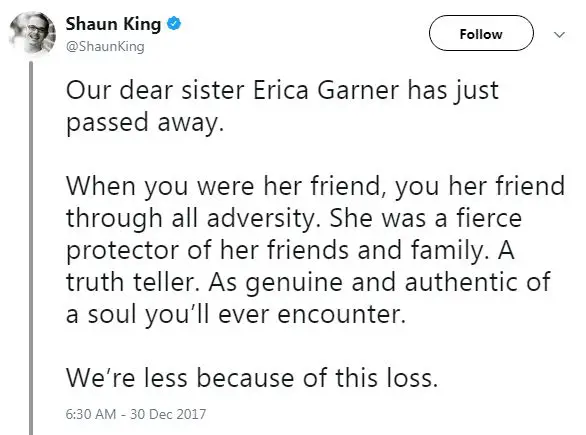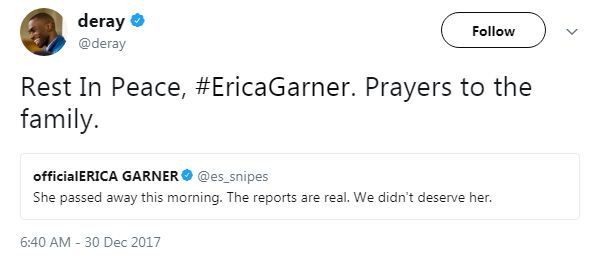 Mother to Two Kids!
Erica gave birth to her youngest son, who was named after her father, in August 2017. She also has an eight-year-old daughter. Along with being a good daughter, Erica had always been a responsible mother who occasionally posts photos of her children in social media. On this same day last year, she had visited her father's memorial with her daughter.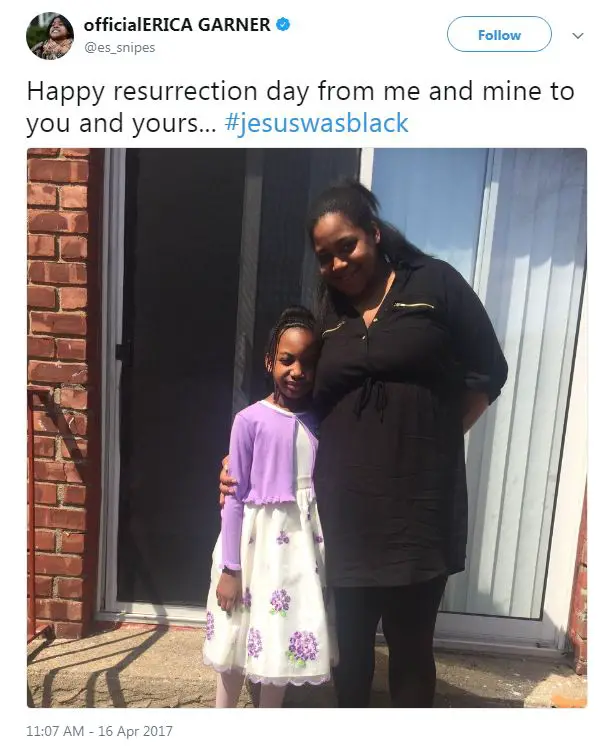 Erica had been a warrior throughout her life, but she did have her own demons which used to frighten her. She shared about her difficulties as an activist and parent in her recent interview with the web show Like it or Not where she said,  
 "I'm struggling right now with the stress of everything, because the system, it beats you down."
Her Boyfriend Tried to Kill Their Unborn Child!
Erica's boyfriend, Darren Flowers was arrested in February 2017 after he tried to kill her unborn child by pouring liquid laxative down her throat. Flowers reportedly punched her over and over in the stomach and later forced her to drink the liquid, which he claimed was bleach.
Similarly, he also punched over her mouth and sprayed another liquid on her face along with threatening that he has a gun while she ran to call the police. Police reported that she was later treated for burning sensation in her eyes, a bloody lip, lightheadedness and pain all over the body in Garner to Woodhull Hospital.
Despite the brutal incident, she gave birth to a healthy baby, and her boyfriend was arraigned on 26 charges which include assault, attempted abortion, harassment and trespassing in Brooklyn Criminal Court.
Short Bio and Wiki:
Erica Garner used to celebrate her birthday on May 28 every year. She was born in Brooklyn, New York to parents Eric Garner and Esaw Snipes, who were married in August 1989. She has four siblings, Shardinee, Emerald, Eric Jr. and Emery. She belonged to Afro-American ethnicity and had an impressive height with a healthy physique. 
Rest In Peace Erica!!