Cruel nature of destiny doesn't always give you a reason to smile, but it also gives a reason to cry and mourn on something. Evie Clair faced similar tragedy in her life when she witnessed her dad taking his last breath on 7th September 2017. But taking inspiration from her father's life, she delivered a performance that stunned the entire world, and every fraternity praised the amount of resilience she had even after a week of the tragic loss of her father.
Evie Clair's Fitting Tribute to Father!
The importance of a father in any person's life is unparallel and when you lose your dad in the most important moment of your life, it is even more painful. But for Evie Clair, loss of her father is working as an incentive for her performance as she recently gave an emotional performance dedicated to her father.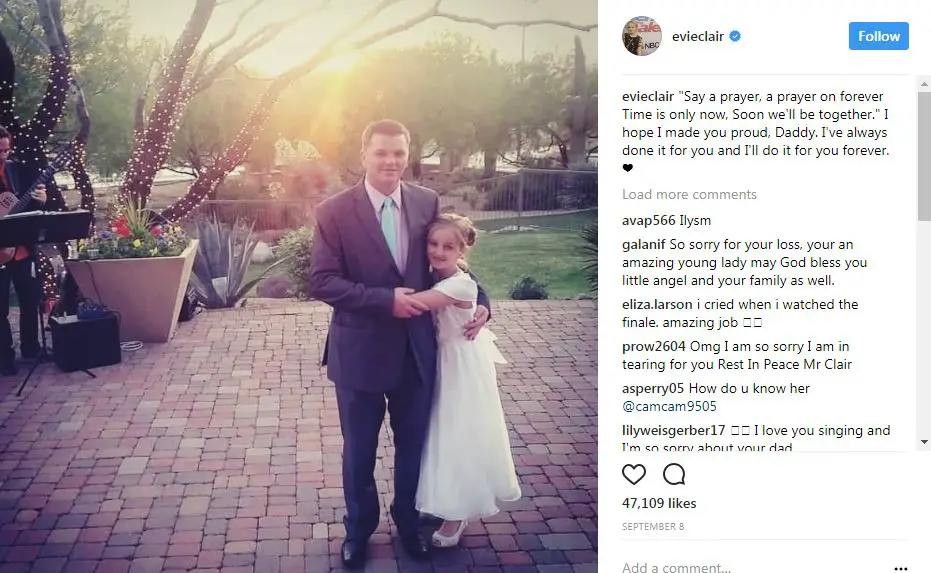 c
Caption: Instagram post dedicated to her late father on 8th September
Source: Instagram
On 7th September 2017, Evie Clair was with her father when he battled the final stages of colon cancer. While holding her hands, her dad died and she now has the teachings and courage of his father which is destined to propel her over the line.
 In the finale of 12th Season of America's Got Talent, she performed on the classic Louis Armstrong's "What a Wonderful World," in the pin-drop silent crowd, fans and judge could do nothing but to witness the emotional and breathtaking performance by Evie.
Finishing What She Started!
After her father took his last breath, she posted an emotional message on Twitter and said that:
"I will forever miss my sweet Daddy and cherish the last few moments I had with him, holding his hand, before the end. Love you lots!"
Before the performance, in the pre-taped message, she stated that:
"My dad taught me after I start something to always finish it, that's why I'm fighting to the end, just like he did."
After her strong performance in the finale which already contains the likes of Darci Lynne Farmer, Angelica Hale, Mandy Harvey, Chase Goehring, Preacher Lawson, Light Balance, Sara and Hero, Diavolo, and Kechi, she has become one of the fan favorite to lift the coveted title of America's Got Talent.
Evie's performance received a standing ovation from the crowd and judges alike, and she left everyone with teary eyes through her performance.
Evie's Short Bio and Family:
The trained singer and pianist was born on 25th July 2001 and currently ages 13. The AGT contestant, who already released a couple of original songs including "For You" and "Love You Once More Time," started playing the piano when she was just aged 2. According to the wiki sources, she was born to parents Hillary and Amos Abplanalp, and she has four siblings with three sisters and a brother. Belonging to white ethnicity, Evie Clair is an American citizen.