Phil Keating is the Fox National News Correspondent based in Miami. During his Fox journey, he covered George Zimmerman murder trial in 2013, the aftermath of Hurricane Isaac from Gulfport in 2012, and several other high profile cases. He has also provided live reports of the deadly shootings at Columbine High School, along with the trail of Oklahoma City Bombing's co-conspirator, Terry Nichols.
How Does Phil Accumulate Net Worth?
Phil Keating has mostly gathered his net worth from his career as an American journalist. According to Paysa, a correspondent working at the Fox News receives an average of $102,080. Their salary varies from $93,653 to $109,739 with the top earnings being more than $117,854 including bonus, equity, and additional payments. Phil, who is working as a Fox News National Correspondent since March 2004, has likely earned a lucrative contract with a top-notch salary at Fox.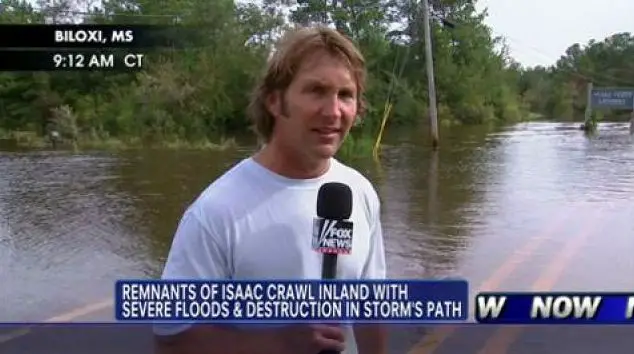 Phil Keating covers the August 2012 flood news in Biloxi, Mississippi (Photo: video.foxnews.com)
Phil began his journalism career in the year 1990 where he worked as a reporter in Macon, Georgia with WMAZ-TV (CBS-13) network. He then served as lead reporter for various news channels. Phil worked at Denver, Columbus, and Spokane as a reporter on the several news affiliated networks. He served at KUSA-TV (NBC-9), WBNS-TV (CBS-10), and KHQ-TV (NBC-6) before he joined Fox News Channel.
Phil Keating's Family Life: Son Of Military Officer Maintains Secrecy In Personal Life 
After Phil moved to Miami for his work in Fox News in 2004, Phil, who had a party-boy image, got engaged to his longtime girlfriend, Lisett Gonzalez, somewhere around 2011. He was 40 years old when he and to-be-wife Lisett had a secret engagement. They have remained mum about their relationship. As of June 2018, Phil is reportedly unmarried.
Phil Keating was born to his parents Donna Keating and Dave Keating. Donna, his mother, is a native of Shreveport, Los Angeles, whereas his father Dave's hometown is in Huntsville, Alabama. Dave was a military officer where he served for more than 25 years. His father completed three tours to Vietnam and retired from the army. His family then moved to the various city along with his two sisters.
Dave saw Phil for the first time when he was nine months old as he was on Vietnam tour. After Dave returned from Vietnam, he became a colonel and Phil moved to various places attending his school. Phil was in fourth grade during his visit to Kitzingen, Germany. He walked towards his father's office in Germany and was surprised to find his dad was speaking a different language which he had never listened. During his youth, he traveled to various places before starting his journalism career.
Short Bio
Phil Keating was born on 11 April 1968 in the United States. He is an origin of North America and posses North American ethnicity. Phil, who stands at a decent height, has a lean body shape structure. As per wiki, he completed his bachelors in journalism from the University of Missouri-Columbia.