Throughout the ninth season of Fox television cooking show MasterChef, American professional chef, Gerron Hurt was a clear underdog. During the finale, he showed his confidence and beat the likes of Ashley Mincey and Cesar Cano who rocketed the previous challenges.
Gerron is a familiar face of MasterChef who coveted 'MasterChef' title during season nine. The Fern Creek High School and Western Kentucky University graduate showcased his cooking skills using the recipes that he learned from his late mother and grandmother.
Engagement Bliss And Plans For Wedding!
The celebrated MasterChef Gerron Hurt is engaged to Brandi Beckham. When he secured the title of 2018 MasterChef Winner in September 2018, his fiancée Brandi rejoiced on her Facebook and took her time to thank their family and friends for their support. Moreover, she revealed the couple's wedding date as 8 March 2019 and opened her excitement for becoming Mrs. Hurt. 
Read Also: Robin Leach Wiki, Married, Wife, Partner, Gay, Net Worth, Height
Gerron and his soon-to-be-wife rejoiced their engagement in May 2018 in the American chef's hometown in Louisville, Kentucky.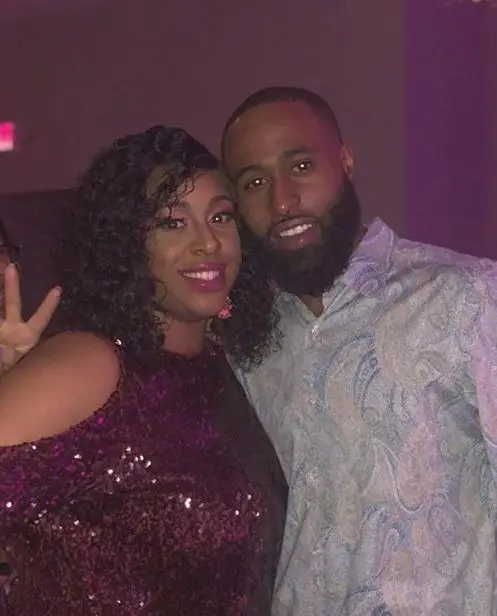 Gerron Hurt and his fiancée, Brandi Beckham had their engagement in May 2018 in Louisville, Kentucky (Photo: Facebook)
After coveting the title, during an interview with Parade on September 2018, the soon-to-be-married chef opened his wedding plans and assured that he would invite the MasterChef chefs during his nuptials. Gerron addressed the cooking show moments with the chefs and described them as his 'true friend.'
How Did Gerron Hurt Gather Net Worth?
Gerron, 25, has accumulated his net worth from his career as an American professional chef. During the ninth season of Fox television cooking show MasterChef, he secured $250,000 grand prize on his name as the winner of the cooking show. During the finale in September 2018, the Fern Creek High School graduate cooked the Nashville Hot Chicken craze and impressed the celebrity chef judges like Gordon Ramsay, Aaron Sanchez, and Joe Bastianich.
Don't Miss (Gordon Ramsay's Eldest Daughter): Megan Jane Ramsay Wiki: Birthday, Age, Boyfriend, Dating, Family, Net Worth
In 2019, he is set to feature as an instructor of Camp MasterChef. In the culinary camp set for the kids of the ages between 8-16 years, Gerron will be combining his teaching skills along with the finalists Cesar Cano of Houston and Ashley Mincey of Miami. According to the schedules, the camp includes competitions, outdoor sports activities, cooking lessons, and more for the children. 
Short Bio
Gerron Hurt was born on 3 January 1993 in Louisville, Kentucky. The American professional chef was at the age of 25 when he won the ninth season of MasterChef. Gerron worked as a teacher before he arrived on the American cooking show.
See Also: Calum Best Girlfriend, Gay, Net Worth
His mom Michelle Hurt had a sad demise due to cancer in 2013. In his family, he has brothers and sisters among which one of his sisters graduated high school in June 2015. As per wiki, Gerron attended the Western Kentucky University in Bowling Green and graduated from Fern Creek High School.