Aaron Goodwin is known as the American reality star from his TV series Ghost Adventures. During his paranormal journey, he is often left alone to act as bait for the paranormal entities. Aaron, who fights the supernatural forces, had three scratches on the back of his left leg at Preston Castle during the shooting of the reality TV show.
How Much Is Aaron Goodwin's Net Worth?
Aaron Goodwin has accumulated the net worth of $1.5 million. He has mostly summoned his wealth from his career as an American reality television star since 2004. He has received seasonal-payments from MY Tupelo Entertainment as he appeared on TV series Ghost Adventures from 2008 to 2018 and Ghost Adventures: Aftershocks from 2014 to 2016.
Likewise, he has increased his payrolls from his stint in 2013 TV series My Hometown with Aaron Goodwin where he appeared as the host on three episodes. He has also emerged as the host in the five chapters of 2014 TV show The Perfect Shot with Aaron Goodwin through which he gathered some wealth.
Aaron started his career as reality TV star at the age of 28 by appearing in Ghost Adventures as the camera operator and television star. He starred in ABC News Nightline in one episode dated 7 December 2012. His notable works from 2013 to 2016 include The Late Late Show with James Corden; Today; and Deadly Possessions. In 2017, Aaron worked on the camera and electrical department in the movie Space Detective. He is also one of the executive producers of Swamp Media Group's science fiction film.
Rumors Of Aaron Being Fired From 'Ghost Adventures'
In late 2014, there were rumors that the Ghost Adventures star Aaron Goodwin got fired from MY Tupelo Entertainment. The rumors surfaced when Travel Channel executive and spokesman, Richard Roscolelli said Goodwin got dismissed from series for his rhetorics in an interview with the podcast called Are We Alone. 
According to Richard, Goodwin talked nearly eight-minute rant and made a mockery of the Travel Channel. Aaron also said the crew recorded own voices instead of Electronic Voice Phenomena (EVP's) to satisfy the producers.
However, on 24 November 2014, his fellow co-star Nick Groff announced his retirement from Ghost Adventures and starred on another show Paranormal Lockdown. Later, on 6 October 2016, Aaron confirmed from his tweet that his fellow co-star Nick Groff was fired from the show as he was doing another show behind Ghost Adventures. Aaron also said Nick had become and as****e and deserved an answer from fans.
Blamed 'Ghost Spirits' For Divorce; Stayed On Good Terms With Ex-Wife
Aaron was married to Sheena Goodwin. But he could not maintain a steady bond with Sheena and eventually had a divorce. Aaron reportedly blamed the ghostly spirits at Bobby Mackey's Music World for his divorce. He also said that those spirits allegedly possessed him during the filming, which made him break his bond with his ex-wife.
Although he blamed the ghostly spirits, the reality star stayed on right term with his ex-wife Sheena. On 6 October 2012, Aaron posted a snapshot with his wife on Twitter. He said he was hanging out with his ex-wife as he had a rare chance to see Sheena and her family.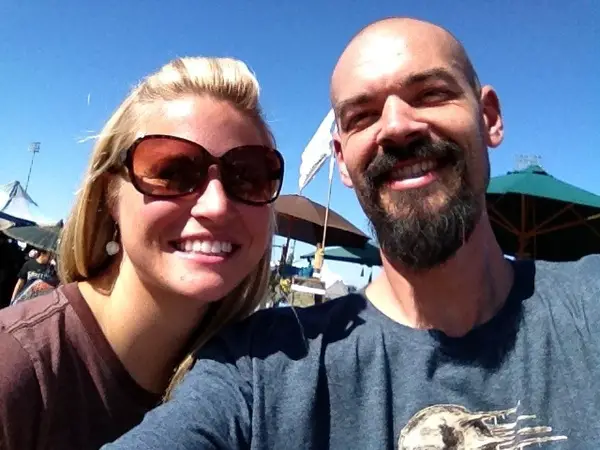 Aaron Goodwin and his ex-wife Sheena Goodwin in a picture posted on 6 October 2012 (Photo: Twitter)
In the year 2015, Aaron used a mullet wig to change his looks. He then shared a picture of him on Twitter on 25 August 2015 and tweeted he is single and is ready with his new looks. The Ghost Adventures star is focused on his career, and as of June 2018, he is reportedly single.
Food Control Results Aaron's Weight Loss
Aaron Goodwin weighed around 254 pounds during his debut on Ghost Adventures in 2008. The reality star used to eat lots of junk food and mochas through which he gained lots of weight. In June 2013, Aaron replaced mochas with a cup of black coffee, ice cream with yogurt and candy with the fruits.
Aaron admits he hates exercise and lifting weights. So he stuck towards his food control routines and replaced all the junk foods with healthier ones. And the result of weight loss was outstanding. Just in five months in October 2013, he dropped 53 pounds and weighed around 201 pounds. He loosed all the extra weights due to his healthy food diets.
Short Bio
Aaron Goodwin was born on 1 April 1976 in the United States. He has the height of 1.90m (6' 3'') and posses American nationality. Aaron has mostly appeared as a bait on Ghost Adventures to attract supernatural spirits. As per wiki, he owns a clothing line called Big Steppin Clothing.