An Emmy-nominated producer Gianna Toboni is popularly known as the correspondent for HBO's Emmy-winning documentary show, VICE. She has also appeared in the Vice News and has interviewed ISIS fighters. Gianna had even won an award in GLAAD Award Show for Outstanding TV Journalism in 2013.
Gianna's Journey To VICE 
While studying journalism, Gianna Toboni landed on Al Jazeera and ABC News where she started working as booker, field producer, and digital correspondent. Later, she quit her job and started raising fund for a documentary in Haiti.
Gianna eventually found a job at VICE and then started making a documentary and filmed in more than 20 countries around the world. Gianna even won the Webby Award for Best Documentary Series in 2014. She reported the front line in Iraq embedded with Egyptian tomb raiders and reviewed international surrogacy in India.
Don't Miss: Terri Carrington Wiki: Age, Divorce, Affairs, Net Worth- Rodney Carrington's Ex-Wife
During the time of filming documentaries, many of the surrogates pain overcame Gianna and expressing their trouble, she stated,
"It is tough to hear someone talk about going through the experience that takes a toll on the body, which lasts longer than nine months and takes them for their kids because they have to support their families and essentially survive."
Gianna was invited to give a TEDx Talk in 2014. Along with VICE, she is also known for The Real (2013) and Vice News(2013).
Recently, on 4 August 2018, she Instagrammed the photo of her interviewing death row inmate, Scott Dozier. In the caption, she wrote that she and Vice team has been talking about taking his interview for almost a year. Further, on 9 August 2018, she uploaded the nine minutes extended cut of her interview with death row inmate, Scott Dozier.
Scott Dozier has been on death row for 10 years. He was sentenced for the murder in September 2007 after he reportedly murdered the 22-year-old Jeremiah Miller, who was one of Dozier's drug associates. But, he was braced by the Nevada Supreme Court on 23 January 2012. He was also connected to the murder of Jasen "Griffin" Green on 27 July 2001.
Gianna Married Kyle Buckley
Gianna is a married woman. She got married to her boyfriend Kyle Buckley on 2 September 2017 in Sonoma, CA. The actual date when the pair started dating is a mystery, but Gianna often shared their pictures from 2016.
Before marriage, the couple attended several events together. They were even spotted together attending the Forbes Under 30 event on 30 January 2016. The couple never fails to give a glimpse of their romance. Gianna was also seen spending the vacation with Kyle at Lake Tahoe in 2016. She Instagrammed the photo of her from the vacation with a husband and a dog on 5 July 2016.
Read Also: Spencer Boldman Married, Dating, Gay, Net Worth, Height
On 2 October 2016, Gianna shared the photo of her with husband Kyle. In the picture, the two are having a romantic hug with each other.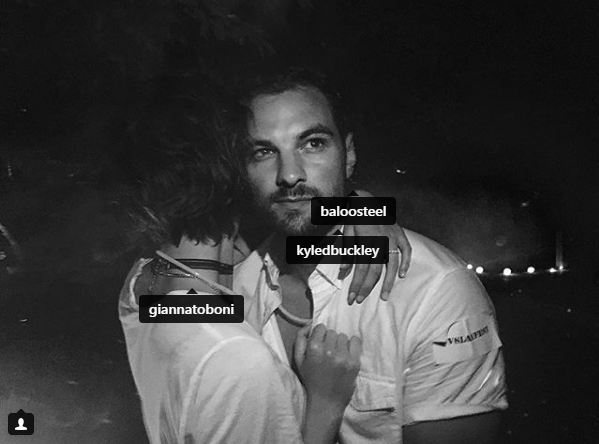 Gianna Toboni shares a cozy shot with her husband, Kyle Buckley (Photo: Instagram)
Gianna Toboni Is Gay Right Supporter
Gianna Toboni is a gay supporter. On 12 April 2015, Gianna shared the article about gay on Twitter which was published on the New York Times. In the article published by the New York Times, it was written that no major law urges the justice to the rule against gay marriage. 
Sharing the article, Gianna wrote in a caption as " Very interesting." Also, showing her positive side with gay marriage, she wrote that the top law firm wouldn't touch the case against gay marriage.
More About Emmy-Award Nominated Actress: Robin Weigert Married, Husband, Lesbian, Dating, Net Worth
Gianna Toboni's Family
Gianna Toboni was born to mother, Mary Toboni. Well, Gianna shares different pictures of her parents on Instagram. On 28 May 2018, Gianna shared the photo of her parents, who are currently in their 70s.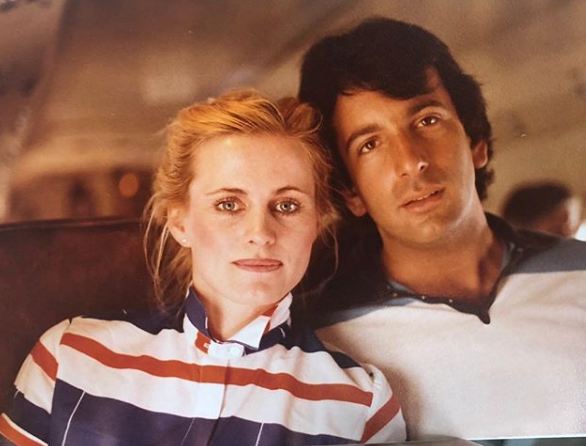 Gianna Toboni's parents posing inside a plane (Photo: Instagram)
She even has two sisters named Jacqueline Toboni and a brother. She also has a good bonding with her sister-in-law Danielle Toboni.
Recently, on 2 July 2018, Gianna Instagrammed the photo of her father and uncle from 80s while they were going for a hunting.
Short Bio
Born in 1987, Gianna Toboni celebrates his birthday every year on 14 July. Gianna grew up in the Richmond district of San Francisco. She holds an American nationality and belongs to white ethnicity. She is currently residing in Brooklyn, NY, as per wiki.