H2O Delirious is one of the famous American YouTubers known for his hilarious gaming related content. He has accumulated over 10.8 million subscribers on his YouTube channel and has over 2.3 billion video views. He has chiefly dedicated Grand Theft Auto V (GTA V) videos in recent days.
H2O Delirious' Personal Life: What's His Real Name & Face?
H2O has always remained a mysterious figurehead between his YouTube life and personal life. The YouTuber has never shown his face in any of his videos, and his real face has always remained a mystery. When it comes to his personal life, the only thing that is known is his real name and birth date. Well, his real name is Jonathan Denis.
The real face of this YouTube star is only seen by American YouTuber, Cartoonz, aka Luke Patterson as he dated H2O's sister in the past.
Meanwhile, H2O has made several videos promising to show his real face. However, the YouTube star pranked showing GTA V character's face on 1 April 2015 via his YouTube channel titled 'H2O Delirious Face Reveal.' H2O further shared an April Fool YouTube video on 1 April 2017 where he initially claimed his friend's appearance as his real face. As of June 2018, the conundrum of his real face has yet to be solved.
His 'Jason Mask' And 'Delirious Army'
H2O mostly features wearing Jason mask on his face via his social media sites. His Jason mask first emerged in American horror franchise, Friday the 13th. Along with his Jason mask, he became known for Delirious Army. The YouTuber shared a picture of his Delirious Army on 17 September 2017 via Instagram.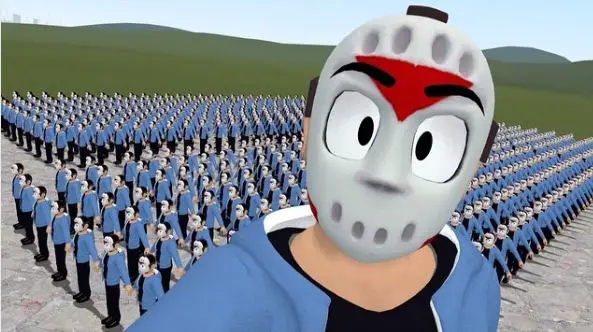 H2O Delirious with his Jason mask and Delirious Army in a picture posted on 17 September 2017 (Photo: Instagram)
His Delirious Army is also available on Shirt Prints on his official website with an average price of $20.49. The YouTuber has featured Men's, Women's, and kid's wear on his official store. Likewise, his Jason mask is also available with an average price of $80 in various websites.
What Is H2O Delirious' Net Worth?
H2O Delirious has gathered a net worth of $2.5 million from his career as a YouTube star since 2007. As per Socialblade, his self-titled YouTube channel's estimated earning ranges between $11.3K - $180.1K monthly and $135.1K - $2.2M yearly. 
Popular for wearing the Jason Mask, H2O created a YouTube channel at the age of 20 and posted gaming videos. He features various games such as Fortnite, WWE 2K14, Grand Theft Auto V, Garry's Mod, and Black Ops II. His video titled 'Among The Sleep Ep. 1 (Where's Mommy)' has over 12.6 million hits. The YouTuber has also collaborated with Vanos aka. Evan Fong, and played Call Of Duty together with him. 
Short Bio
H2O Delirious was born on 2 May 1987 in North Carolina as Jonathan Denis. He resided in Hampton, Virginia and moved back to his native hometown in Virginia with his family, as per wiki. The YouTube star also has a sibling sister. His sister dated American YouTuber, Cartoonz for almost eight years.