If you follow the NBC's hit series, 'The Brave,' then you must be familiar with the role of Agent Amir Al-Raisani. Well, Hadi Tabbal is the man who portrays this daunting role and excels in his specified task. Hadi comes from the theatre background and has impressive acting abilities. With the series, 'The Brave' the actor has only enhanced his growing reputation as a breathtaking actor.
Journey From Theatre To TV:
Hadi Tabbal is one of the cast members of the NBC drama series, 'The Brave.' He is the latest addition to the crew members and portrays the role of Agent Amir Al-Raisani, an intelligence director. The show premiered on September 25, 2017, and the leading man behind the concept was none other than Dean Georgaris.
With just ten episodes that have been aired, it has indeed created quite a buzz in the viewers in its thriller unfolding drama. Besides his part in the show, the actor has worked hard and has been part of series like, 'Madam Secretary,' 'Elementary,' 'House of Cards' and many more.
Apart from his outstanding run on the television industry, Tabbal has extensive baggage from the theatre background and has been associated with some of the brilliant plays and its development with the New York Theatre Workshop, the Atlantic Theatre and the Public Theatre to name a few.
Tabbal also acted as an adjunct assistant professor of theatre at CUNY York College and has even worked at the Berkeley Repertory Theatre Ground Program as a playwright.
He Is Dating!
Hadi Tabbal hasn't revealed inside stuff of his dating life, but his social media activity leave enough clue behind his mysterious dating life.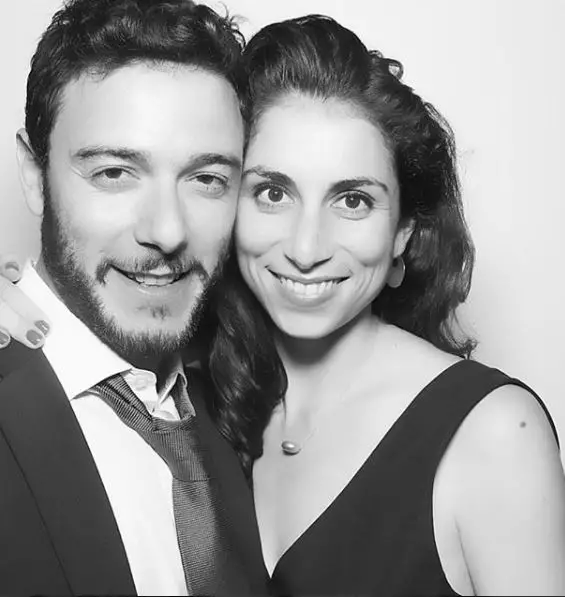 Hadi with Deborah on 16 May 2017 (Photo Credit: Hadi's Instagram)
Going deep into his Instagram and Twitter account, he has a close bonding with a woman named Deborah Brown. Deborah even accompanies Hadi in some of the public events. On 16 May 2017, he posted a picture with Deborah and captioned the photo, 'Me and My baby.'
Although he hasn't publicly announced that Deborah is his girlfriend, their Twitter conversation surely gives a hint that something is brewing between them.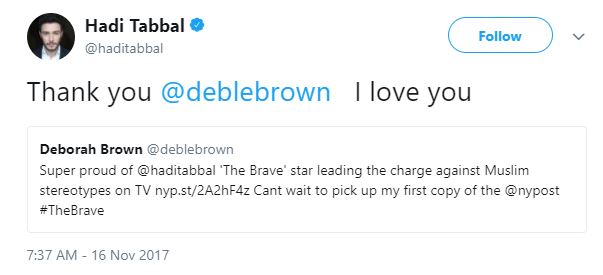 On 16th November 2017, he tweeted and thanked Deborah and added that he loves her. Deborah may or may not be his girlfriend but one thing is for sure, he is not married. And with his career taking the high road with 'The Brave,' he is no rush to have a settled life with his wife-to-be.
Hadi's Short Bio:
Hadi Tabbal was born in the year 1984 and is of Middle Eastern origin. Hadi, who ages around 33, currently resides in the city of New York. He is a recipient of Fulbright Grant and holds a degree of MFA in acting from the New School of Drama. The actor stands an impressive height and belongs to mixed ethnicity.