The winner of a reality dance competition, "So You Think You Can Dance" season 15, Hannahlei Cabanilla, is a young dancer with considerable skills in several dancing styles. She is considered one of the best dancers in America despite her young age and limited dancing experience, unlike other existing dancers.
Hannahlei has proved that quality practice is more important than the time duration. She, only at her early age of 20, has already touched the sky limit with her magical and astounding dancing moves and skills. She is concerned about her expression along with her dance moves and styles that led her to perform with the famous Selena Gomez in 2017th American Music Awards and Sia's "The Greatest" music video. 
Hannahlei Cabanilla's Wiki
Hannahlei is a young dancing diva from Anaheim Hills, California, who was born on 20 September 1999 as Hannahlei Dazle Cabanilla. Her mother set her middle name as she wanted something that would sound sparkly to her daughter's name. 
Hannahlei was close to dance before her birth as her elder sister Zarina was a great dance lover and a dancer. As a result, she grew up learning dance from her sister and academies, and never stopped since then. 
At only the age of two, she joined the dance academy called Orange Country Performing Arts Academy, where, at present, she choreographs. By six, she was already into competitions on solo and group routines at Hall of Fame, Starpower, Showstopper, Showbiz, and Kids Artistic Revue. 
With a dream to collab with Beyonce and to reach on SYTYCD, Hannahlei kept on pushing her self more into dance practices. Later, when she turned eighteen, she auditioned for the season 15 of So You Think You Can Dance in front of celebrated judges Nigel Lythgoe, Mary Murphy, Vanessa Hudgens, and Stephen "tWitch" Boss where she received a standing ovation.
The same year in 2018, she graduated from high school and enrolled at the University of California, Irvine, majoring in dance. Also, she indulged herself as a teacher at OCPAA during the period. 
Who Is She Dating?
The dance lover Hannahlei found love in the dancer, Jevohn Gentry, who is of the same age as her. The lovebirds first met on the set of the reality show So You Think You Can Dance and started dating in 2018.
The duo were seen together embracing eachother at the beginning of their relationship. But sadly, they stopped showcasing their romance—both Hannahlei and her boyfriend Jevohn stopped sharing pictures eventually since August 2018.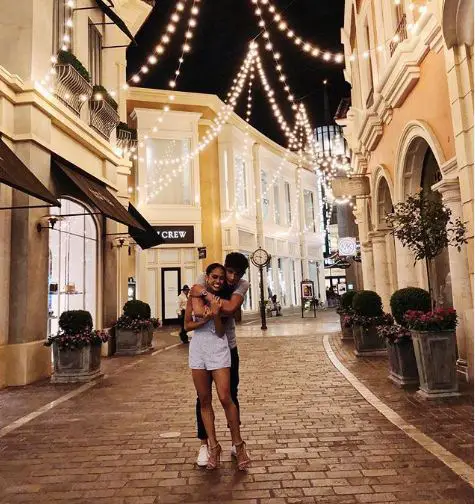 Last picture posted by Jevohn Gentry of his and his former girlfriend Hannahlei Cabanilla on 25 August 2018. (Photo: Instagram)
Later, Jevohn started sharing photos with a fellow Kaylin Shadle more often than his girlfriend, Hannahlei, which led their admirer and fans to speculate the end of their relationship.
You Wouldn't Want to Miss: Simone De Alba Wiki, Age, Husband, Salary
While their fans are dying out of curiosity at one side, on the other hand, all three of them, Jevohn, Hannahlie, and Kaylin has not vocalized anything about the alleged rumor till present. But concerning the comment replies of Kaylin in her Instagram post of her and her alleged boyfriend, Jevohn, it is inevitable that Jevohn and Kaylin are certainly close with one another. 
As for Hannahlie, her relationship status remains numb and silent for now.
Hannahlei's Family
Hannahlei's father is a Filipino native and a computer programmer by profession while her mother is an American housewife. As a result, the 20-years-old dancer possesses the mixed ethnicity of Filipino-American and holds American nationality.
More About 'So You Think You Can Dance' Contestant: Robert Roldan Wiki, Wife, Gay, Family
Her parents raised her alongside her dancer sister Zerina with much love and support. Her mother was always concerned about Hannahlei's dancing outfit and would always make sure if it has a rhinestone on it as she loves sparkle. Her steadfast dedication and immense support for her daughter has not gone unnoticed.
Indeed Hannahlei credits all to her parents for the peak height she has touched at present.