When you find the ideal partner you've been looking for, you can't wait any longer to tie the knot and share the eternal love. Likewise, Hayley Erbert and her boyfriend not only share the same interest of dancing but are perfect for one another in every aspect. As a result, the couple can't wait for any longer to share a sacred relation and have already started planning for marriage. Hayley Erbert is an American model and dancer, famous for her appearance on 'So You Think You Can Dance.'
Career And Progression
Hayley Erbert's fascination towards dancing started at a tender age of three. The model had participated in pageants and represented Kansas in the Miss Teen USA pageant. She also competed on Season 10 of the hit television show, 'So You Think You Can Dance.' Her genre in dance was contemporary, and she was eliminated on August 27, 2013.
In addition to that, Hayley toured with Julianne and Derek Hough in 'Move Live On Tour' in the summers of 2014 and 2015. She has been appearing as a troupe dancer on 'Dancing with the Stars' since season 21. Looking at her achievements, we suspect Hayley enjoys a heavy net worth in thousands.
Plans Of Getting Engaged With Long Time Boyfriend!!
Hayley Erbert is sharing a romantic affair with a professional dancer, Derek Hough from July 2015. Hayley and her boyfriend have been dating each other and celebrating birthdays together. The couple is often spotted together in events and occasions. The duo was seen holding each other's hand on Disneyland in April 2016.
Similarly, the lovebirds celebrated Derek's birthday on 17 May where he got a sweet kiss from Hayley as a birthday present. The model took to Twitter to post the pictures of her boyfriend's birthday celebration.
Since the beginning, their closeness was making everyone doubtful they shall soon get married, but the suspicion took new height after Derek appeared on The Ellen DeGeneres Show. In the show, Derek revealed that they would tie the knot within the next five years and enjoy a perfect family life with kids.
The romantic couple took off for their holiday in Hawaii in July 2018. The couple shared their lovely moments in their Instagram posts. Looking at their pictures, we get the perfect Hawaii feels with their flower printed outfits and shrimps and coconut for lunch.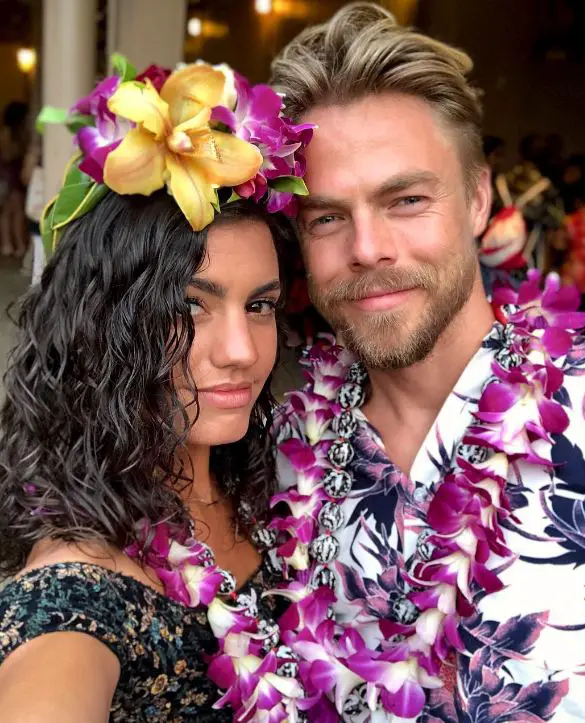 A picture of Hayley and her boyfriend from their vacation in Hawaii (Photo: Instagram)
The dancing star also got noticed when he uploaded the video of him singing for Hayley while she was cooking in the kitchen. He looked very cute, and the love was visible as he sat on the slab with his guitar and a song in his soothing voice. 
They have always openly accepted every detail of their relationship. With this, they also shared that both of them are ready to take their long-term relationship to another level with a big step in their life. The two have disclosed that they are getting married and they have already marked the date to be 6th August 2019. Their fans cannot wait to see these beautiful couple share their vows, Hayley looking like an angel in the beautiful wedding gown.
Her Short Bio
According to some wiki sources, Hayley Erbert celebrates her birthday on October 11. She was born in 1994 which makes her 24 years of age. She completed her schooling from Washburn Rural High School. The dancer has two cats named Nugget and Lily, and she often posts their pictures on Instagram. She has an attractive height and perfectly maintained physique.