'Age does not matter in love.' This proverb justifies the 38-year-old reality star Hazel-E, who has been in a relationship with 20-year-old young aspiring rapper Rose Burgundy. Together, they created some controversies, but despite the age difference, her boyfriend Rose astounded tabloids by his declaration of wedlock with the reality star.
Hazel rose towards stardom from her appearance on the hit VH1 reality series 'Love & Hip Hop: Hollywood.' She is also an American rapper who has released songs like 'Na U Kno' and 'No Chill.' 
Boyfriend Dissed LGBTQ Community; Her Previous Affair
Hazel-E is dating an aspiring American rapper Rose Burgundy since 2016. Her boyfriend, whose real name is Denzell Young spends most of his youth in and out of prison for the offenses that include car theft and illegal drug possessions.
Rose, in October 2017, caught some significant controversies after he dissed the LGBTQ community with stern words. It all started when he got accused of cheating Hazel with a comedian Jess Hilarious. The screenshot of the alleged conversations was uploaded in the social media that implied Hazel's boyfriend was bisexual. 
Read Also: J.D. Madison Wiki, Age, Net Worth, Wife, Sexual Assault
He took his Instagram and said to the gay people 'to die and go to hell.' His Instagram message alongside a photo of a gay pride flag burning on fire reads: 
You really want to know how I feel about gays so bad well here you go I hope all gays die and go to hell thats where I'm come from Bi**h check your lies before you post I'm from piru Bi**h I'm 25 not 19 and it's Denzell with 2 L'S Bi**h google me.
In the since-deleted photos, Hazel also dissed Jess and called her a 'black a** bi**h' and a 'monkey.' She also slammed other dark-skinned women which resulted in the social media to be broke with harsh words towards the notorious couple.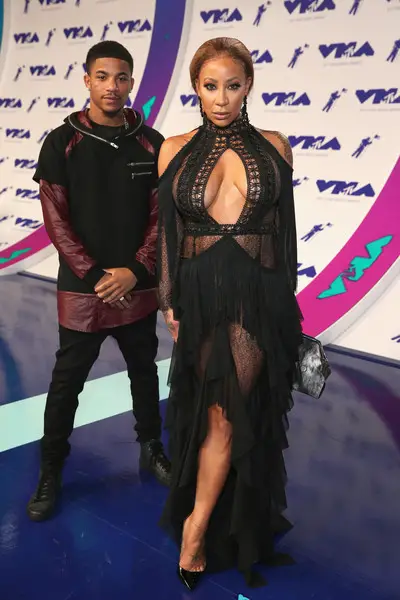 Hazel-E and her boyfriend, Rose Burgundy attends the 2017 MTV Video Music Awards at The Forum on 27 August 2017 in Inglewood, California (Photo: zimbio.com)
According to hollywoodlife, Hazel, and her boyfriend are serious in love so much that the 20-year-old Burgundy wants to marry the 38-year-old reality star. The source also added that Rose could satisfy the Love & Hip Hop reality star as he has got 'endless energy in the bed.'
Before Rose, Hazel used to have an affair with American comedian, Katt Williams in 2014. However, Katt had numerous legal issues with the law, and even after the breakup, she found herself in the middle of questionnaires by the Internal Revenue Service. In June 2018, federal authorities went her home with a search warrant about Katt allegedly hiding money and if she had opened accounts on his behalf.
You Don't Want To Miss: Liane V Wiki: Age, Birthday, Nationality, Boyfriend, Dating, Plastic Surgery
The authorities did not find any information but discovered that the American comedian bestowed her with gifts like Rolex watch, butt implants, a breast augmentation, and nose jobs in 2016. His home got also raided in that year by the officers, where they found portable guns and marijuana.
How Much Is Hazel-E Net Worth?
Hazel has accumulated the net worth of $400 thousand as an American reality television personality and publicist. She gathered some handsome amount of salary from her appearances on the VH1 reality TV series Love & Hip Hop: Hollywood. Her other income source includes her stint as a publicist for artists like Gnarls Barkley, Eva Pigford, and Tank. The prolific musician has also released songs like Na U Kno and No Chill and has associated with KT Music Group.
Short Bio
Hazel-E, whose real name is Erica Adams, was born on 25 April 1980 in Cincinnati, Ohio. The reality star has the height of 1.68 m (5' 6'') and possesses American nationality. Hazel is of mixed African-American and holds Puerto Rican ethnicity.
See Also: Steve Janowitz Wiki, Age, Job, Net Worth | Joy Behar's Husband Facts
Her family comes from a military background, and she was raised all over the United States. During her childhood, she moved towards various places with her parents, eventually landing in Los Angeles.
At the age of 17, Hazel initiated her musical career. As per wiki, she completed her education from the Southwest Texas State University.