Mother's care and concern to her child is like that of the tigress who is willing to fight for every possible threat to her cub. The former news anchor, Heather Unruh, is such a fierce mother who went against the successful actor Kevin Spacey for sexually assaulting her son, who was at the age of 18 when he became the victim.
Heather Unruh is the human rights advocate who raises her voice against the injustice faced by the people in the country. She is the recipient of four Emmy Awards, Clarion Award, and Gracie Allen Award for her contribution to the Journalism sector.
Married Life With Senior Project Manager Husband
Heather is married to her husband, Wiiliam Nickolas Jr. Little for a long time. He works as a Senior Project Manager at CBRE. He has also worked at Dacon Corporation and Colantonio.
The former Newswoman, Heather, is not hesitant to flaunt pictures with her husband on social media. On 27 July 2017, she wished her husband on the occasion of their anniversary and said that every love story is beautiful, but she finds their best.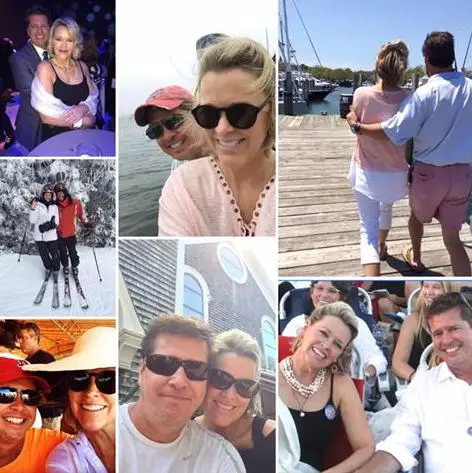 Heather Unruh celebrates her anniversary with her husband on 27 July 2017 (Photo: Heather's Facebook)
The couple is parents of two children, a son named William and a daughter named Kyla. William is a student at a private university in North Carolina. Her daughter is also a med school student and maintains a private life.
She often shares the pictures with her family members. On 14 May 2018, she posted a picture with her husband, son, and daughter.
Don't Forget To See: Dominique Sachse Wiki, Bio, Age, Husband, Divorce, Salary, Net Worth
Stands Up For Her Family; Son Assaulted By Actor
The public advocate Heather is known for her fierce defensive mode for her family members. She accused actor Kevin Spacey of sexually abusing her son, who was then at the age of 18. On a tweet shared on 14 October 2017, Heather hinted about Kevin's abuse by stating she was a fan of him until he assaulted a loved one. Later, she held a press conference and stated that the House Of cards star tried to put his hand on William's pant after he indulged him in a drink.
The lawsuit turned more dramatic in the year 2019.  On 8 July 2019, Heather admitted under oath that she deleted videos and photos from her son's phone before turning it over to the police. She also added the deleted files were not relevant to the case. Her family further stated that they didn't collect the phone back from the police. However, two state troopers who worked the case testified the phone was returned to her family.
Meanwhile, Kevin's attorney stood against Heather and told that deleting the evidence relevant to the case wasn't her decision to make.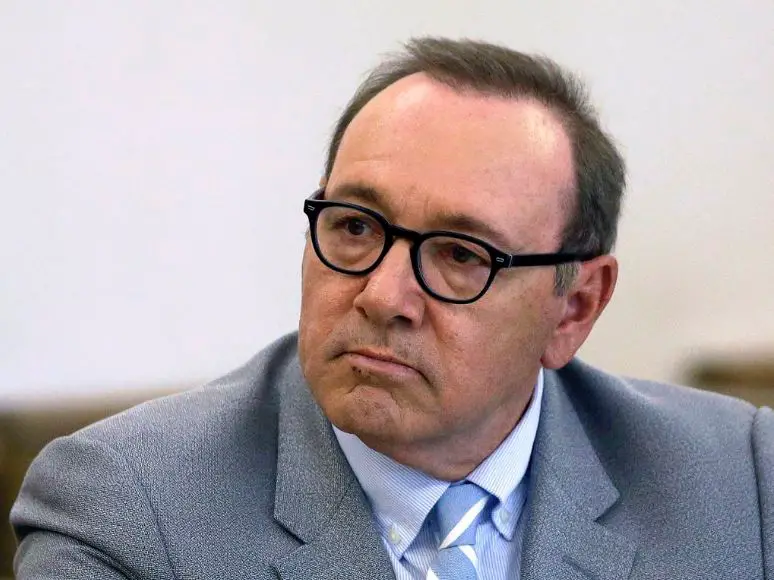 Kevin Spacey at a pretrial hearing on June 3 at Nantucket District Court (Source: Bostonglobe.com)
Finally, the case got dismissed on 3rd July 2019. Heather's son's lawyer presented filed papers for dismissal of suit voluntarily. The judge ruled out and dismissed the case in favor of Kevin with prejudice, which means Heather and her family won't be able to refile the case ever again. 
Similarly, Heather's mother is also a fighter who battled against the life-taking disease, cancer, and came out clean in 2014. She posted her mother's picture on 13 May 2014 and said she just got news worth celebrating because her mother is free of Cancer.
Heather Unruh's Net Worth: What's Her New Job?
Heather Unruh has been accumulating her net worth from her media career. She has earned a substantial amount of wealth from more than fifteen years of service in the WCVB-TV, Boston, as a news anchorwoman.
The American journalist started her first new job at WBNG-TV in the spring of 1990. She worked as a news anchorwoman and reporter. After working for a couple of years, she jumped to WVTM-TV and KFOR-TV. Her career went into a stable mode for more than a decade in WCVB-TV in Boston.
She started her job in Boston in May 2001 and worked until October 2016. As per Payscale, the average salary of a news anchor in Boston is up to $70,000. With more than two decades of experience in the media career, she earned more than an average salary.
She has been notoriously secretive regarding her reasons to leave the channel. However, she has hinted that she is not comfortable to present the newsgathering style. Heather even said that sexism exists in the media sector, which has some severe impacts on a woman.
You Can Also See: Kelly Ann Cicalese Wiki, Age, Wedding, Husband, Family, WCVB, Salary
After she left the show, she is now involved in freelancing works in Boston. She has also started her new job as a documentary filmmaker. The former news presenter also has started her career as a public speaker and raised awareness on various contemporary issues.
Short Bio
Heather Unruh celebrates her birthday on 28 June every year. She was born in St. Louis, Missouri, in the United States. She holds an American Nationality and belongs to white ethnicity. 
Keep On Reading: Clarice Tinsley Wiki, Husband, Children, Salary
She is a graduate of DePauw University from Greencastle, Indiana, in 1989 with a bachelor's degree in Communication.