A WAG isn't just an abbreviation to Wife And Girlfriend nowadays, but also a top-rated and hit reality show. Hencha Voight is one of the participants of the show Miami WAGS and even a successful model and fitness queen.
The beautiful and gorgeous lady loves to flaunt her beauty with the professional photos on her social media page and even her fitness regimes and modeling skills. She also enjoys playing basketball, football and riding horses.
Career and Progression
Hencha is an incredibly beautiful woman. The fitness freak and Certified Personal Trainer, as well as Certified Nutritionist, has a fantastic body that can make anyone easily guess that she must be a model. She is an avid user of various social media platform and frequently posts photos to her Instagram page that are shot by professionals. In her page, she also shares her fitness routines.
The trained ballet dancer has also appeared as a guest star in an episode of HBO's Ballers. She became Coogie model when the owner of FUBU discovered her. She has worked in the movie Basketball girlfriends.
She has already worked in numerous music videos by best singers in the industry that has earned an excellent net worth, which is believed to be in millions.
Arrest For Extortion
In 2016, A Snapchat star Julienna Goddard aka YesJulz alleged that Hencha tried to extort her threatening to release her nude photos. The police arrested her along with her partner in crime Wesley H Victor. At the time of arrest, she admitted to the crime and also the use of the phone for extortion. She later recanted and twitted that the truth would be out. 
Facing A Trial 
Hencha Voigt, the girlfriend of Tottenham footballer Serge Aurier, faced a trial in the United States for an alleged sex tape blackmail plot, as confirmed in February 2019. She was accused of threatening to reveal intimate pictures and video of American Snapchat celebrity Julieanna Goddard unless she was paid £13,700. In late February, she attended the court for her case. 
As per the reports, Hencha collaborated with her ex-boyfriend, Wesley Victor, in 2016 to blackmail the Snapchat celebrity. Also, she and Wesley gave the 24-hour ultimatum for the extortion of $18,000 (£13,700) from Goddard to get rid of the sex tape. 
The accused fitness model denied the allegations against her and stated that she was trying to help Goddard as she (Hencha) was also the victim of a leaked sex tape before. 
Who is Hencha Dating Now?
There's no doubt that she is incredibly beautiful and has a body that many women dream of having. She is extremely popular among social media users and has a massive following on her Instagram page. There are also admirers and people who would like to know more and more about her.
For those curious ones, Hencha has dated the likes of the best athletes as well as sports stars at times. Hencha has almost covered both the NBA and the MLB when it comes to dating as she has dated members of the Boston Celtics, Miami Heat, and Miami Marlins. In around 2013 she was connected to boyfriend Glen Davis after they were spotted together in Orlando club. Some of her exes include Zab Judah, Julius Peppers, and Colin Kaepernick.
Currently, Miami WAGS star relishes her romantic life with Tottenham footballer, Serge Aurier. With their evergrowing bonding, their fans might not get surprised when the famous fitness model takes her lover as her future husband. But, at the moment, the lovebirds are taking their steps slowly and are yet to get married.
Pregnant; Had A Miscarriage 
Back in March 2018, Hencha Voigt came with a lengthy post talking about her baby bump and pregnancy. She posted a picture of herself with a baby bump on Instagram where she wrote that people never appreciated her for being herself. Adding that she is no longer living for herself, she wrote;
"I now have a purpose and a full-time job and that's being your mommy."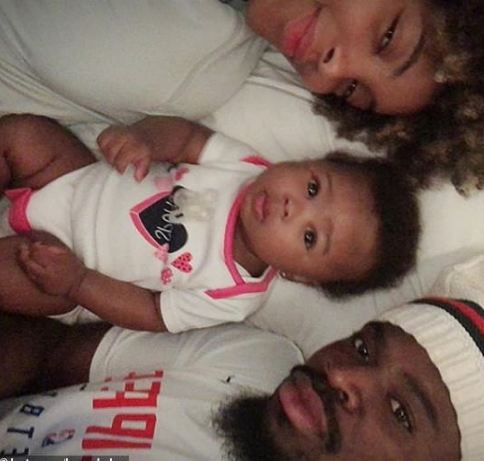 Hencha Voigt with her baby and boyfriend (Photo: Hencha's Instagram) 
As of now, Hencha Voigt has already become a mother of her daughter Nehcha. A year before, she revealed that she had a miscarriage on 24 May 2017 when she was four months pregnant with her child. 
Wiki And Bio
Hencha Voigt currently aged 29 was born on 11th November 1987 in New York, USA. Her parents moved to Port-au-Prince, Haiti, where she lived till she was 17 years old and returned due to political unrest and turmoil in the country. She is an ethnic Haitian American and belongs to an American Nationality. The beautiful and athletic model and actress have an incredible body shape and measurement. She stands tall at a height of 5 feet and 8 inches.