The name Humza Arshad or Humza Productions is not unfamiliar in the YouTube world. He is a YouTube phenomenon- He runs his YouTube channel Humza Productions that has massive 453k subscribers and near to 50 million YouTube hits.
Besides a YouTube star, Humza is also recognized as an actor and writer. He is immensely popular for his web series like Diary of a Badman (2010), Hate (2019), and Comedy Shorts: Humza Aesgad's Xmas. Among all his hit series and short dramas, the Diary of a Badman got nominated at the Shorty-Award.
Humza Arshad Bio, Wiki
Humza is an English actor, writer, and comedian of Pakistani descent. Though his parents are originally from Pakistan, the artist was born in Streatham, England, on 3 June 1985 and was raised in the same suburb.
Growing up, Humza attended GNVQ in Performing Arts at Croydon College and also achieved BTEC National Diploma in Performing Arts from Kingston College. He later gained a graduate degree from Richmond Drama School, majoring in Drama. 
Another Comedian Like Humza: Chicklet HF Wiki, Girlfriend, Net Worth
After his graduation, Arshad created a comedy web series called Diary of a Bad Man in September 2010 and instantly became everyone's favorite. Later in December 2010, he got interviewed by Waqas Saeed on BBC Asian Network and also got featured on BBC Asian Network's Noreen Khan Drive Time Show in March and December of 2011. 
Parents Background, Ethnicity
Humza's parents are Mohammad Arshad and Noreen Arshad. His father- who owns a shop- belongs to Jhelum, Punjab, Pakistan, while his mother is from Lahore, Punjab, Pakistan. Since both of his parents came from the same geographical region, Humza's ethnicity is also Asian.
Humza was raised by his parents alongside his younger siblings; sister, Hanna, and brother, Hasan, in the same family house in Streatham, London.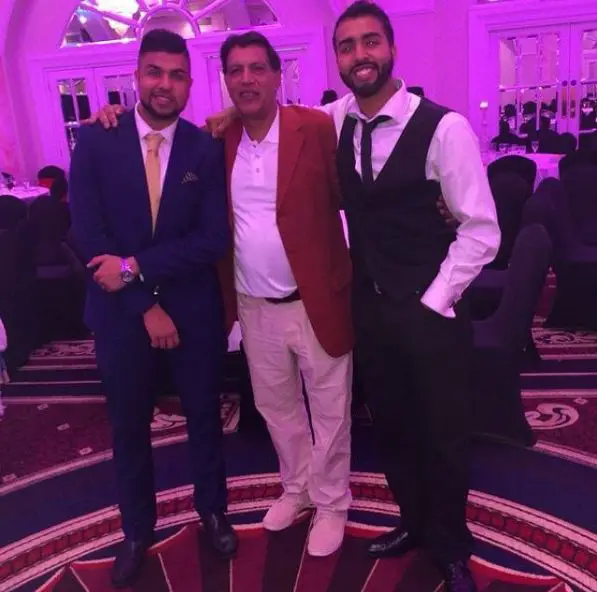 Humza Arshad (right) with his father Mohammad Arshad and brother Hasan Arshad at Hasan's wedding in 2018. (Photo: Instagram)
Also, Know Who is: Tim Vine Married, Wife, Girlfriend, Net Worth
As of now, although Humza still watches Netflix beside his mother. His brother, however, has found someone else to lean on. Humza's brother Hassan got married on 21 January 2018, despite the Asian belief that says the older sibling should get tied first.  
Personal Life Details
Humza is very comedic, funny, and frank. He shares everything on social platforms in a sarcastic way, including his relationship. On 6 July 2015, he tweeted a picture of a man hugging himself amid by the couples and hinted he is the man. 
Additionally, he added one more picture on 29 December 2019, in which he posed with a tree. The photo was captioned:
"HEY YOU... VAAANT MARRIAGE?! ???? Rishtha pic chosen for 2020! ???? This will keep me safe for another year."
Through the image, he gave a signal of his single status in 2019 and also hinted at the same fate in 2020.