Isaiah Silva is known as the ex-husband of the legendary Nirvana's singer Kurt Cobain's daughter, Frances Bean Cobain. Like his former father-in-law, he is also a musician of the band called The Eeries. Isaiah recently came into limelight after he claimed the acoustic guitar of the former Nirvana singer after his divorce with Frances.
Kurt Cobain's Guitar As Divorce Settlement
Frances Bean Cobain, Isaiah's ex-wife and the daughter of Kurt Cobain, has finally agreed to hand over her father's guitar as a part of their divorce agreement. According to the TMZ, Isaiah received the 1959 Martin D-18E acoustic guitar of the legendary singer, which he played during his 1993 performance on MTV Unplugged, just months before he committed suicide.
After Isaiah's one year dispute with Frances was solved, he claimed the right of Kurt's guitar over the court document. However, Frances found difficulty in handling the guitar as it was her only family legacy. She was just one-year-old when her father committed suicide, and her recollection of Kurt was only his guitar. But her attempt to reclaim her "priceless family heirloom" eventually crashed.
Isaiah had also claimed a $25K month as spousal support in the court documents, but his appeal was denied. Instead of his acclamation over spousal support, he had to give away the house they bought and covered his legal bills.
The former couple filed for the divorce back on March 2016 and had to wait for more than one year to split with each other. They settled their divorce when the jury in the court of Los Angeles declared their official separation in the late November 2017.
History Of The Relationship Of Estranged Couple
Isaiah and Frances dated each other for more than a year and got engaged in October 2011. After nearly three years of their engagement, the duo got married in July 2014. They conducted a secret wedding and had a small and private ceremony where 13-15 guests were invited. 
Meanwhile, Frances mother Courtney Love, who was also the wife of Kurt Cobain, had no idea of her daughter's wedding. Courtney was happy for Frances but was devasted after finding her daughter married without letting her know about the nuptials.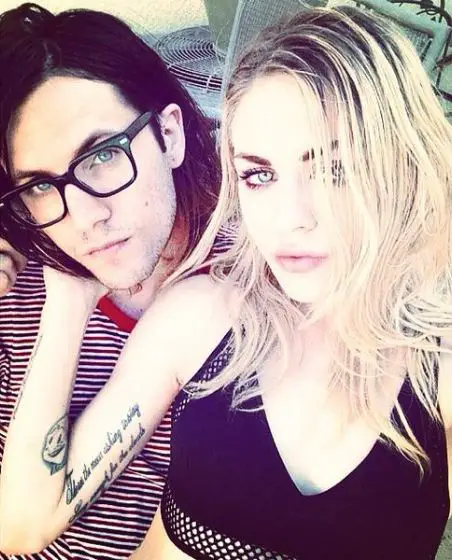 Isaiah Silva with Frances Bean Cobain (Photo: Twitter) 
Although Frances and Courtney had a noisy relationship in the past, they appeared together on the red carpet during 2015 Sundance Film Festival. The mother-and-daughter attended the screening of Kurt Cobain: Montage Of Heck. 
Isaiah and Frances separated within two years of their marital relationship. The duo was married from 2014 to 2017.
How Did Isaiah Derive Net Worth?
Isaiah has derived his net worth from his job as a musician. He is a lead vocalist and guitarist of the band, The Eeries. Isaiah formed the American rock band in 2012 with the band members Brandon Sweeney, Eliot Lorango, Nadir Maraschin and Mark Lear.
The group has released one self-titled EP called The Eeries in 2014 through the record label Interscope Records. They have also performed the single called Cool Kid in the American late-night talk show, Late Night with Seth Meyers which grossed #33 on Alternative Songs chart.
As for the acoustic guitar, 1959 Martin D-18E, which he recently got from his ex-wife Frances worth millions of dollars. The guitar has a legendary history as it was the last known guitar that Kurt ever played.
Short Bio And Facts
Isaiah Silva was born in 1986 in the United States and is currently at the age of 32 years. He celebrates his birthday on 20 January. He has a zodiac sign of Aquarius. As per wiki, Isaiah has also performed as the part of professional American singer Katy Perry's supporting band.