ItsFunneh is a YouTube channel famous for creating lots of gameplay videos of games such as Minecraft and Roblox. The channel has over 5.13 million subscribers, with over 4.4 billion views.
The person behind the YouTube channel is the Canadian YouTuber named Kat. She joined the YouTube platform in September of 2011; however, her first video was uploaded on New Year's day of 2013.
ItsFunneh's Wiki- Age & Nationality
ItsFunneh, whose real name is Katherine La, was born on 31 October 1995 in Canada. She has been very low key about her personal life. She hadn't even shown her real face until April of 2018.
She did so with a Q&A video on her YouTube channel. Since then, her pictures are also occasionally seen in her Instagram handle.
You Might Be Interested In:- Judy Travis Net Worth
Family
ItsFunneh has four siblings who are also frequently seen on her YouTube videos. All of them are gamers on YouTube; her brother is DraconiteDragon (real name Allen), and sisters are PaintingRainbows (real name Betty), GoldenGlare (real name Kim), and LunarEclispe (real name Wenny).
Betty is the oldest as she was born on 10 September 1992, followed by Kim born on 29 September 1993, Kat, Wenny born on 28 February 1997, and the youngest is Allen, born on 12 May 1998. Together, they are known as the KREW on YouTube and are constantly seen in videos by ItsFunneh.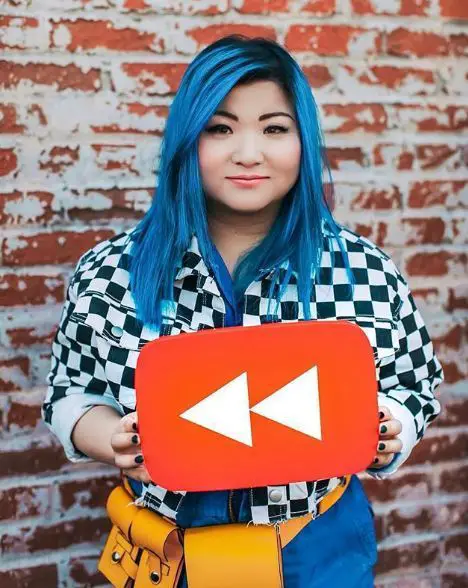 ItsFunneh, or Kat, thanks to YouTube for having her on YouTube Rewind 2018 in December 2018 (Photo: ItsFunneh's Instagram)
ItsFunneh, or Kat, was not born with a silver spoon in hand. She, along with her siblings, used to work with her parents in a restaurant and had to get there after school.
ItsFunneh's Career
Everything about ItsFunneh started when she uploaded her first video named Thirsty Crafter (Minecraft Machinima Short) posted on New Year's day of 2013. She was posting a lot of videos of Minecraft as she was steadily gaining popularity. 
All her videos were somewhat unique, which further boosted her career success. Eventually, she also started making and publishing videos based on the game, Roblox. The gameplay for the game helped her amass her massive viewers as everyone found them interesting. 
Finally, all her hard work on YouTube paid off as she has been able to amass such a huge fan base both on her Instagram and her YouTube channel. As of December 2019, she has over 5.13 million subscribers.
Take A Look At:- Zach King Wiki: Married, Parents, Nationality, Net Worth
With so many views and subscribers, she is estimated to earn $536.5 thousand - $8.6 million per year. Furthermore, she gets a lot of sponsors on her videos, which increases the amount she earns to a much higher figure. Sadly, Kat has opted not to share her total earnings to the media.