We have been familiar with men racing the cars since 1867, but we are still new when it comes to a lady car racer. Jackie Braasch is among few such women who have dared to bring the change.
Breaking the stereotypes, Jackie Braasch has chosen her career as a car racer.
Wiki- Bio - Birthday - Age 
Jackie Braasch was born in Juliet, Illinois, the United States of America on 4 July 1990. 
She grew up in a not so financially stable family ascribed to which she sometimes had to work with her father in the garage. As a result, Jackie fell in love with cars and perhaps developed a passion for car racing.
Also see: Courtney Kube Nationality, Wiki, Age, Husband, Parents
Boyfriend / Married /  Dating / Single
Jackie has made her own identity as a successful car racer. However, her fame took a great flight when the news of her dating American television star/street racer Justin Shearer came into light months before his divorce with Alicia Shearer in 2017. It was later reported that Justin and Alicia agreed to share custody of their two boys named Corbin Shearer and Convil Shearer.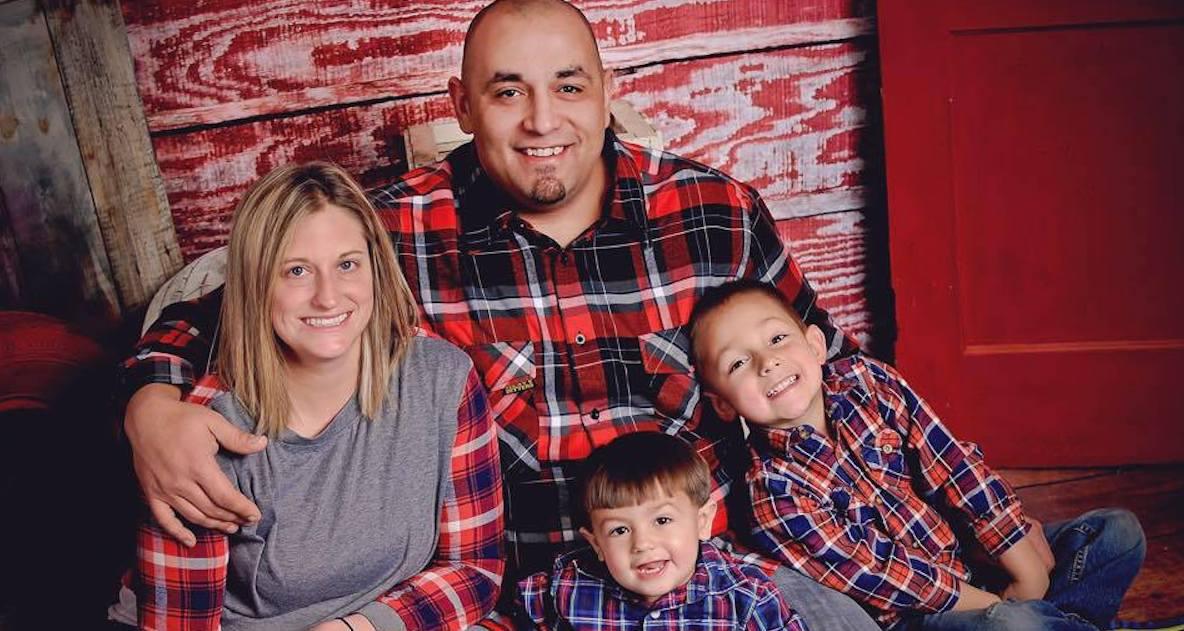 Family: Justin Shearer with his then-wife Alicia and their two sons in 2015 (Photo: Alicia Shearer's Facebook)
While Justin was still married to his wife of ten years, Alicia, the internet came to know that he was dating Jackie. Soon, many labeled Jackie a homewrecker who had been ruining the relationship of the beloved husband and wife. 
Here is what Justin had to say at the time.
"There have been many criticisms and people mad at me for something I didn't doBut no worries, it is good to have some haters, but I'm sure once they realize the truth, they will be my fans, just like everyone else."
Later on The Chief and Shawn Show podcast, Justin came to Jackie's support, saying that he wasn't cheating on the mother of his two boys, instead they were going through a divorce. He said,
"It's no secret obviously that me and Allicia, my wife of ten years, have been having trouble or whatever you want to call it, well, it is further than just having trouble, we are actually getting a divorce, and that is happening. The internet likes to say things, and they have said, obviously, the whole thing about my girlfriend: who is the new chick, who is the new girl?" 
The rumors when gradually got hyped, Jackie removed the pictures of her and Justin from her social media. Since 2018, there has been no update regarding their relationship. 
Who Is Justin Shearer? / Street Outlaws
Justin Shearer is known as Big Chief on the streets of Oklahoma. He is the most famous racer of the Discovery's Steet Outlaws. The show is about the racers who legally(sometimes illegally on their own risk) compete fearlessly to rank in the notorious Oklahoma underground racing scene. 
Many drivers of the show have faced legal troubles after appearing on the show, while some have got their driving license revoked. Also, the drivers have been easy prey of local criminal gangs.
Not to mention, some of the drives of the show like to roam the streets with their eccentric personality - living up to their reputation of their tagged brand street outlaws - racing out of nowhere buzzing sounds and dreading others who disagree with their wild way of living.     
Justin currently ranks at no. one above B&R Performance Ricky Martin on the list. He not only the races but also rules the streets as a competitive king. Anyone willing to rank in the list, they have first to get verified through him. 
Jackie Braasch & Justin Shearer Net worth
Started racing at the age of eight, Jackie has raced in competitive dragster racing matches as a member of Car Chix, a motorsport organization for women. She is estimated to have a net worth over $500,000. However, her exact annual take home is undisclosed
Discover: Lele Pons, Parents, Net Worth
If Justin and Jackie are still together, Jackie may have been sharing perks of dating a millionaire. Justin, being a street car racer and a reality TV personality, is estimated to be worth  $3 million. 
Compared to Jackie height of  5'2'' tall, Justin is way taller with the height of  6'2'' (1.88m). He holds the American Nationality, so does Jackie and both belongs to white ethnicity.