The doctor not only stars in 'Married to Medicine' but she is literally married to it as she doesn't back away from putting in extra hours to help and cure her patients. Jacqueline Walters is a 'working a lot' type of lady who stars in reality series 'Married to Medicine.' Along with being a doctor, she is a survivor of breast cancer who knows and feels the pain for the girls going through the same phase and has grown a passion for helping ladies with breast cancer.
Career And Professional Life
The workaholic person graduated from the University of Mississippi and is board certified OB/GYN. Jacqueline who is known as Dr. Jackie is the also owner of Comprehensive women's OB/GYN and WOW Aesthetics Medical Spa.
Also Read: Paige Wyatt Wiki: Boyfriend, Engaged, Net Worth, Now
The doctor gained the limelight of media after starring in the TV show Married to Medicine. The busy reality star and doctor gives her spare time to charity foundation called 50 Shades of Pink Foundation and supports a woman going through the traumatic phase of breast cancer.
How Much Is Dr. Jackie's Net Worth?
The OB/GYN doctor amasses her net worth through her firm and starring in a TV show. But after her charity works her net worth reaches a decent amount of $3 million.
Jackie Doesn't Have Time For Her Husband!!
Jackie is married to Curtis Berry for a long time and has a daughter named Kursten. Jacqueline is very fond of her daughter and seldom talks about her on social media.
Do Not Miss: Adam Lind Wiki: Age, Wife, Girlfriend, Net Worth
The highly dedicated doctor is struggling in her marital front though. The doctor recently admitted that she gave her spare time to charity foundation and said that Curtis doesn't necessarily understand her charity works. The doctor even said that she knows why it is important to her as she suffered breast cancer twice and also infertility. As reported, she became pregnant after a year she tied the wedding knot. Later, when Jacqueline found that she had breast cancer, she went through the chemotherapy and other medications which she calls as the primary reason for her miscarriage when she was six months pregnant. Furthermore, she was never going be pregnant naturally.
With the concern about her miscarriage, Jacqueline became sensitive about women health and issues and decided to do a reality show and be so open about her story which could raise awareness on women health and fitness.
Jackie who sees tons and tons of women having challenges with their health and her appreciation towards life is little different and wants to gift back.
Curtis who doesn't understand that Jackie gives 16 hours of a day doing helping and curing the patients which she has the passion for, spends his time golfing. 
You May Like: Yandy Smith Wiki: Net Worth, Husband, Parents, Ethnicity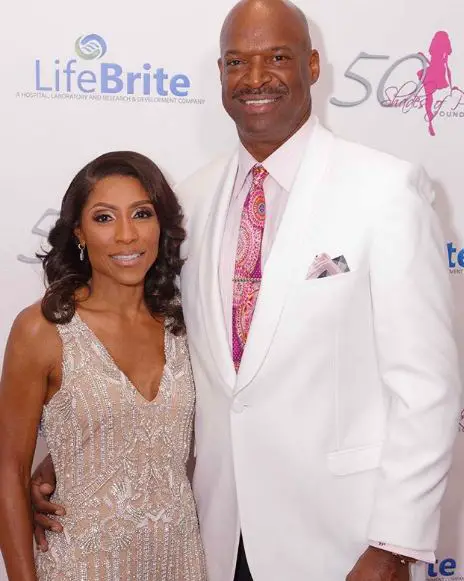 Jackie and Curtis attending the 6th Annual 50 Shades of Pink Gala (Photo: Instagram)
With all these problems running in the family, the doctor came to know about Curtis cheating on her from a blog when she was with her patient and was about to enter the exam hall.
Jacqueline explored Curtis' relationship with another woman and she did not miss to file a divorce. She stated that she refused to her own rights to the choice that Curtis made. Jacqueline said,
"Infidelity damages a relationship because there are a host of conditions and qualifications as well as considerations that someone has to go through and ask, 'What is it that got my significant other to that place?' So I own none of it. Infidelity to me is a choice. I cannot make you make a choice. You choose to respond, nobody made you respond that way." 
Furthermore, Jacqueline admitted that she felt homicidal. Apart from that, when the divorce was the best solution on Jackie's mind, she thought of the good times spent with her husband, how they together fought against breast cancer and how the two supported each other through tough times. 'With all these memories in mind, she realized that divorce is not the solution. After working with the turmoil, the two are together now and are much happier than they used to be. Talking about trusting Curtis despite him cheating on her, she says that building trust takes time and the process is on.
Jacqueline's Short Bio
Dr. Jackie was born as Jacqueline Walters on 27th July 1958 in Port Gibson, Mississippi. Jacqueline belongs to the Afro-American ethnicity. The Mississippi-born doctor has decent height and is working all the time; it's pretty astonishing that she has maintained a decent body shape. The doctor/reality star who currently ages 60 devotes her life to helping the woman with several health challenges.