Do you believe in the mythical creature Bigfoot/Sasquatch or sometimes called Yeti/Abominable Snowman? More than accepting the legendary story, you may get bewildered to know that there is a man named James "Bobo" Fay who has a quest to track down the Bigfoot.
The commercial fisherman James starred in Animal Planet series Finding Bigfoot and if you haven't watched the show, tune for some adventurous, thrilling and exciting moment as the show follows him and his co-stars' investigation to track down the potential evidence of Bigfoot. 
Know About James "Bobo" Fay's Net Worth; Is He Married?
James, age 57, is an American reality TV personality and commercial fisherman who savors the net worth of $400 thousand. He derived most of the fortunes as a cast member of Animal Planet's Finding Bigfoot. He also starred in the spinoff Finding Bigfoot: Further Evidence and searched the elusive Bigfoot with his Finding Bigfoot co-stars like Matt Moneymaker, Cliff Barackman, and Ranae Holland.
The documentary TV series first aired on Animal Planet on 29 May 2011 where James and his co-stars explore the investigations regarding potential evidence of Bigfoot or Sasquatch. In late-2014, there were rumors that the show was on the verge of cancellation. However, the speculations later turned out to be completely false as the series released its finale 100th episode on 27 May 2018.
Don't Miss: Jennifer Widerstrom Wiki, Husband, Boyfriend, Net Worth
While Finding Bigfoot continued to film for the 2015 seasons, James joked from his Facebook in December 2014 that the real reason for Animal Planet to cancel the show was that the 'Bobes fled and got married.' He also pictured himself with them and captioned, 'Me with the in-laws after the nuptials.'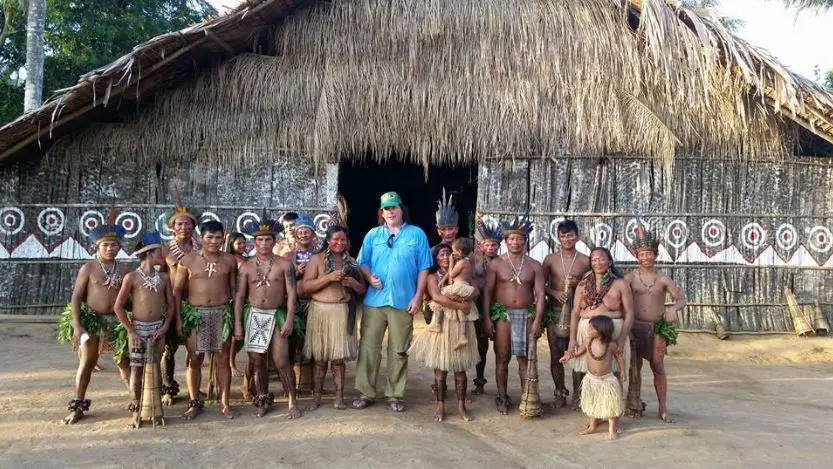 James "Bobo" Fay with in-laws in December 2014 joked 'Finding Bigfoot' got canceled due to Bobs getting married (Photo: Facebook)
Though James may have cited the reason just for fun, talking about his romantic affair, he isn't married as of December 2018. Hence, there isn't any news about James having a wife. He once mentioned from his tweet of February 2014 that he had a girlfriend from Fairfax. Since that day, the reality star has never stated his love life, and today, he makes a living as a commercial fisherman out of Eureka, California.
James' Illness, Cancer, Health, And Weight Loss!
During late-2016, James' fans were concerned about his health due to his hair loss. There were several rumors that the Animal Planet star suffered from the illness of abnormal cell growth. However, the Manhattan Beach native assured his fans in January 2017 from his Facebook that there was nothing to worry concerning his health.
Discover More: Ines Reynolds, Ryan Reynolds' Daughter Wiki: Age, Family, Net Worth, Facts
According to James, he never had cancer. As for his hair, he shaved it over Tin Tin's front yard on Kauai. When he had a new look, several people did not notice him first for a couple of days. But, the Bigfoot hunter got happy when one guy at the airport recognized him with his new looks. 
Another reason for the rumors of cancer fueled when he had weight loss. The Finding Bigfoot star confirmed that he got a lot of messages from his fans of midwest and south asking him about his health and if he had AIDS or cancer due to his drop in weight. James said that the result of his weight loss was due to the cut of the foods like soda, candy, baked goods, and pizza. He also exercised four to six days a week resulting his severe weight loss.
Short Bio And Wiki
Born on 16 April 1961, James "Bobo" Fay is a native of Manhattan Beach, California. The reality star was a teenager when he became an avid surfer and later used his skills to investigate the reported Bigfoot sightings in the remote areas. James stands at the height of 1.93 m (6 feet 4 inches) and holds American nationality.
Read Also: Camila Banus Wiki, Boyfriend, Dating, Affairs, Parents, Ethnicity, Net Worth
When the Animal Planet personality studied at college, he attempted to locate a Bigfoot. After his graduation, James entered with Native American crews for a hunt of Bigfoot and started commercially fishing in Northern California. As per wiki, he is fulfilling his livelihood as a commercial fisherman out of Eureka, California.