Makeup artist James Charles is famous for being the first male CoverGirl spokesmodel. He also was a guest on The Ellen DeGeneres Show where he discussed his role as CoverGirl ambassador. James is also an internet personality and famous on YouTube and Instagram for his makeup videos.
How Does James Charles Gather His Net Worth?
James Charles has gathered his net worth from his career as a makeup artist. He has been collecting revenues from his YouTube channel named 'James Charles.' As per the social blade, James has estimated earnings of $19.2K and $307.8K and $230.9K and $3.7M per year.
He launched his YouTube channel on 1 December 2015 with the mainstream of video on makeup. As of now, he has over 5.7 million subscribers on his channel.
At the age of 17, on 11 October 2016, he was appointed as the first ever male spokesmodel for CoverGirl. During his stint as a spokesmodel, he worked alongside Katy Hudson singer Katy Perry, who is the brand ambassador of CoverGirl.
Also Read About MakeUp Artist: Patrick Starr Wiki: Age, Gender, Married, Husband, Boyfriend, Net Worth
Openly Gay James Tweets About Dating; Who Is His Partner?
James Charles came out as gay at the age of 12. James often tweets about dating. On 22 January 2018, he asked his followers why is he not finding a boyfriend as he is amazing.
On April's Fool Day 2018, he sarcastically tweeted that he has a boyfriend.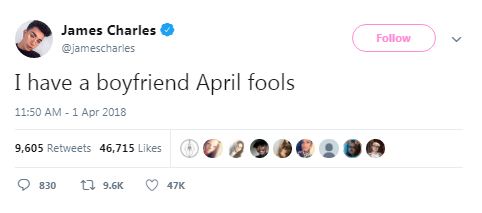 (Photo: James' Twitter)
All his tweets hint that he is yet to be in a dating relationship. As of now, he reportedly doesn't have a partner.
James Charles's Scandalous Picture In Social Media
James Charles has been the talk of the town in the social media after the vlogger leaked his nude picture in snapchat.
After the social media stormed with fans' question, James tweeted on 18 July 2018 wrote that he just accidentally posted his nude on his snapchat story and announced that he would delete his account.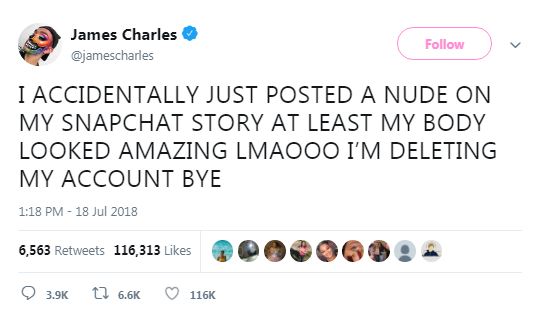 (Photo: James' Twitter)
Most of the fans were speculating that the nude photo that James uploaded was not an accident but was posted on purpose. However, James has not clarified about fans queries yet.
Controversy With Tati Westbrook!
For the past few months, James Charles has been the center of gossip ever since his former mentor Tati Westbrook posted a tell-all video on her Youtube Channel titled By Sister where Tati talked about the fact that she felt betrayed by James.
In the video, he alleged James of how he tried to trick a straight man into thinking he was gay. She also stated that James betrayed her by signing up with her own vitamins brands' Halo Beauty Supplements' main competitor, Sugar Bear Hair, and that she was left in shock.
Following the release of the 43-minute long video, things started to go downhill for James. He lost 3 million subscribers that left him with 13 million subscribers from his previously 16 million number.
Later, James came forward to speak out on the issue.  James posted a final 41-minute video where he talked about the alleged claims made by Tati. He stated that he did not trick anyone to thinking that they were gay and that they had a mutual conversation with one another. Also, the man had referred to himself as being bisexual. There was no trickery involved. James also confessed to being a 19-year-old virgin.
As for James signing with Sugar Bear Hair issues, he asserted that he had informed Tati beforehand that he was going to sign up with them and that it was not a complete surprise to Tati. In his 41 minute video titled final, he went into deep and unveiled about the past few months allegation made upon him. And since the release of the video, he has slowly started to regain his followers as now they have heard both sides of the story. 
James' Family Life; Inspirational Parents, Mom Is Proud Of His Son
James Charles has very inspiring parents. During his time in middle school, he revealed his sexuality to his parents. After he came out gay to his parents, his parents motivated him to wear makeup and feel more confident. Not only that, his father built him an entire makeup studio.
In an interview with USA Today, he opened up about his coming-out story, in which he mentioned that his parents and people at school were supportive. He also added that his journey was easy as compared to a lot of people who battle challenges.
In one of the YouTube video, his father couldn't hold back tears talking about his gay son and said,
As a father, you only have a couple of responsibilities in your life. One main one is to make sure that [your child] is safe. [James'] safety has always been a priority to me. That's what scares the hell out of me... I'm grateful for all his fans that follow and protect him and support him, because it gives me strength to know that there's plenty of people out there that don't feel the way those selective few do.
On occasion of his father's day on 18 June 2018, James Instagrammed the childhood photo of him with his father and wished him. He also thanked his father for encouraging and inspiring him daily. He mentioned that his father is always supportive of him and revealed that his dad taught him to braid barbie's hair when he was three. The makeup artist also thanked his father for building a makeup studio in the basement.
Read About Jon Gries's Family: Jon Gries Married, Gay, Family, Net Worth
James' mother is also supportive of him. His mom hit back at an Instagram user, who suggested that James's parents must be ashamed. Her mother, in a calm manner, replied that they feel contrary to ashamed.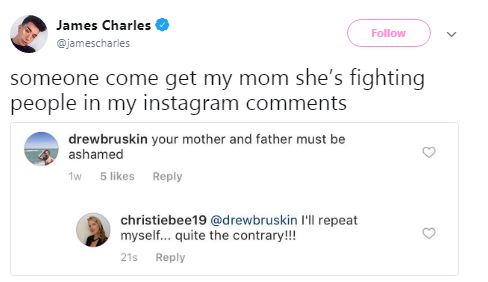 James shares his mother's reply to an Instagram user's hatred comment on 31 Oct 2017 (Photo: Twitter)
James Charles was born as one of two siblings. He has a brother named Ian Charles, who features on his brother's YouTube videos. Ian also appears in his weekly series.
Short Bio
Born on 23 May 1999, James Charles was born as James Charles Dickinson in Bethlehem, New York, US. He stands at a height of 1.75 meters (5' 9"). He holds an American nationality and belongs to white ethnicity as per wiki.
James completed his graduation from Bethlehem Central High School in June 2017.