James P. Gorman, an Australian-American financier and entrepreneur, is the Chief Executive Officer and Chairman of the Board of one of the largest multinational investment banks, Morgan Stanley. 
He proved that if the leadership is effective, objectives can easily be achieved. After coming in power from 2012, he helped in boosting the company's revenue within a short time.
Besides fulfilling his responsibilities for Morgan Stanley, James also performs duties as the Director of the Federal Reserve Bank of New York and the Council on Foreign Relations.
James P. Gorman Net Worth: How Rich Is Morgan Stanley's CEO?
As the Chairman of the Board and Chief Executive Officer of Morgan Stanley, James earns $28,168,600 
His net worth, as per Wall Mine, was $98.2 million on 15th February 2018. Also, he owned over 100,000 units of Morgan Stanley's stock worth over $64,503,732. But, he sold stocks worth over $5,534,000 in 2018 and 2019.
Inspiring CEO: David S. Taylor, CEO of Procter & Gamble Wiki: Net Worth & Family
Similarly, in 2018, James's compensation was raised by 7.4 percent to $29 million; including $1.5 million in salaries, $13.75 million in incentive, and $6.875 million in both cash and restricted shares.
Wife And Children
James is not only blessed with a successful professional career but also has a prosperous personal life. He has been married to Pendleton Dedman for several years now. James and his wife tied the marital knot on 15th September 1990 at Trinity Episcopal Church. The ceremony was performed by Rev. Alastair Votaw.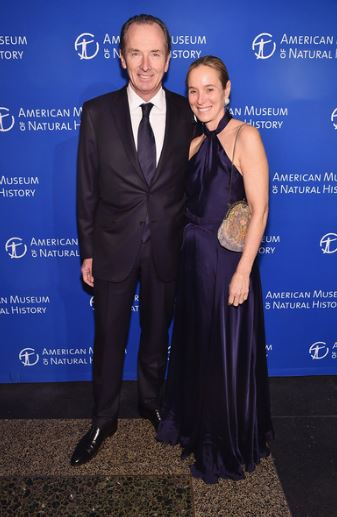 James P. Gorman and wife Pendleton Dedman at an event (Photo: zimbio.com)
Together, they are fortunate with two children. The couple's daughter Caroline- who was born in 1996- is a songwriter and singer. She released her first song called Devil In Me in 2015 at the age of 19.
Age And Family
James was born on 14th July 1958 in Melbourne, Australia, where he was raised alongside his nine siblings.
Another Wealthy Businessman: Chris Kempczinski, CEO of McDonald's Wiki: Salary, Net Worth, Family
His father, Kevin Gorman, was an engineer and had an engineering consulting company in Melbourne. James's father provided him with a high standard of education since childhood. During his younger days, his father used to take IQ tests and even announced the results in his living room.
Unfortunately, James's father died in 2016.
Education
After graduating from Xavier College, a Roman Catholic boarding school, James attended the University of Melbourne to pursue a degree in Bachelor of Arts and Bachelor of Law.
Later on, James matriculated at the Columbia University-Columbia Business School and received a Master's degree in Business Administration.
Interesting Facts About Him:
James' father used to wake up every member of his family by singing Irish folk music.
His sister is a judge on the Supreme Court of Victoria.
James also worked at Merrill Lynch & Co. 
He was a senior partner of McKinsey & Co.
Previously, he also served as President of the Federal Advisory Council to the U.S. Federal Reserve Board, Co-Chairman of the Partnership for New York City and Business Committee of the Metropolitan Museum of Art, Chairman of the Board of the Securities Industry and Financial Markets Association.