Words cannot explain the pain and nightmare of this Radio personality. Jamie Dupree is the victim of the cruel destiny which took his dear voice that deprived him of communicating with his own family and children. One of the most influential radio broadcasters, Jamie now finds himself in the corner after he was struck hard by a rare neurological disorder called muscle tension dystonia.
The Voiceless Radio Personality:
With decades working in radio broadcasting network as a host, the media personality attracted the audience whenever he is on air. But as the time went by, the health condition of Dupree even got worse. It was in the year 2016 when he was diagnosed with muscle tension dystonia. The rare neurological disorder worsened and suffered from difficulties to speak. Dupree is still searching better treatments and is still hopeful in getting his voice back for his job.
But his health condition did not keep him away from his job. Despite the prolonged illness, Dupree has not stopped involving in campaigns of National and Political agendas.
In one of his Interview with Political Insider in November 2016, the radio host states the condition of his health,
"It's sort of a medical mystery. My health is good, but my voice is not. I keep hoping a doctor somewhere will have seen something like this before, my bosses in Atlanta have been very supportive in recent months. But it is a bit stressful when the key to your employment — in my case, my voice — decides to go away."
He further adds,
"Every day I get up in the morning, I hope that my voice will magically appear. It has not as yet, but I remain a relentlessly optimistic person. The most frustrating part is not being able to speak to my wife, my kids, my father, and my friends."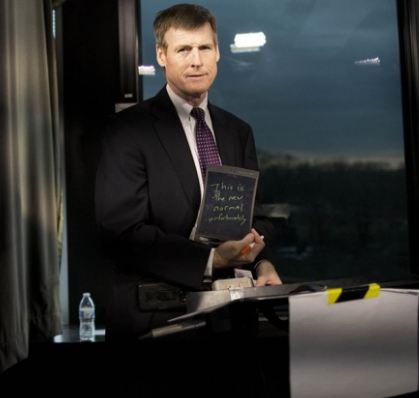 Caption: Jamie using note cards to communicate
Source: mystatesman.com
Dupree uses sign codes and interacts with people through writing in note cards in expressing himself.
The Radio News Director:
Jamie Dupree works at the Washington Bureau of the Cox Media Group and serves as the Radio News Director. He is also involved in writing Washington Insider blog. The media personality has covered the nation's political issues since the Reagan Administration for his reporting since 1989 for the Cox.
Dupree, the director of the Radio News, has more than forty videos in the C-SPAN Video Library as a Correspondent for the Cox. The radio host was heard across the stations around the country: WDBO-AM Orlando, WOKV-AM/M Jacksonville and KRMG-AM Tulsa, Oklahoma to name a few.
Jamie's Salary and Net Worth:
The salary of any on-air personality ranges from $35k up to $100k but is highly entitled to their work experience and quality they bring to the table. Dupree, the veteran in the world of Radio program earns a hefty salary from his profession which eventually makes the figures of his net worth to reach million dollar margin.
A Complete Family Man:
The media personality lives a happily married life with his wife, Emily along with their three children. When it comes to personal life, he maintains privacy and doesn't like to reveal tiniest of detail. He has used his time in social media updating his followers about the current events.
In one of his blog entitled "Saying Goodbye To My Mother" explained the journey of his mother who suffered Frontotemporal Dementia. In the blog, he mentioned that his mother forgot the words in late 2011 and during her last stages of life, her emails made no sense but the phrase 'Love Mom' showed the love she had for Dupree.
His mother died in 2013 and three months before death she wrote her last mail read:
"South Right Snow."
Short Bio and Wiki:
The Native of Washington DC was born on December 3, 1963, which makes her fifty-four years of age. Dupree went to the University of Florida to complete his education. The media personnel loves playing golf whenever he is off from his work. He stands a towering height just like his persona and belongs to the Caucasian ethnicity.